When Icelandic Provisions considers new flavors, WeWork members often get to try them out first. The key lime flavor was a hit among members and eventually made it onto supermarket shelves. But rhubarb didn't make the grade.
"That feedback actually really helps us in terms of product development," says Molly Peterson, the company's director of communications.
That's why Peterson is so excited to be a part of the newly launched WeMRKT, which will allow Icelandic Provisions to get its yogurt-like skyr in front of thousands of WeWork members. While skyr is technically classified as a cheese, you'll find Icelandic Provisions in the yogurt aisle. Peterson says to think of it as Greek yogurt's Icelandic cousin.
"We are really honored and feel lucky to have that kind of instant visibility within the WeWork community," says Peterson.
Unveiled on June 25, WeMRKT's first location is at New York's WeWork 205 Hudson. A modern retail space, WeMRKT will feature many products made by WeWork members, including healthy snacks, office necessities, and branded apparel. It will open in more locations in New York, then around the country.
WeWork's Julie Rice says that WeMRKT is "by our members, for our members."
"WeMRKT is a great example of WeWork's commitment to our members' success," says Rice. "We are so excited to be launching it in New York City."
The 10 products featured in WeMRKT were chosen in a pitch competition in April. Winners were selected because they are innovative, have eye-catching packaging, and are backed by a solid business plan, among other criteria. Competitions for new products will be held quarterly.
Winners will have further opportunity for distribution through SnackNation, which partners with WeWork.
"Our goal is to connect today's top emerging brands with key consumers at their most engaged moments," says Sean Kelly, CEO of SnackNation. "I cannot think of a better way to fulfill this mission than by partnering with WeWork and all of the entrepreneurs they serve at their inspiring co-working spaces."
Among the other member companies featured this quarter is Barnana, a plantain chip company dedicated to eliminating food waste on organic banana farms; Misfit Juicery, which makes cold-pressed juice using less-than-perfect produce that farmers are unable to sell; and Sunniva Super Coffee, an organic brew fortified with whey protein and coconut oil.
Focused on growth
Skyr is central to Iceland's history: The cultured dairy product has been part of the Icelandic diet for almost 1,000 years. Icelandic Provisions, founded in 2013, is the only brand in America with access to the traditional Icelandic cultures because it is co-owned by the largest dairy cooperative in Iceland.
In May, the president and first lady of Iceland visited Icelandic Provisions to congratulate them on their success in the American marketplace. Peterson says that they were were especially fond of the coconut Skyr, one of the company's most popular flavors.
"He literally couldn't put it down," Peterson says with a laugh. "He and his wife were fighting over it."
The fastest growing brand in the yogurt aisle of American supermarkets, Icelandic Provisions is focused on growth in the U.S. Peterson says that the secret is having its headquarters at New York's WeWork Grand Central.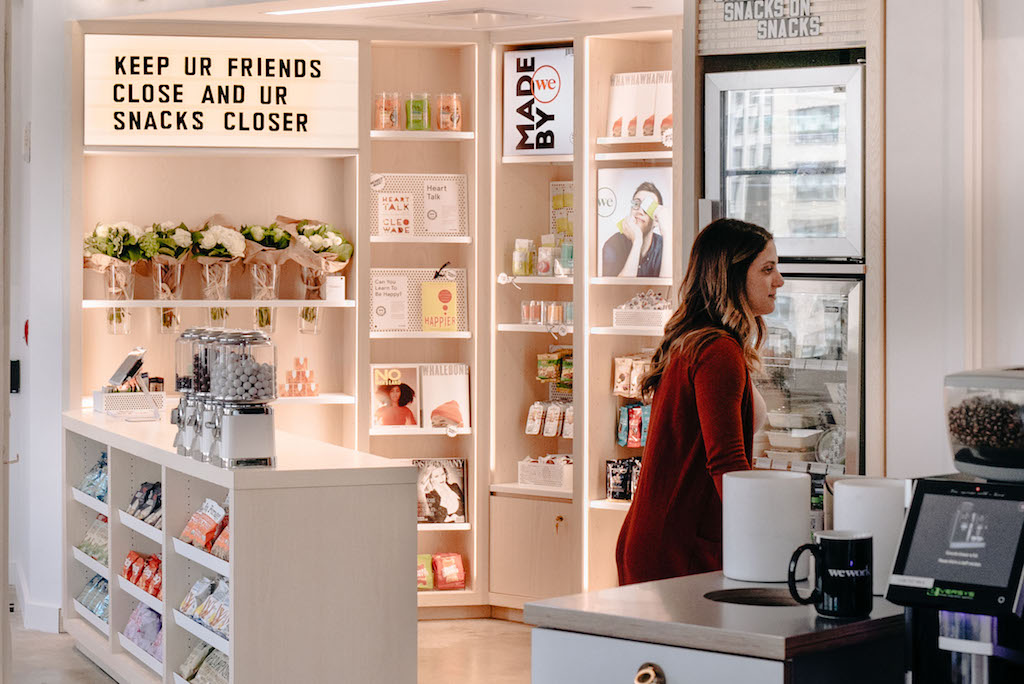 "We don't have to worry about a lot of the things that many startups have to worry about, like overhead and cost structure," says Peterson. "Those are part of the wonderful things that WeWork takes care of for a new company."
Onur Oz, cofounder of Lebby Snacks, says he's thrilled for his snack to be one of the 10 products in the first WeMRKT. The company has been based in WeWork Dumbo Heights for three months.
"One of the key decisions we made in the start-up phase of Lebby Snacks has been to move to the WeWork Dumbo Heights location," says Oz. "I can't tell you enough how the energy in this building has been so beneficial and moving for us."