The ways we work have fundamentally changed. People no longer seek just work-life balance. They want the power to choose when, where, and how they work. They want the freedom to create their own schedules, to do work they find meaningful, and to be in a space that suits their unique needs. Gone are the days of a one-size-fits-all nine to five. In All the Ways You Work, WeWork members share how they're reimagining their professional lives and thriving in this new world of work.
Brian Madunezim's days working from home had started to blend together. No matter what he was working on, his days seemed to go the same: He'd wake up, throw on a comfortable T-shirt—usually one displaying the logo of a favorite sports team—then head to the workspace he set up in the corner of his bedroom, log on to his computer, and begin working.
Madunezim, a software engineer in Dallas, tried to make his at-home workspace as comfortable as possible. He strategically positioned his workstation so that he could have a beautiful view of the lake outside his apartment. He bought a standing desk, a comfortable chair, an ergonomic mouse, and a ring light for Zoom meetings. The room was set at the perfect temperature and filled with soft background music.
But even with all of the comforts working from home afforded him, the monotony of months of quarantine began to weigh on Madunezim. Before the pandemic, the office he worked from as an engineer for a large healthcare company in Austin, TX, had around 500 employees every day. The adjustment to working in his room by himself became more and more challenging as the pandemic pressed on.
"I felt like the walls were getting closer and more confined," Madunezim says. "I wanted to break out of that."
After four months spent working from home, Madunezim needed to get out of the house and away from the Groundhog Day he felt trapped in. But where could he go?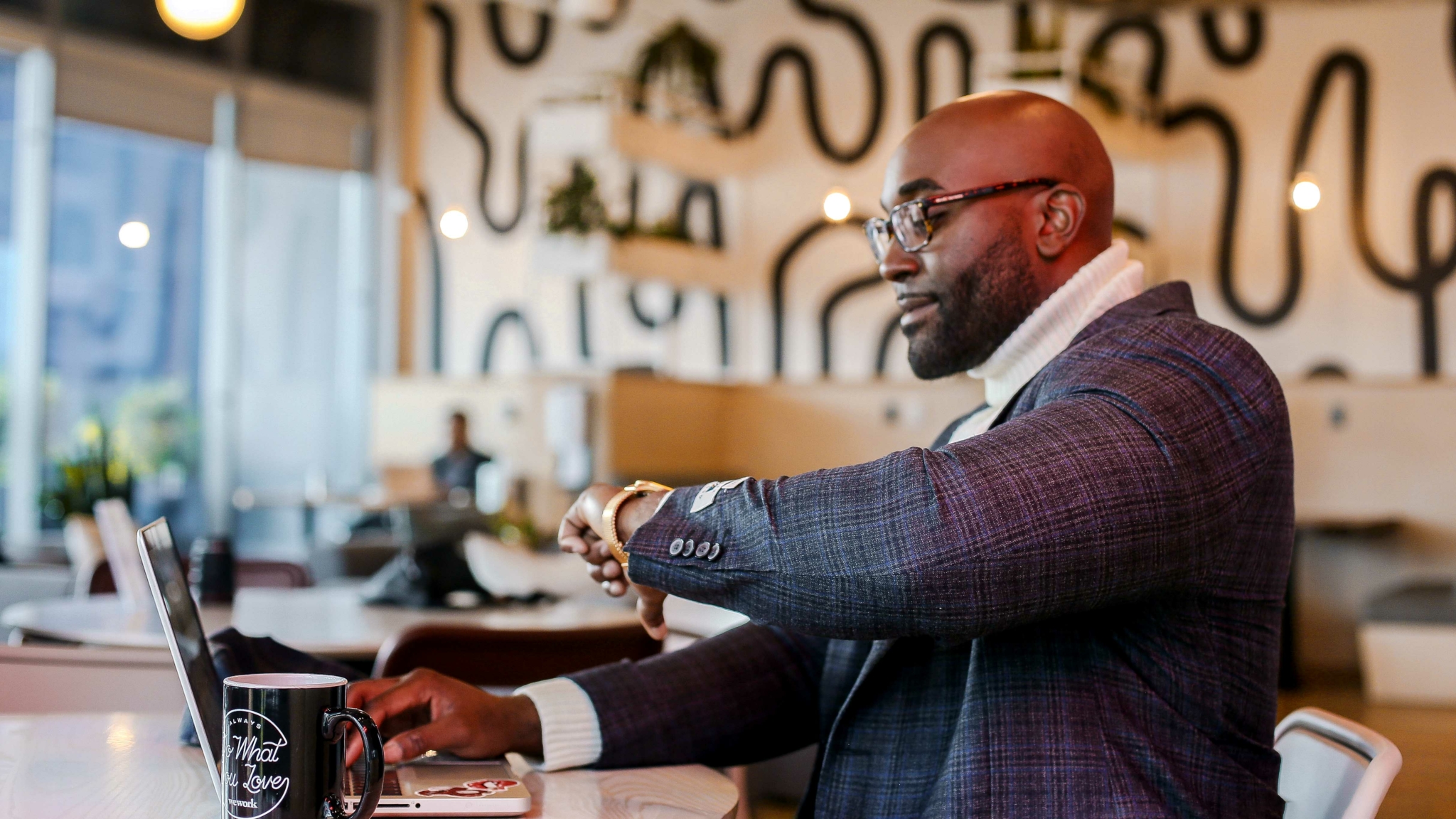 That Austin office was still closed to employees. So Madunezim started researching options that could provide a space that was safe, easily accessible, and convenient—a space that offered the same amount of comfort he'd become accustomed to while working from home.
He didn't have much luck at first. Then late last summer, a friend invited him to a business meeting at WeWork Santander Tower in downtown Dallas—and suddenly Madunezim was standing inside the solution to his pandemic blues.
"I couldn't help but notice how amazing the space was," he says of his first time in a WeWork space. "It's very homey. The customer service was amazing. The rooms were very well equipped for office work."
WeWork allows you to work a lot smarter…. You can be productive while having fun and getting to know and network with other people.

Brian Madunezim, software engineer
Soon after that meeting, Madunezim downloaded WeWork On Demand, an app that allows people to easily book coworking spaces by the hour at WeWork locations around the world whenever they need to. He was drawn to the idea that he could choose from various types of spaces based on the specific needs of his workday—whether it's a room with a whiteboard to draw on while Zooming with a colleague, or a quiet study space to write code from.
At first, Madunezim was using WeWork On Demand once or twice a week. But as he got more used to the routine and more familiar with WeWork's staff, he began using the space up to five days a week, working mostly from the WeWork 1920 McKinney Ave in Uptown Dallas. He covers all of the costs himself—an investment he says is well worth the price tag. WeWork On Demand helped Madunezim boost his happiness while working from home, and he didn't have to forfeit productivity to do it.
WeWork On Demand not only got Madunezim out of the house, it also allowed him to take a break from Dallas altogether without having to take time off work. He has visited friends in Houston, Los Angeles, and Boston, booking workspaces in each city through the WeWork On Demand app.
It's not just the accessibility and comfort of the WeWork spaces that keep Madunezim coming back. From wine tastings to pizza nights, Madunezim takes advantage of every event hosted in the WeWork space that he can.
"We just had a cupcake competition," he says. "That's what WeWork does. They bring in certain experiences while you're working to brighten up your day. Little things like that really bring joy to the workspace and help ease the workload many of us have." These events give him a chance to network and recharge his social battery—both of which he says are extremely important to his professional success.
In fact, Madunezim is in the early stages of starting a new company, and plans to graduate from WeWork On Demand to become a full-time WeWork member with a private office. His vision is to base his company and any future employees out of WeWork.
"WeWork allows you to work a lot smarter," Madunezim says. "It gives you a different viewpoint of how to work. It doesn't have to always be work, work, work, and no fun in between. You don't have to burn yourself out. You can be productive while having fun and getting to know and network with other people."
J. Agrelo is a freelance journalist in Chicago.
Rethinking your workspace?