Black business owners and workers too often face systemic biases: from underrepresentation in the boardroom to higher rates of unemployment. In Black-Owned and Proud, we profile innovative Black entrepreneurs building businesses and bringing much-needed change to the face of enterprise.
Like many people during 2020, actor Roderick Lawrence faced mental health struggles in the first few months of the pandemic. When he lost the gig he had at the time, in a Syracuse, NY, production of Fences, and after an upcoming Broadway production was postponed indefinitely, the New York City–based actor decided to spend a few months with family in Cleveland.
There Lawrence began exploring his mental health with the help of a Black male therapist, and was better able to understand some of the situations he had been experiencing. Namely, he recognized a pattern of microaggressions in both his personal life and career.
"I went from never hearing the term microaggression to feeling like it was haunting parts of my life," says Lawrence. These microaggressions revealed themselves through unsolicited criticism from non-Black creatives on Black projects, and the everyday experiences of affluent, educated Black professionals in nearly all-white corporate settings. The more he thought about these experiences, the more enraged he became. This sparked the idea for a short film.
Lawrence reached out to longtime friend Salma Qarnain, who had been in an off-Broadway production with him in 2019 and had once mentioned that she'd support him in producing any idea he might have in the future.
"I'm not a writer or a producer," Lawrence says. "I'm an actor. But I think if you have to tell a story, you have to tell a story."
Silent partner
In late summer 2020, the pair set out to produce a film that would address microaggressions in the workplace. With Qarnain in Brooklyn and Lawrence now back in Harlem, WeWork provided the physical space for them to create together.
"Feeling somebody's energy and essence in a room is the only real way you can vibrate and create something, especially creatively," Lawrence says.
For Qarnain, having a collaborative office space helped add to their professionalism. "The ability to meet to go over marketing and business plans, along with having access to conference rooms to take meetings with press and potential investors, has elevated our business," she says.
I went from never hearing the term microaggression to feeling like it was haunting parts of my life.

Roderick Lawrence, actor and cofounder of Black Man Films
During pre-production, the two decided to form an LLC and production company. Through meetings with industry executives and producers, they recognized there was interest in the film. They were then able to expand their networks to help maximize the festival opportunities and gain potential distribution afterward.
"Everyone we spoke to was very excited to see the product," says Qarnain. "They became even more fervent after seeing our short, which has helped greatly in putting us on the map as filmmakers."
When Qarnain asked Lawrence for a name for their company, he suggested "Black Man Films" on a whim, half expecting it to be taken. When it wasn't, he saw it as a sign that it was meant to be.
The company's first short film, Silent Partner, follows a Black attorney who has taken on a controversial case revolving around race. Upon successfully defending his client and winning the case, the attorney receives a sought-after promotion in his law firm, but begins to question its legitimacy.
Producing the film was quick: Lawrence had the idea for it in June 2020—the team created a shooting script in December 2020, then shot the film in three and a half days at the beginning of February 2021. Using it as their calling card in the industry, they proceeded to submit it to festivals.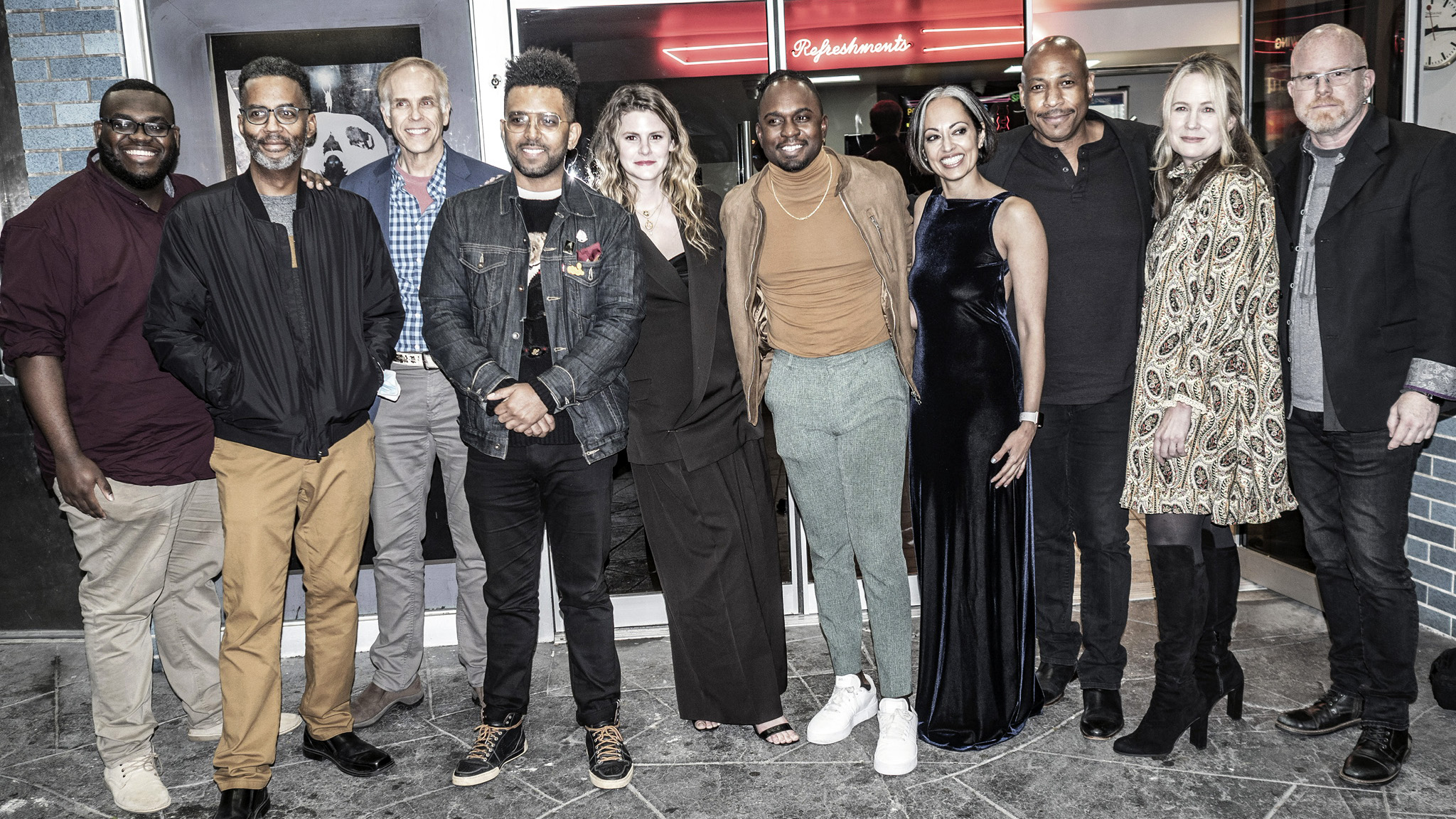 When they were accepted into the Oscar-qualifying, HBO-sponsored RSF Martha's Vineyard African-American Film Festival, Lawrence and Qarnain were ecstatic. It was one of the top festivals they had targeted. On August 10, 2021, a year to the day after Black Man Films was incorporated, Silent Partner premiered. 
The reaction to the film at the RSF Martha's Vineyard African-American Film Festival was "thrilling," says Qarnain. "That was the audience for whom we made the film, so it was an honor to premiere there. The conversation that followed in the Q&A was also unbelievable. It lasted for a full 30 minutes after the film, and they had to force us out of the theater so that they could begin the next block. It's all about the conversation that the piece engenders afterward, which is why we made it." 
Silent Partner has since won two best short film awards, at the Columbus Black International Film Festival and the Detroit Black Film Festival. It also won the best director award at the Detroit Film Festival. That success has prompted Lawrence and Qarnain to consider expanding the story's creative reach. 
"We are looking to turn our short into a feature or limited series," says Qarnain. "Both formats could work well, because there is much to explore around microaggressions and mental health." 
Activism through art
Black Man Films aims to amplify and elevate the voices of Black men, women, and people of color through films that entertain in unapologetic ways. Lawrence and Qarnain will continue to tackle tough issues in the Black community and use film to tell stories that are not being told, they say. They call it activism through art.
Specifically, they intend to increase awareness around the mental health of Black men, especially in the workplace. They are also working to clear up the misconception that going to therapy is a sign of weakness; rather it's an act of true self-care—understanding yourself and your behaviors so that you can lead a fulfilling and productive life and strengthen your relationships.
"People see intelligent, educated, professional Black men as being successful, but they neither see nor understand the microaggressions that professional Black men and women face every day," says Qarnain. "These daily microaggressions take a toll on one's mental health, which does impact relationships and family." 
A key aspect of what they'll bring to the screen is authenticity—the act of living and breathing an experience. Lawrence says that it is almost always clear to him in the first 20 minutes of a film who is telling the story and who they told it for, especially when it's a piece about the Black community. It's in the nuances, he says. When they're not there, you can pick up on it.
The co-founders also actively work in theater and TV, as well as in film. Lawrence is currently leading the cast of August Wilson's Seven Guitars, at Arena Stage in Washington, D.C., while Qarnain will be filming a recurring role on That Damn Michael Che, a sketch comedy show on HBO Max.
What's the ultimate vision for Black Man Films?
"To be a highly influential and successful production company that is known for unapologetic storytelling and projects that inspire radical change," Qarnain says. "We want to produce a slate of features and TV series and collaborate with the best Black and brown artists and creators in the world."
Lawrence half-jokingly adds one more goal to that list: "A movie in every theater in the world."
Delesia Watson is a New York City–based writer. Her work has appeared in The Guardian, Business Insider, Fodor's Travel, and more. Away from her laptop, Watson enjoys DIY home projects, vintage shopping, and watching cheesy movies. Say hello@deleesh.com.
Rethinking your workspace?