Amazon. Google. Facebook.
In the past 20 years, America has seen companies launched in garages and college dorm rooms transform into technology behemoths that top almost every list of America's top or fast-growing companies.
The tech sector is expanding so fast that tech jobs are expected to grow 13.1 percent by 2026, compared to 10.7 percent for U.S. employment overall. The tech industry had an estimated $1.8 trillion economic impact in 2018, contributing around 10 percent of direct economic value to the U.S. economy.
Thanks to a strong economy, it's a good time to grow and scale a tech company. The U.S. economy grew 2.9 percent last year, its highest growth rate since 2015. Plus, unemployment is low at 3.6 percent. Favorable tax climates and a growing, educated workforce are also driving business growth in cities across the country. Denver is a prime example.
Denver boasts a business environment tailor-made for tech
In a state where the tech industry is growing rapidly—Colorado added more than 7,000 tech jobs in 2018, a 2.5 percent year-over-year increase—Denver is developing a thriving, tech ecosystem buoyed by state and local resources that embrace business.
"Denver has always had a very intentional strategy about what we call our 'start up, scale up, grow up' ecosystem when it comes to entrepreneurship," says Deborah Cameron, the chief business development officer for Denver's Office of Economic Development. "It began by scanning our environment to see what was really needed and studying other successful locations."
A low corporate tax rate, an educated workforce, and a plethora of resources make Denver business-friendly. But it's also the intangibles, like a collaborative culture and a better work-life balance, that make the city work so well for business.
Denver—and the entire state of Colorado—still has its challenges, particularly competition for skilled talent amid ever-increasing job growth. But the city is forging a path for business that other cities may want to follow.

Unpacking Denver's appeal
Fortune 500 companies like Amazon, Facebook, and Arrow Electronics all have offices in Denver—and the city has also welcomed homegrown companies like SendGrid, an email delivery service recently acquired by the cloud communications company Twilio for $3 billion.
Denver is just one of several cities in Colorado—including Boulder, Fort Collins, and Colorado Springs—with a growing tech community. But, says Jeff Wilkins, CEO of Motili, a property management technology platform, "Denver is differentiated by its quality of life, pool of young tech talent, and infrastructure. The area also isn't dominated by tech the way the San Francisco Bay Area is. You'll meet just as many people who want to open a microbrewery as those who want to create the next great app."
"We felt that to build a really strong company culture, you've got to have diversity and some kind of stimulation around," says Kyle Sherman, CEO of Flowhub, a WeWork Triangle Building member company that creates compliance and point-of-sale software for cannabis dispensaries. "When you walk outside, there are restaurants, things are accessible, there are parks—you get all of that downtown. There's life."
Business incentives and low taxes
Several things have fueled Denver's business growth, including tax incentives, growing infrastructure, and a collaborative environment. Colorado offers a job growth incentive tax program that gives businesses income tax credits for creating jobs the state wouldn't have otherwise. There are tax credits for new business development, business expansion, relocation, and for job creation in enterprise zones or economically disadvantaged areas. Companies also benefit from sales and use tax refunds for investments in the manufacturing, biotechnology, renewable energy, and medical and clean technology industries.
Sherman says his company took advantage of the state's research and development tax credit. This is a 3 percent credit for taxpayers and companies who increase research and spending on product development or new lines of business within enterprise zones.
Though Denver charges a head tax ranging from $4 to $5.75 per employee per month, businesses benefit from the state's low 4.63 percent corporate tax rate. As of the 2016 fiscal year, for every $1,000 of corporate income, Colorado effectively taxed $2.17, according to the Colorado Fiscal Institute. The rate can be as high as $9.38 in some states. Colorado is also one of nine states with a flat income tax, also 4.63 percent (the fourth lowest rate in the country).
A strong infrastructure and business resources
Denver has a robust transportation infrastructure. Along with a rapid transit light rail and bus system, and free transportation in parts of downtown, the city is home to Denver International Airport, which has nonstop service to most U.S. cities, Europe, and Asia for easy executive travel.
"The local government has invested considerably in mass transportation and cultural amenities like public parks," says Josh Reeves, CEO and founder of Gusto, a human resources, payroll, and benefits solutions provider that has grown its Denver team to more than 500 employees in the past three years. "The investment in public infrastructure gave us confidence the city would be able to scale along with us."
The city and business community also have invested in building the business ecosystem. WeWork has opened 10 locations in Denver to support the growing business needs in the area.
A collaborative, balanced work culture
The city partnered with the Colorado Technology Association and the Downtown Denver Partnership in 2015 to create the "Commons on Champa." The public space, which hosts more than 200 annual events, is "the crossroads for entrepreneurship and innovation in Denver," Cameron says.
Kristin Russell, president of global services at Arrow Electronics and the state's former secretary of technology and chief information officer, says that collaboration is what differentiates the area from other tech hubs.
"In many other cities and communities in which I have work and lived, there just isn't the level, interest, and intent around collaboration," Russell says. "The concept of 'the high tide rising all boats' is never more true than in Colorado."
Patrick Quinlan, CEO of the ethics and cloud compliance platform Convercent, says that as more technology companies come to Denver, the level of collaboration grows.
"One of the real benefits of starting and building Convercent here is the CEOs are very supportive of each other," Quinlan says. "When I have a question, thought, or concern, I can drop somebody a note or jump on a five-minute call. It's a helping culture, not a competitive culture."
That extends to how people work. With easy access to the outdoors, Denver combines urban living with a relaxed culture. As part of that culture, WeWork provides wellness programming to members across all of its 10 Denver locations, including regular yoga classes, meditation sessions, massage and spa pop-ups, various Denver-based wellness brand highlights, and more. Other companies offer employee perks ranging from Yoga Wednesdays to dog-friendly workplaces. Gusto even gives employees a free round-trip ticket to anywhere they choose after their one-year anniversary.
Frannie Matthews, president and CEO of the Colorado Technology Association, says that even with this laid-back environment, the tech community is very productive.
"We've got a great ecosystem here, but it doesn't mean that we're out mountain biking on Thursday afternoons," Matthews says. "It means we love where we live and we love the recreational aspects of it. But this is a work-hard community."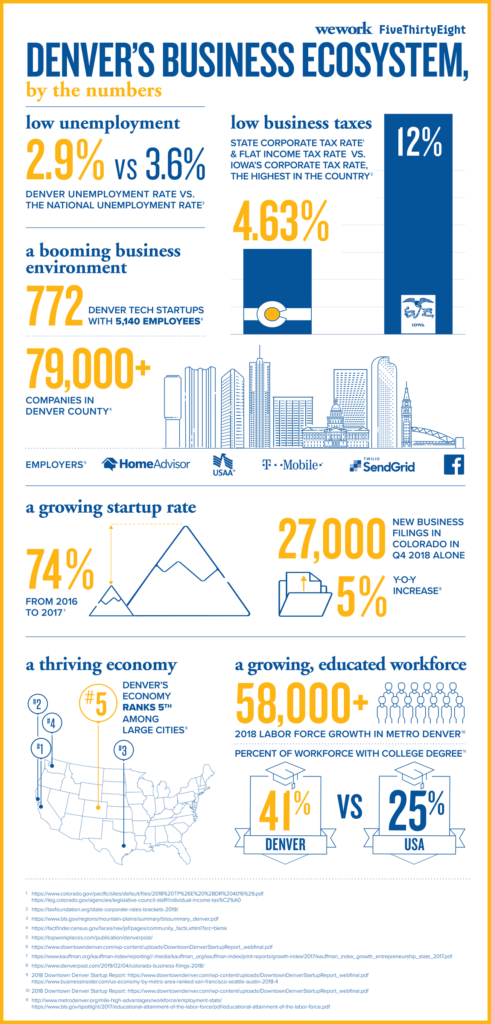 Confronting challenges to business growth
Even amid all this success, one of the main challenges that Denver faces is competition for talent.
The city has an educated workforce: Forty-one percent of residents have at least a bachelor's degree, compared to 25 percent of the workforce nationally. But with Denver's 2.9 percent unemployment rate, competition for talent is fierce.
"It's harder to scale in a small city because the bigger you get, the harder it is because you have to poach people from other companies," Sherman says.
The key to addressing this challenge, business leaders say, is to create a talent pipeline across the state. The Office of Economic Development has focused on building sector partnerships to bring together higher education and business groups to address the pipeline problem. Cameron says some local schools with two- or four-year degree programs now offer short-term credentials to accelerate upskilling the local workforce.
Colorado also launched a $500,000 marketing campaign in 2018 called "Pivot to Colorado" to lure tech talent from Silicon Valley. State agencies and tech companies collaborated on the effort, but only future numbers will tell whether this self-proclaimed "poaching strategy" works.
As Denver's tech community grows, business leaders say the time is right to start, grow, and scale the country's next generation of great businesses.
"It's a great time because many problems are waiting to be solved," Reeves says. "A business exists to fix something, so every problem is an opportunity."
Get in touch to learn more about our workspace solutions for medium and large businesses.
This article is part of the "The Way We Work Today" series brought to you by FiveThirtyEight in partnership with WeWork. Together, we are exploring the best places to base your business in 2019.