When UBS wanted to transform its Wealth Management USA Headquarters—and in the process create a space that would drive employee engagement, foster innovation, and attract and retain top talent—it turned to WeWork.
The project, which will completely redesign three floors of the UBS Lincoln Harbor campus in Weehawken, New Jersey, is the largest Powered by We project so far. Launched earlier this year, Powered by We extends beyond the walls of WeWork's buildings to bring its design, technology, and member services to spaces belonging to corporations like UBS.
There are now 30 Powered by We clients that span a wide range of industries, including financial services, insurance, telecommunications, retail, entertainment, healthcare, travel, and real estate.
"The way people work is undergoing a fundamental shift, and more enterprise leaders are recognizing the correlation between physical space and performance," said Dave Fano, chief growth officer at WeWork. "We know from operating more than 280 workspaces around the world that every company is different, with its own unique culture, vision and team."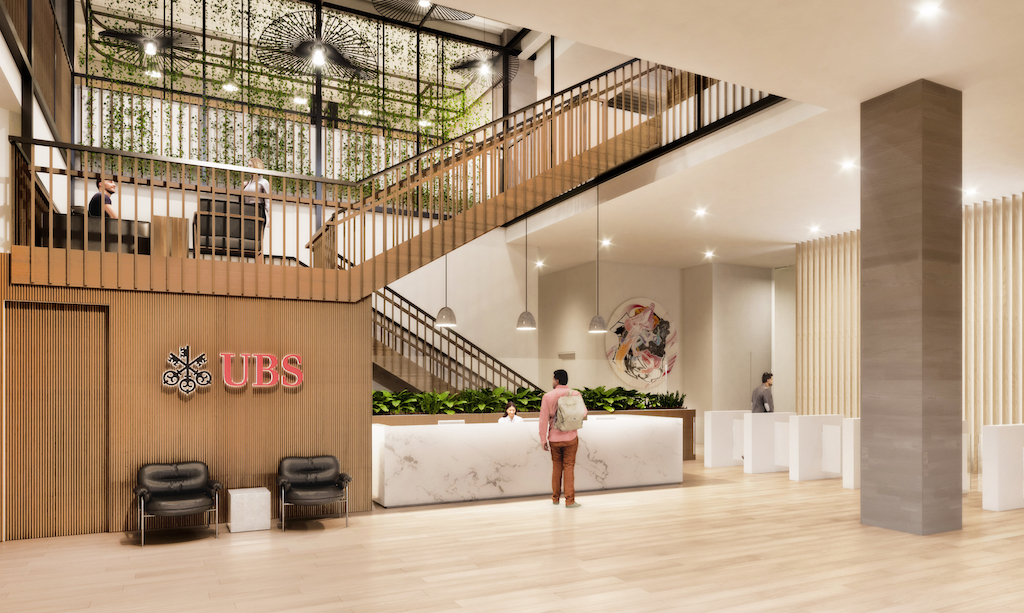 Fano said that WeWork's team of designers, architects, and workplace strategists worked closely with UBS to analyze its needs and build a space that supports its goals.
The 100,000-square-foot space at UBS includes a redesign of the lobby, a multi-purpose common area, with the company's largest learning and development center in the U.S., and a workspace that brings together UBS's IT and digital groups.
Creating collaborative, engaging workspaces isn't something new for UBS. In its offices in Zurich and its headquarters in London, it has created open-plan spaces to create more dynamic ways of working together. The Weehawken space—which is home to 4,400 employees—extends this idea with space that's smart, flexible, and forward thinking.
"Today more than ever, we must partner closely across all of our businesses and functions so that we deliver even more value to our clients," said Marc Montanaro, head of human resources, Wealth Management Americas and the Americas at UBS. "By partnering with WeWork to create this modern, community-focused workspace, we aim to increase employee productivity, encourage more frequent interaction, and attract the next generation of talent."
WeWork used qualitative and quantitative research when planning the UBS space, interviewing employees and using spatial analytics. Through this research, WeWork's team saw a need to reconfigure UBS's meeting rooms to encourage greater collaboration, add more multi-functional space to support different ways of working, and incorporate amenities for employee wellness.
UBS's reimagined campus will include multi-functional areas that can be reconfigured and activated throughout the workday. For example, a lounge adjacent to an inviting new cafeteria can host lunch-and-learn events, the 500-seat auditorium can open up for receptions, and individual meeting rooms can be divided and expanded as part of a flexible working environment. New amenities such as a coffee bar, juice bar, and dedicated wellness rooms make the campus more welcoming, interactive, and responsive to the needs of employees.
Upon completion, WeWork will use real-time data and spatial analytics to continuously improve the configuration and functionality of the space.