When Hurricane Sandy swept through New York City in 2012, one of the buildings hardest hit was 110 Wall Street. Seawater poured into the 27-story tower flooding several floors, destroying the electrical system, and leaving the building unusable.
That's where WeWork came in. We approached the landlord Rudin Management who, like us, saw an opportunity to not only redevelop but revitalize the building. Working together, we created a plan to make it mixed-use by adding residential space, restaurants, and other amenities. What had once been a typical 9-to-5 office building was now active around the clock, bringing value to the landlord, its new residents, and the neighborhood as a whole—an outcome that was particularly pleasing to us given our commitment to the Lower Manhattan community.
110 Wall Street reflects an important point about WeWork: We aren't in the business of simply renting space from landlords. Instead, we are partners in developing properties. Our intention is to create a home for our members, one that serves as a true gathering point for the entire community, while making the building more valuable for landlords. We have already done this in cities ranging from Boston to Bangalore to Buenos Aires, and as we open more locations around the world, it is something we are committed to continue doing.
In order to develop a better understanding of our impact, we partnered with HR&A Advisors—an industry-leading real estate and economic development consulting firm—to undertake the first detailed economic and fiscal impact analysis of the WeWork Economy. We found that WeWork is having a far greater impact than we had imagined, not only on buildings themselves, but also on the communities that surround them.
Bolstering buildings…
WeWork's presence, and the community it creates both within and around the building, has a significant effect on buildings. Buildings with a WeWork generally achieve higher rents, allow landlords to expand their tenant pool, and support increases in real estate values.
In certain instances, buildings we occupy have seen significant rent premiums compared with surrounding buildings of a similar class, size, and age. For example, in New York, at 450 Lexington, rents achieved a 29 percent premium, whereas in Los Angeles, 100 West Broadway, 520 Broadway, and 7083 Hollywood Boulevard all achieved a 15 percent premium.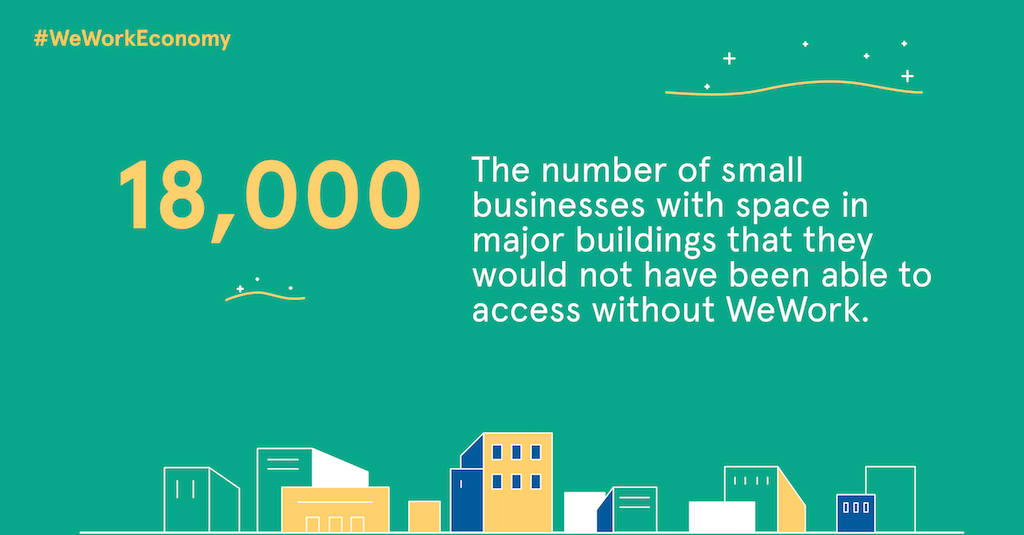 From a more long-term perspective, we're seeing that buildings with a WeWork are also commanding a higher price. Since we were founded in 2010, four of the buildings in which we have a presence have been acquired, with each of these having a premium on their original sale price of anywhere between 50 and 120 percent.
This increase in rents and overall value is being driven, in part at least, by the increase in demand for buildings with a WeWork location. Landlords tell us that they're able to lease buildings with a WeWork presence faster and attract other businesses to the development, and that it contributes to a positive change in the wider neighbourhood.
Don't just take our word for it.
"The WeWork brand positioned our building as the best creative building in downtown Long Beach," said Toliver Morris, of William Morris Commercial. "It was a big win." Jerome Snyder, of Hollywood's JH Snyder Company, said, "Having WeWork as a tenant in one of our buildings has actually helped us close deals with office tenants in nearby buildings more quickly."
…And revitalizing neighborhoods
Despite the significant supply of office space in a city like New York, small businesses are generally unable to access and acquire a lease in the major buildings dotted across the city. This means that landlords have a comparatively small pool when looking to find tenants for one of their properties.
By bridging the gap and facilitating the relationship between landlords and small businesses that wouldn't otherwise have been able to move in, WeWork increases occupancy rates and the bottom line for landlords. In major markets such as New York, Chicago, and Los Angeles, we lease a total of 1.8 million square feet of space to small businesses, generating $250 million in additional revenue for landlords in these cities.
And these small businesses, which account for 63 percent of companies in New York, are truly the city's engine of growth. They have the ability to transform neighborhoods.
In Queens, for instance, only a short subway ride from Manhattan, WeWork's presence has helped establish two thriving business districts. As Liz Lusskin, president of the Long Island City Partnership, acknowledged: "WeWork has been instrumental in attracting new businesses to Western Queens, including many tech and creative tenants who may otherwise not be in Queens. They 
have helped us transform the neighborhood into a more creative, entrepreneurial, and active place."
WeWork also brings new tenants to its neighborhoods. According to a survey, more than 70 percent of WeWork members did not work in an area prior to joining WeWork—that's thousands of people who are now having lunch at nearby restaurants, bringing clients to favorite watering holes, or picking up a few items in locally-owned shops.
When the first WeWork location opened eight years ago, we knew that we didn't want to open just another office building. We wanted to reframe the entire discussion around work and change the way people think about office space, neighborhoods, and cities: It was about building a community. With 283 locations in 75 cities and 22 countries, we're proud to have done just that.