WeWork is underscoring our long-term commitment to New York, where the company was founded in 2010, with our renovation of the century-old Lord & Taylor building, once again making it a center of commerce, culture, and community.
The Lord & Taylor building is one of New York's iconic structures, one that was groundbreaking in its time, changing perceptions about what retail and the modern workplace could be, and transforming the entire neighborhood. Working in collaboration with our chief architect Bjarke Ingels and his team at BIG, WeWork is restoring what made this building an architectural masterpiece: the massive display windows on street level, the delicate metalwork around the entrance, and the expansive rooftop terrace.
"Preserving one of the most iconic buildings in New York City's history is a monumental opportunity," says Ingels. "Our design will honor Lord & Taylor's past, building towards the future and ensuring this landmark continues to be a central figure in our city for years to come. Traditional meets modern to bring renewed energy to the space, sparking new ideas and connections among its future tenants and users."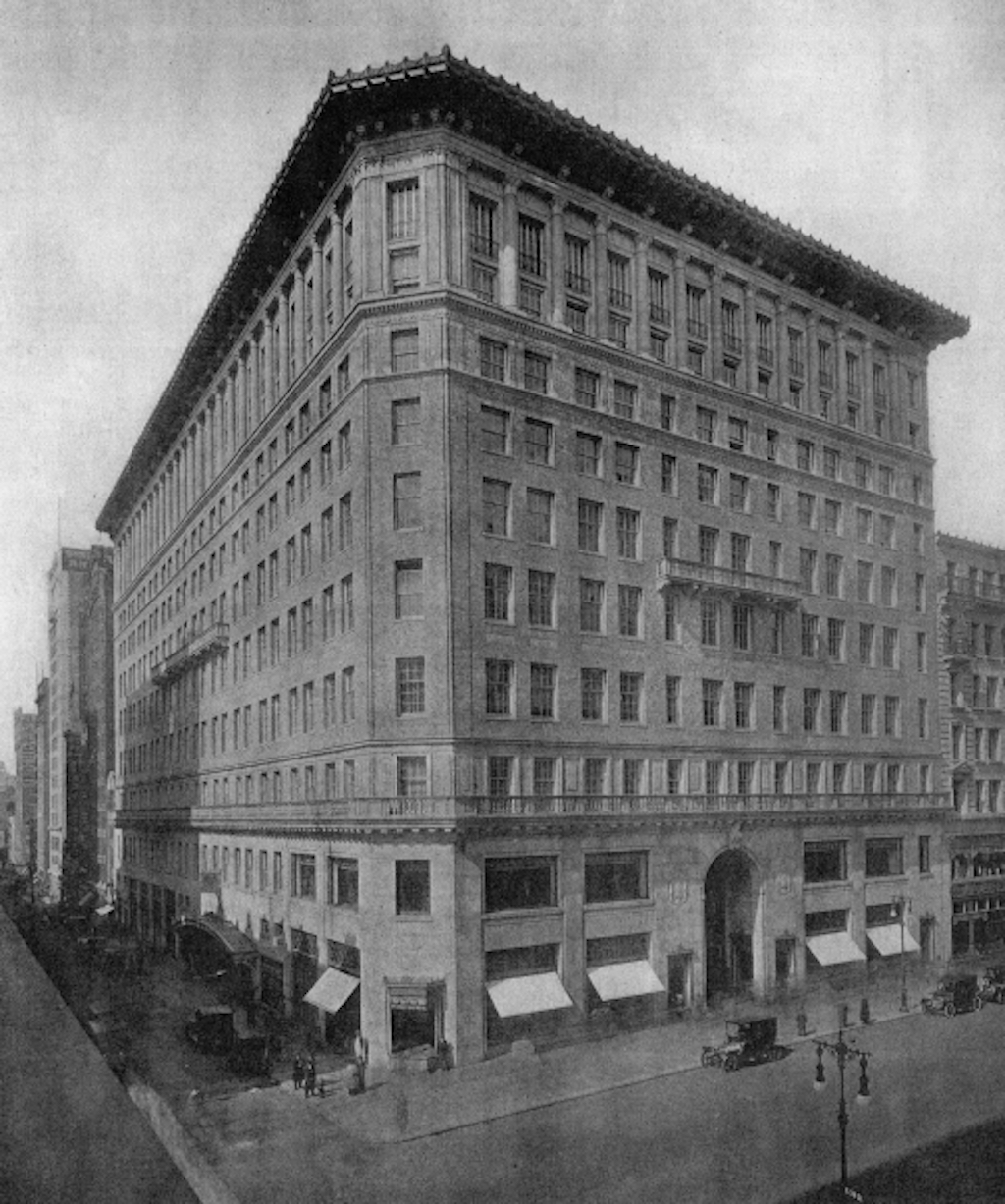 The opening of Lord & Taylor's flagship building was one of the most anticipated events of 1914. On its first day, more than 75,000 people crowded through the two-story arched entryway on Fifth Avenue, according to the New York Times.
The excitement about Lord & Taylor's opening was partly because the store redefined the retail experience and the development of the modern workplace by providing amenities for shoppers and employees that were practically unheard of at the time. But Lord & Taylor was also credited with forward-thinking design: "artistic architecture as a business asset," trumpeted a headline in the Times.
WeWork has now opened more than 50 locations in New York. Granit Gjonbalaj, chief development officer at WeWork, says that adding the Lord & Taylor building to our portfolio is another way we're investing in New York and other communities.
"Since WeWork was founded out of a single location in Soho in 2010, the incredible demand for our offer has led us to become Manhattan's largest private occupier of office space," says Gjonbalaj. "With most of our locations in the city operating at maximum occupancy, we are committed to enhancing out footprint in the city even further."
In a way, Lord & Taylor was helping to create the city of the future. Moving to the new shopping district along Fifth Avenue—from its former location on a stretch of Broadway between 14th and 23rd Streets known as "Ladies' Mile"—relocated the city's main retail corridor, and helped transform what is now known as Midtown into one of the city's most vibrant neighborhoods.
WeWork has been helping cities grow, thrive, and connect from its very beginning. An independent economic impact report by HR&A Advisors found that WeWork revitalizes neighborhoods –– supporting innovation, encouraging human connection, and providing economic opportunity. In New York, our company brings people to new areas of the city. About 73 percent of our members in New York did not work in a neighborhood before joining WeWork, which means an influx of new people in every neighborhood where we open.
And our members bring economic vitality to neighborhoods. A recent report indicated that WeWork members spend three times more at local businesses than average workers, adding millions to the local economy.
Restoring a gem
To design its new headquarters in 1914, Lord and Taylor hired architecture firm Starett and Van Vleck, which provided amenities for employees like dining rooms and a gymnasium –– much like how WeWork is now bringing expansive common areas and wellness programs to the modern workplace.
WeWork is preserving the basement, first, and second floors for retail. During business hours, shoppers will once again walk through the iconic entryway, where the brass and bronze elements will be carefully restored.
On the ground level, all the historic bay windows that have mostly been covered up for years will be opened up to their original size. Windows in the rest of the building will be replaced by more energy-efficient versions of the originals, getting rid of inefficient storm windows that took away from the character of the building.
A major goal of the renovation is preserving the city's largest and most intact rooftop courtyard. When the building opened in 1914, the courtyard was described as an open-air garden that provided employees access to fresh air and sunshine. For the first time in decades this space will be open to employees during normal working hours.
Gjonbalaj says that renovating the Lord & Taylor building is an opportunity to connect even more with the community in New York.
"The Lord & Taylor building has already generated incredible excitement among current and potential members," says Gjonbalaj. "It's an opportunity to honor our home city's rich history, while also building towards the future by revitalizing this iconic space as a heartbeat of culture, commerce, and innovation. It will allow us to place a stake in the ground and solidify our commitment to the next generation of New Yorkers."