In its first eight years, WeWork opened a total of 100 locations around the world. A little over a year later, it's doubled that number to 200.
WeWork is opening in 23 new locations in December—the biggest month in the company's history. Putting that in perspective, it's as many locations as the company opened in August, September, October, and November combined.
The number includes six cities where WeWork is opening for the first time: Singapore, Rio de Janeiro, Oakland, Frankfurt, Houston, and Manchester. In cities where it already has locations, WeWork is opening three new locations in New York, two in São Paulo, two in London, and two in Miami, along with one in Toronto, San Francisco, Nashville, Atlanta, Paris, Berlin, Shanghai, and Seoul.
"In a single day we opened locations on four different continents," said Dave Fano, WeWork's chief growth officer. "What that says to me is that people all over the world aren't just looking for a place to work, they're looking for community. And connecting people through space and services, and technology is what WeWork is all about."
In addition to the 23 new locations, WeWork expanded its footprint in two existing buildings in São Paulo, along with buildings in Miami, Portland, Nashville, and Seoul.
The 200th location is WeWork Beach Centre, in Singapore. Occupying three floors of a building in the center of the city, the light-filled space has a design that's different from any other WeWork location.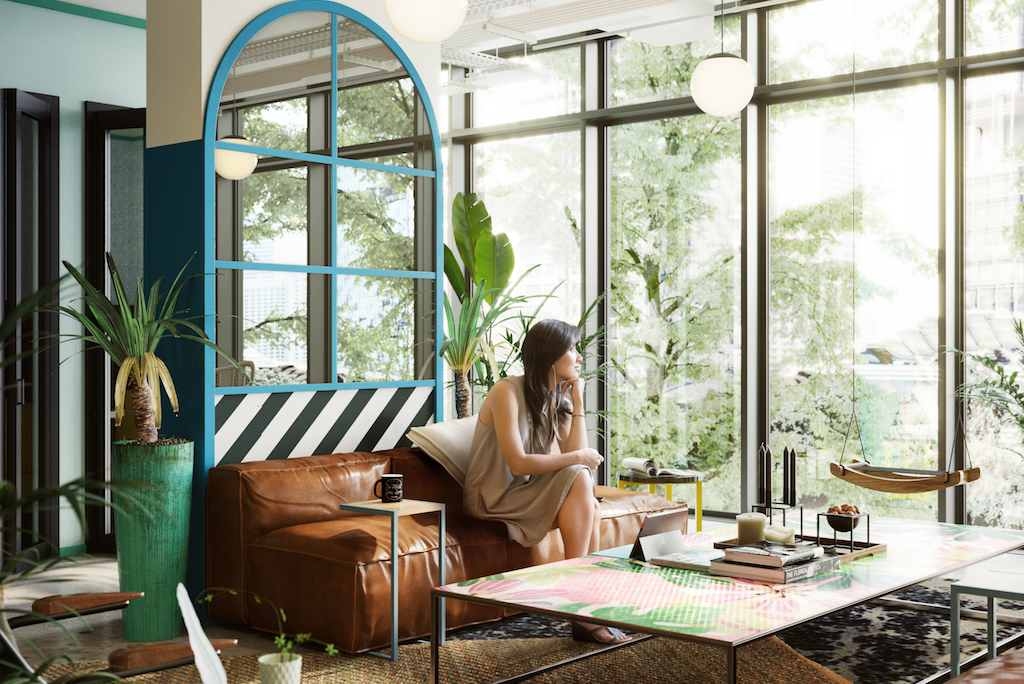 "We've taken inspiration from the traditional shophouses you can find all around Singapore," said WeWork interior designer Alejandro Villanueva. "These old storefronts with their arched window frames and shutters painted in different colors—we wanted to bring all these elements into the space. And we used pastels colors, just like the ones you can find on the buildings next door, to give the space an airy and light feeling."
The most eye-catching part of the design is the central staircase, painted a vivid shade of yellow. It extends up all three floors, tying the spaces together.
"This staircase has a feature wall made out of concrete breeze blocks that reminds you the ones you can find at the back of a traditional Singaporean house," said Villanueva. "It's a modern reinterpretation of the traditional element that we wanted to include in the space."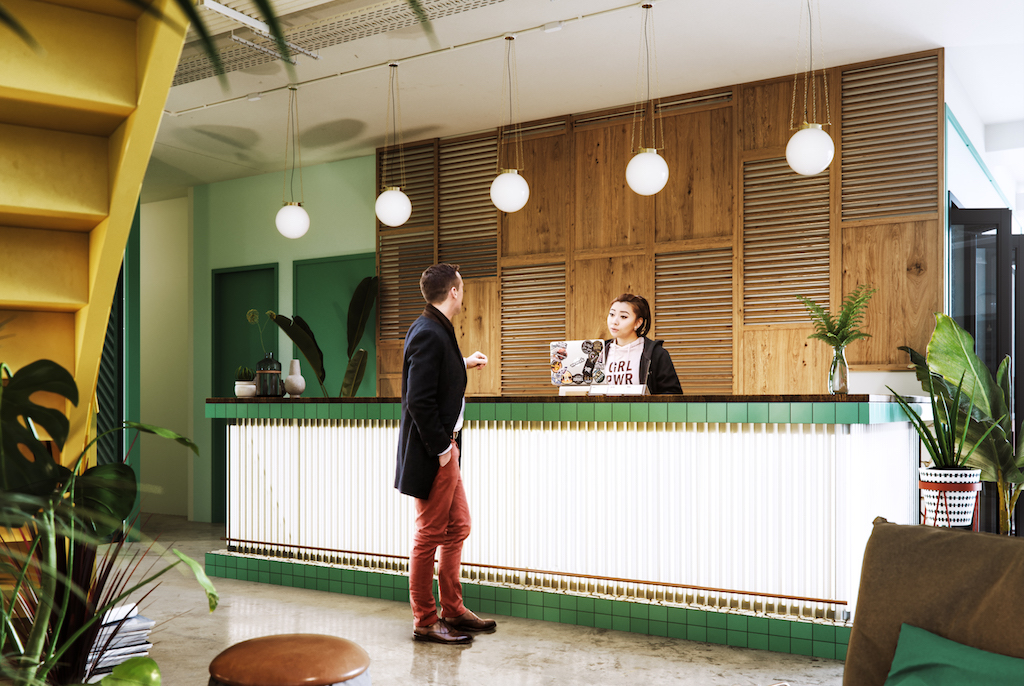 Another unique location is the newly opened WeWork Houston Galleria, which was also inspired by the area. In this case, it was the proximity of NASA. Designers gave a nod to the space program by blending earthy textures and gleaming metals. And many of the lighting fixtures have a distinct mid-century modern vibe.
In São Paulo's WeWork Berrini, the interior design reflects the numerous nightspots that dot the neighborhood. Some of these bohemian hideaways date back 50 years or more.
"Everything is local to Brazil," says interior designer Wyatt Blackwell. "Elaborate tilework is paired with modern architectural details to create a relaxed, informal mood."
Julie Quon contributed to this report.