Eight years since we were founded, WeWork has become the largest private occupier of office space in Manhattan.
In 2010, our co-founders Adam Neumann and Miguel McKelvey decided to create something new: a space where people could come to work, and be part of something greater than themselves, a community that brought meaning to their lives.
With grand ambitions, but a modest budget, they opened the first WeWork location in downtown Manhattan. Situated on Grand Street in Soho, they started with one floor in the building, spending the days leading up to its opening soda-blasting the brick walls and painting the old-school elevator to bring the space to life.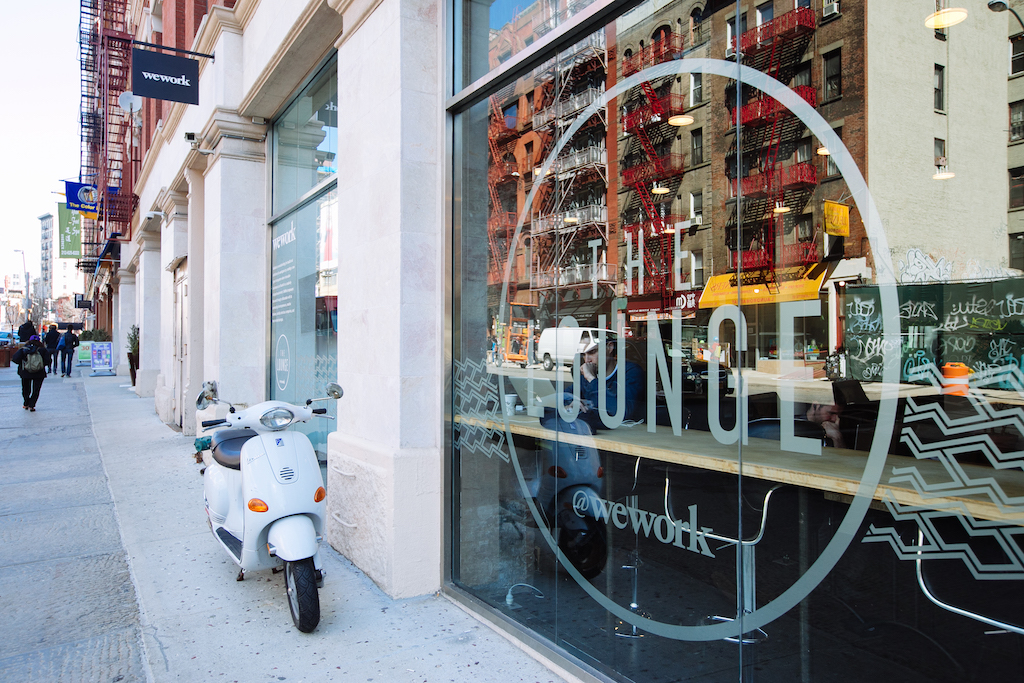 The overwhelming response to that space reiterated our belief that people were ready for a new approach to work and the workplace. This has been borne out over the years, with companies of all shapes and sizes becoming a part of the WeWork community, leading us to expand our presence across the city such that we are now the largest private occupier of office space in Manhattan. We reached this milestone with the signing of a lease for 258,344 square feet at 21 Penn Plaza, a building owned by TH Real Estate, a landlord with whom we enjoy a strong partnership, having previously worked together on projects in New York, Boston, and London.
From that single floor in a single building in Soho, we have gone on to occupy over 5.3 million square feet of space in Manhattan, placing us ahead of the four banking giants that have dominated the commercial real estate market for years. In total, we have approximately 60 locations across New York City that are either open or about to open, more than 50 of which are in Manhattan.
Our growth isn't confined to Manhattan and New York alone. In fact, New York isn't even the first city where we achieved this milestone. We become the largest private occupier of office space in London at the start of the year––less than four years after we opened our first location there in late 2014––and in Washington, D.C. this past summer. Globally, we now have over 300 locations that are open or about to open in 87 cities and 23 countries across the world.
As our presence has grown, so too has our team. Having started the year with approximately 600 people on our development team who were primarily based in New York, we've doubled in size and now have a global team of over 1300 professionals with experience in design, engineering, technology, architecture, construction, and real estate. It is this combination of expertise, and the holistic nature of our team, that allows us to identify, build, and deliver new locations better and more quickly than a typical developer.
Ultimately, however, it is our members––and the community they have helped us create at WeWork––who are driving this growth. In New York, we have over 50,000 members, with close to 300,000 members globally. They comprise individual entrepreneurs and freelancers, start-ups and growing businesses, as well as some of the largest companies in the world, including over 25 percent of the Fortune 500.
This community is having a significant impact on cities around the world, not least in New York. A survey conducted earlier this year by HR&A Advisors––an industry-leading real estate and economic development consulting firm––revealed that WeWork is having a far greater impact than we had imagined, not only on the buildings in which we have a presence, but also on the communities that surround them.
Buildings with a WeWork generally achieve higher rents, allow landlords to expand their tenant pool, and support increases in real estate values. More broadly, we're helping attract people to neighborhoods in which they wouldn't otherwise have spent a substantial amount of time. That's hundreds, if not thousands, of our members who are now having lunch at local restaurants, bringing clients to favorite watering holes, or picking up a few items in mom-and-pop-owned shops, resulting in round-the-clock activity and greater spending in these areas.
While we have achieved a lot as a business since being founded in 2010, ours is a journey that is just beginning. Most importantly, the values that guided our founders then—when they were opening our first location in Soho—are the same values that guide our team of more than 6,000 people today: to create spaces where we can achieve more together than we can on our own, where people can make a life and not just a living.