Nine years ago, we had an idea. We thought that if we created a community that helped people live life with purpose, we could have a meaningful impact on the world.
When we started in 2010, we had just one building, a vision for a brand, and conviction that there was an entrepreneurial spirit that was being underserved. We knew there were creators all around the world who needed a place to call home.
Early investors recognized our conviction and helped us build communities, first in New York, then San Francisco, Los Angeles, Boston, and Seattle. In 2014, we made a bold decision to expand internationally to cities of the world at the same speed that we were building in the U.S. We started in London, followed soon after by Tel Aviv, and by 2016, we had opened our doors in Shanghai, the first of our 100 locations in Asia.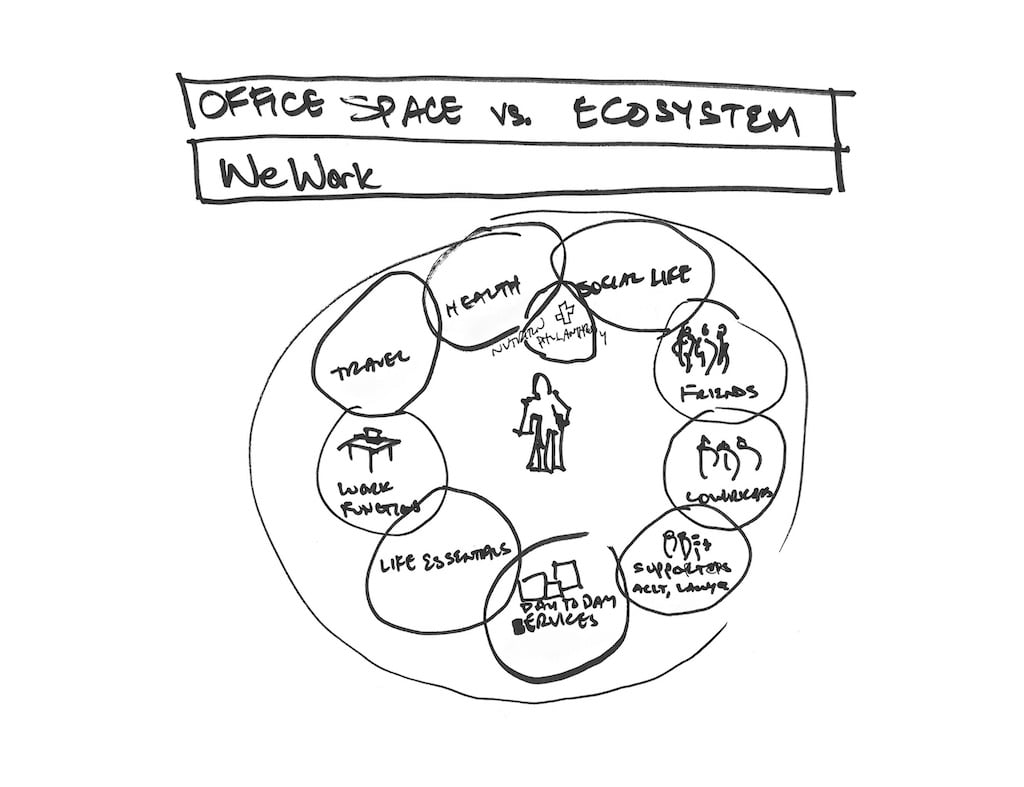 The vision for the WeWork ecosystem drawn by Miguel McKelvey in 2009
As our community grew we saw that the entrepreneurial spirit in the world wasn't limited to startups and freelancers, but that every company has creators. In 2016, we took another leap and started focusing on sharing the power of WE with large companies. As of the beginning of this year, 30 percent of Fortune 500 companies are members of the WeWork community; this has contributed to the strength of our growing business ecosystem.
The entrepreneurs, small businesses, and large companies that power WeWork have an economic ripple effect in neighborhoods and cities around the world. Small and medium-sized businesses in WeWork are thriving––experiencing an 18 percent annual growth rate compared to a global average of 1.7 percent. And 46 percent of enterprise members credit WeWork with giving them the freedom and flexibility to grow to new markets.
WeWork also advances inclusion and equity in the global economy by supporting a diverse group of leaders in WeWork member companies. Female members make up a higher share of founders, management, and leaders in WeWork companies than outside WeWork, and globally, almost 40 percent of all senior roles at WeWork member companies are held by women.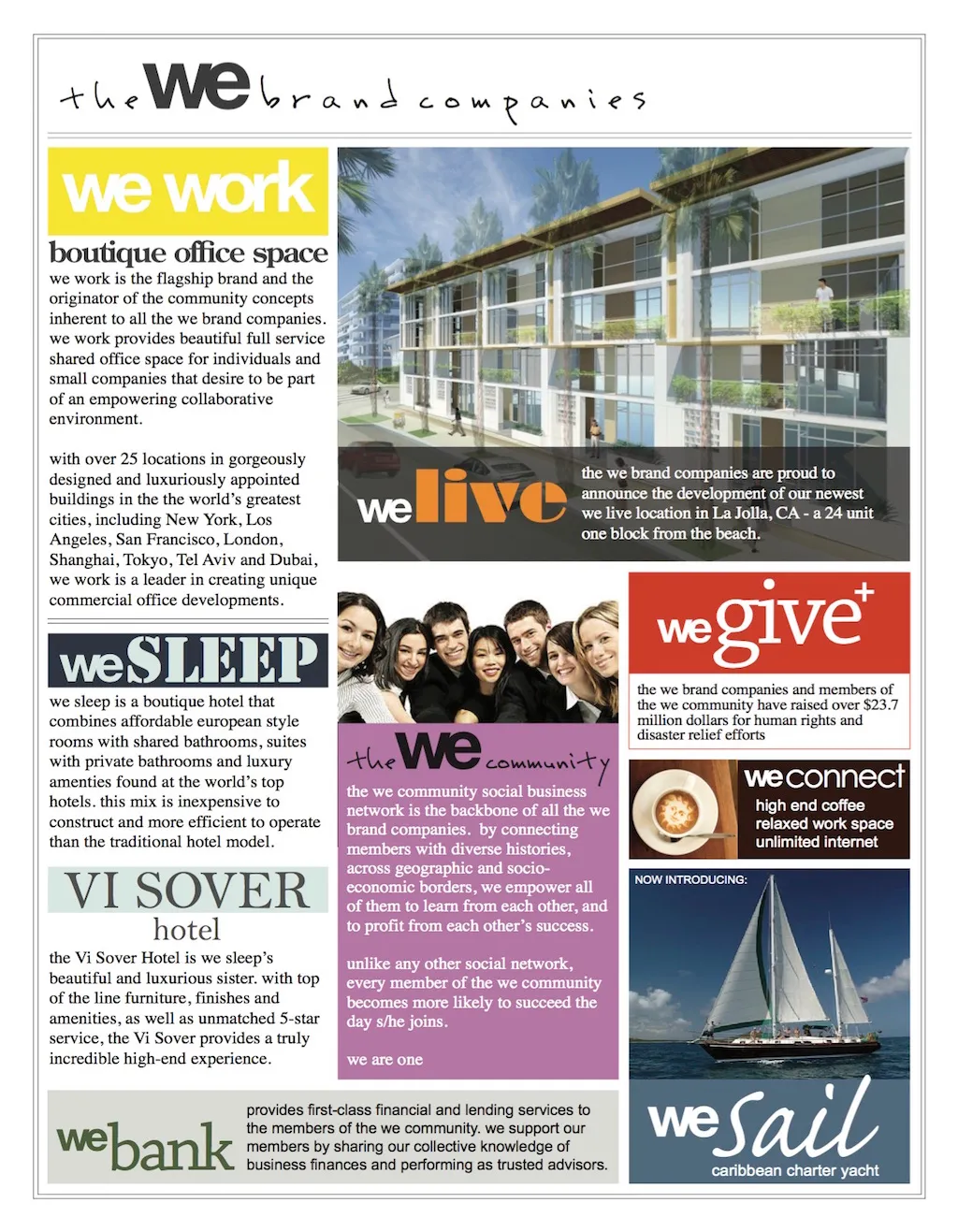 The 2009 plan for the family of We brands
Through the extended WeWork network, we now touch approximately 5 million people around the world, and we are confident that we will reach many more in the near future. What started as an idea now reaches people in all corners of the world from different backgrounds and unique cultures.
Given the opportunities ahead, we are pleased to announce that WeWork has closed on a $6 billion investment from SoftBank: $5 billion is in the form of primary growth capital and the remaining $1 billion is in secondary capital, which will be used to fund share purchases from investors and employees.
We've been able to fulfill our mission globally because of investors who share our belief in the business we're building. Yet we've always been motivated by something bigger. It's not the number of locations, desks, buildings, or amount of square footage leased. We're driven by the impact we know we can have when we all work together with a shared intention.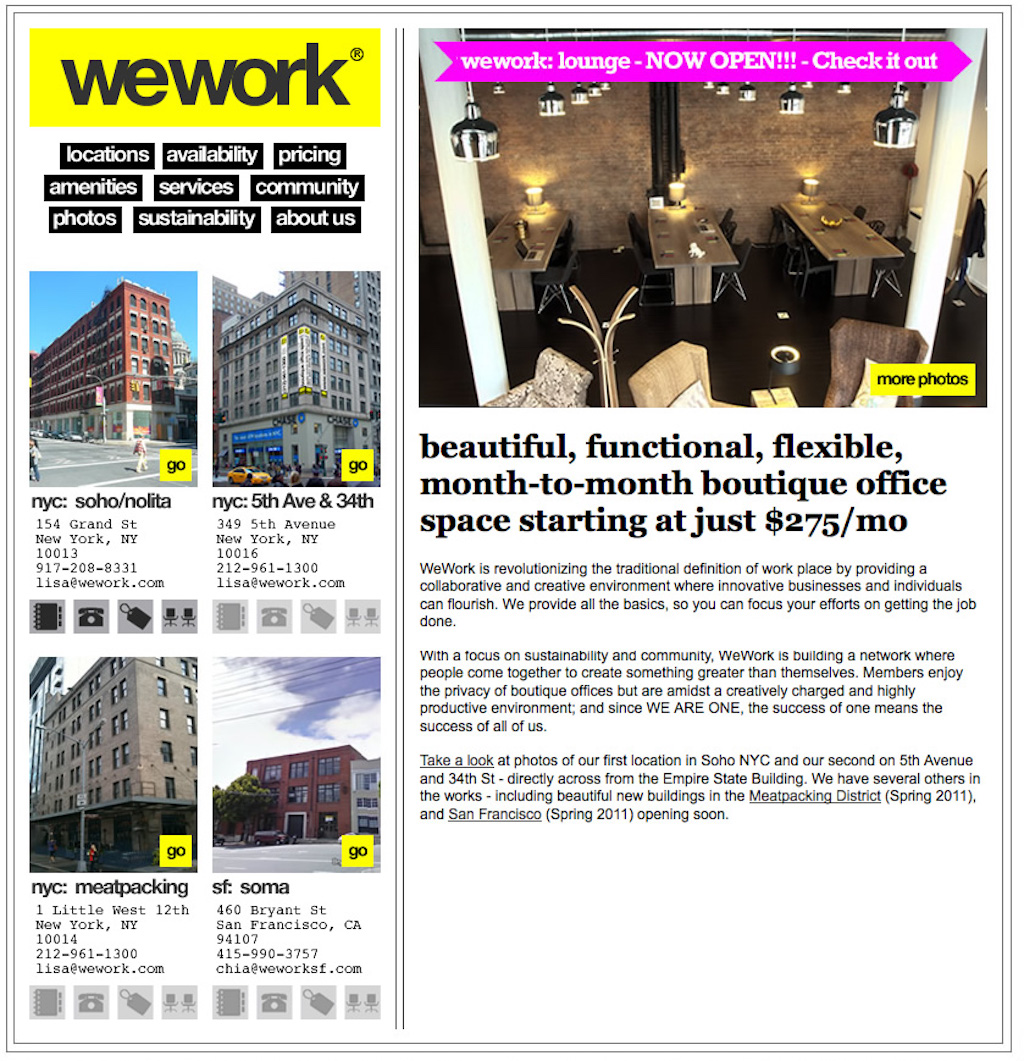 The original WeWork website design in 2009
Today, we're taking a step toward truly realizing our vision by beginning our next chapter. WeWork is announcing The We Company, bringing all of our business ambitions together to operate in service of how we work, how we live, and how we grow.
WeWork's mission is to create a world where people work to make a life, not just a living. WeLive's mission is to build a world where no one feels alone. WeGrow's mission is to unleash every human's superpowers.
The We Company's guiding mission will be to elevate the world's consciousness. Living a conscious life means choosing to live proactively and with purpose. It means being a student of life, for life, where we accept that we are always growing and in a constant state of self-discovery, self-growth, and change.
The idea that began in New York nine years ago was always about more than work—it was about supporting all aspects of life. As we've built WeWork, our community taught us that we are more alike than we are different. It taught us that we all thrive when we have a purpose. And it taught us that experiences bring more fulfillment and joy than material goods.
As we move forward, we will practice inclusivity, compassion, and open our hearts and our minds. In doing so, we can elevate ourselves and then the world.
Rebekah, Miguel, and Adam
Co-Founders
The We Company