Today, The We Company is debuting Made by We. Located at 902 Broadway in New York's bustling Flatiron neighborhood, Made by We offers the best of The We Company's diverse and vibrant community—all open to the public, no membership required.
Made by We will act as a new town square, revitalizing the neighborhood with a center of community where people can come together to work, grow, support mission-driven products and small businesses made by our members, and gather for events that help people build a life powered by connection and purpose.
This new offering features a retail space that showcases products like snacks, apparel, travel, and workday goods created by members of the We community, as well as a full café provided by Bluestone Lane, an Australian-influenced hospitality and lifestyle brand known for its premium coffee, healthy eats, and personalized experience.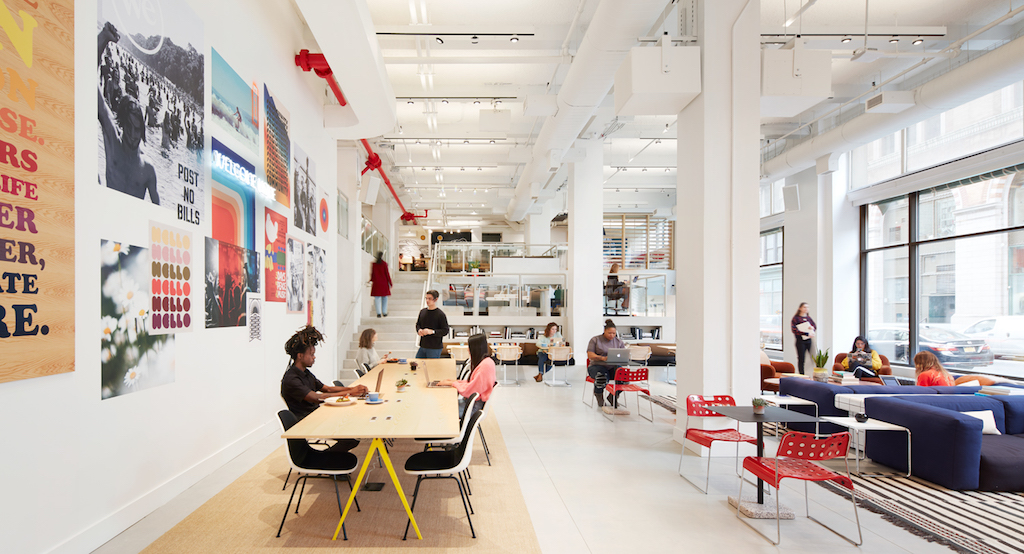 Our team created a custom version of WeWork's communal work and meeting spaces, with nearly 100 bookable workplace seats available on-demand or for pre-booking via our website and meeting spaces for groups of four to 10 people.
New York-based Dynomighty is one of the member companies whose products are featured in the retail market. Founder and president Terrence Kelleman began his entrepreneurial career more than 15 years ago when his first product, a magnetic bracelet, became a viral hit on YouTube. But in 2014, business slowed, so Kelleman decided it was time for a change: He stripped down everything in his life, including his office space, and joined WeWork.
"I've spent over a decade as an entrepreneur, and in the few years that I've been at WeWork I've learned a lot about how to continue to grow my company, especially online, thanks to the great WeWork community and networking events," says Kellemen. "I was thrilled to pitch my products to Made by We. Now I have a brick-and-mortar presence in the same community, which will continue to give me feedback and support my products throughout New York."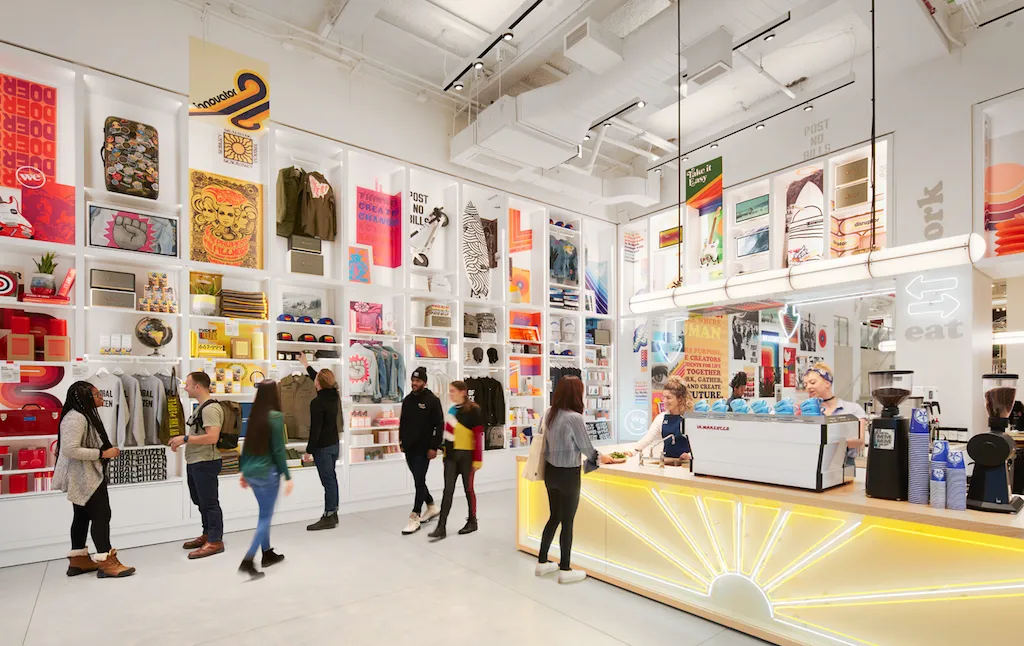 It's why Kelleman was so eager to participate in Made by We's marketplace, where three of Dynomighty's products—a tablet case, a laptop case, and assorted pencil cases—will be available for purchase.
By being open to the public, Made by We will ensure that The We Company's same dedication to our members reaches even more people in our greater community.
"Everything we do at The We Company, from the spaces we curate to the service offerings we provide, is intended to create meaningful human connections," says WeWork partner Julie Rice. "Made by We was launched with a vision to connect the We community with the rest of the world, and provide people with the best on-demand workspace, services, and products, no membership required."
We share this spirit with Bluestone Lane, which began as a hole-in-the-wall location in Midtown six years ago and has grown to include 35 cafés and coffee shops across the U.S., all influenced by the coffee culture of founder Nick Stone's hometown of Melbourne, Australia.
"Like The We Company, Bluestone Lane was born with a vision to bring people together and build human connection," says Stone. "Bluestone Lane delivers a genuine daily escape to our locals through premium coffee and tea, healthy eats, and personalized experience. We are thrilled to extend it to this exciting new venture."
This isn't The We Company's first foray into retail: WeWork launched our first modern marketplace at 205 Hudson in Tribeca in June 2018. That single outpost has since grown to include four markets in New York, with plans to expand further in the U.S. and internationally.