Cities are transforming, and in ways we might not have dreamed of a few years ago. Young people in search of places where they can work, live, and play are moving to cities big and small. Corporations, looking for the best talent, are moving back from the suburban enclaves where they've been based for years. City centers are vibrant places no matter what time of day.
With our growth over the last several years, we've learned a few key things. As we've witnessed how the WeWork community is changing people's lives, we've heard from our members, neighbors, and mayors about how WeWork has helped uplift and energize its surrounding neighborhood. We believed in the magic of WeWork because we see its impact in people's lives every day, but we needed to measure it.
WeWork partnered with HR&A Advisors, Inc., an industry-leading real estate and economic development consulting firm, to develop the first detailed economic and fiscal impact analysis of the WeWork Economy, with case studies in New York, Chicago, and Los Angeles.
Individual and business impact
WeWork helps new businesses grow, save, and thrive. Simply put, WeWork businesses are more likely to succeed. They grow faster—45 percent of WeWork member companies say that WeWork helped accelerate their growth. And they save thousands a year in rent, fit-out costs, and broker and agent fees. For a four-person company it would come to $18,000 on average, based on a comparable 600-square-foot office, fit-out costs, and agent fees.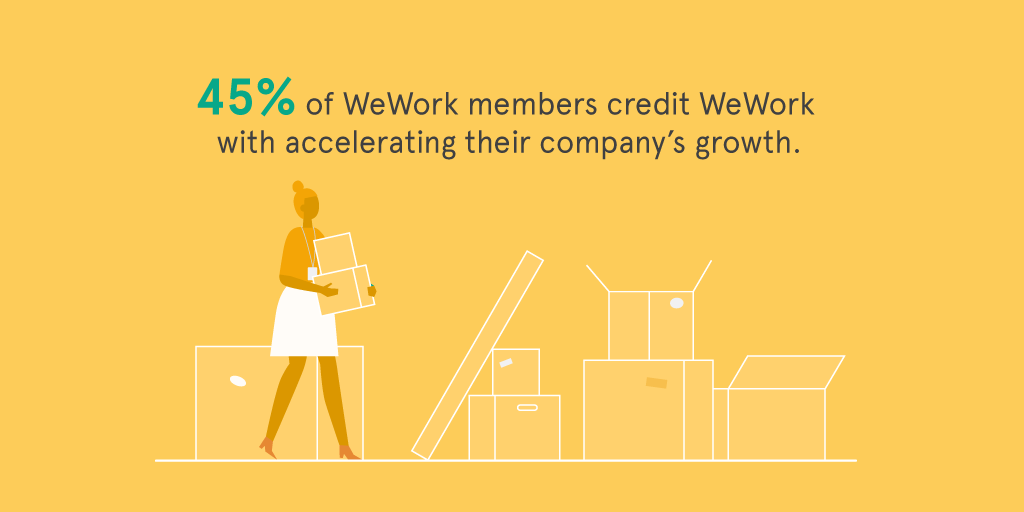 Approximately 75 percent of WeWork members are small businesses, including first-time entrepreneurs, local companies and nonprofits, and growing startups. They report that proximity to other entrepreneurs rather than setting up at home, or at the local coffee shop or traditional office, gives them a competitive edge. The statistics bear this out: After three years, new businesses at WeWork are 12 percent more likely to survive than their peer companies.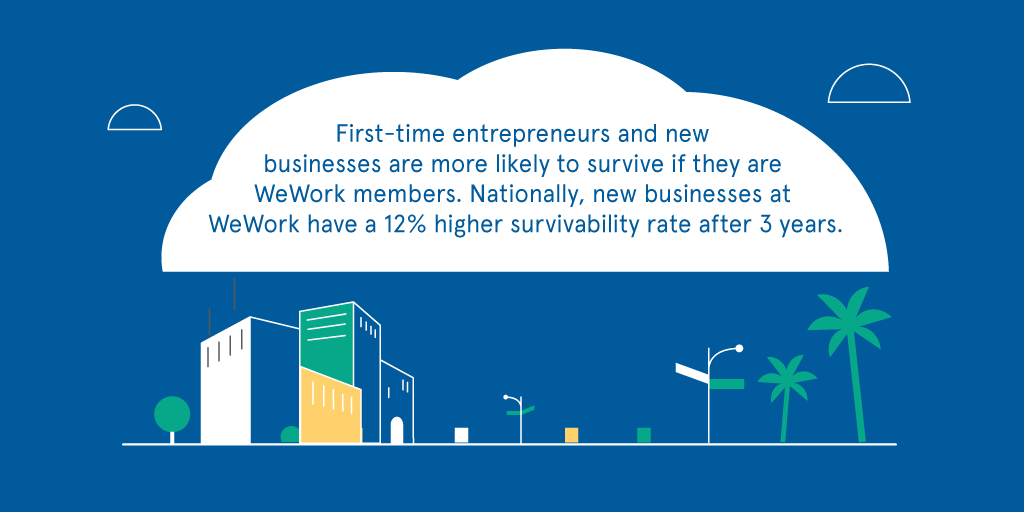 Rachel D. Wilson, founder of the Los-Angeles-based marketing firm Lady Rebranded, says WeWork has helped her thrive in the innovation economy.
"I would estimate that 50 percent of my clients come from WeWork, or secondary and tertiary relationships that began at WeWork," says Wilson.
The Fortune 500 gets it, too. Every startup wants to be an enterprise and every enterprise wants to be a startup. Twenty-two percent of the Fortune 500 are WeWork members. Why are the world's largest and most influential brands joining WeWork? It's about securing diverse top talent: About half of WeWork's U.S. members are millennials between 24-34, more than 40 percent are experienced professionals over 35, and nearly all have at least a bachelor's degree, compared to 37 percent nationwide. It's just smart business.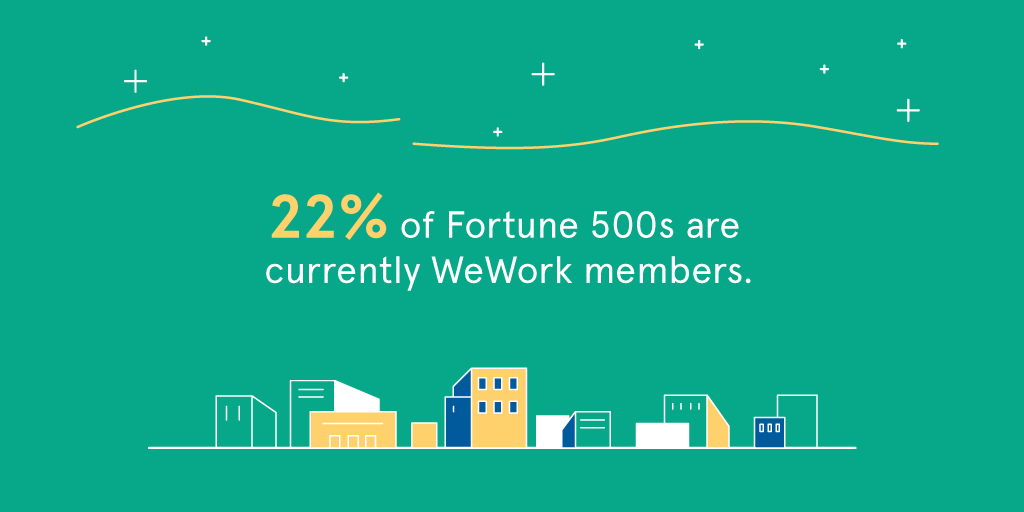 But it's also about culture and community. About 40 percent of these enterprise members chose WeWork because they wanted a more creative entrepreneurial environment, and 30 percent of enterprise members have offices at WeWork in multiple cities.
Ryan Logue, head of sales at enterprise member NASDAQ Private Market Group, became a member at WeWork W. 43rd St. for a combination of each of these reasons. "A big part of our decision to move to WeWork was to attract top talent with entrepreneurial spirit," he says.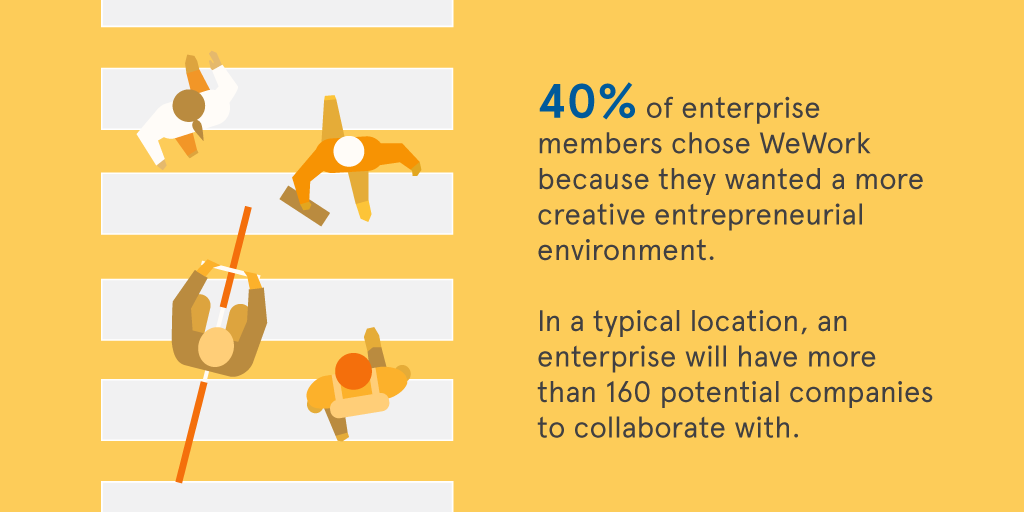 Logue also believes being at WeWork helps its client-focused business. "Nasdaq Private Market serves private companies across the globe, including many of the world's most recognizable consumer and technology brands," he says. "By locating at WeWork, our team can provide better customer engagement by sharing the same values."
Neighborhood impact
WeWork brings new people, businesses, and economic activity to neighborhoods. Seventy to 80 percent of WeWork members across New York City, Los Angeles, and Chicago did not work in the neighborhood prior to joining WeWork, bringing more activity and spending at local restaurants and shops.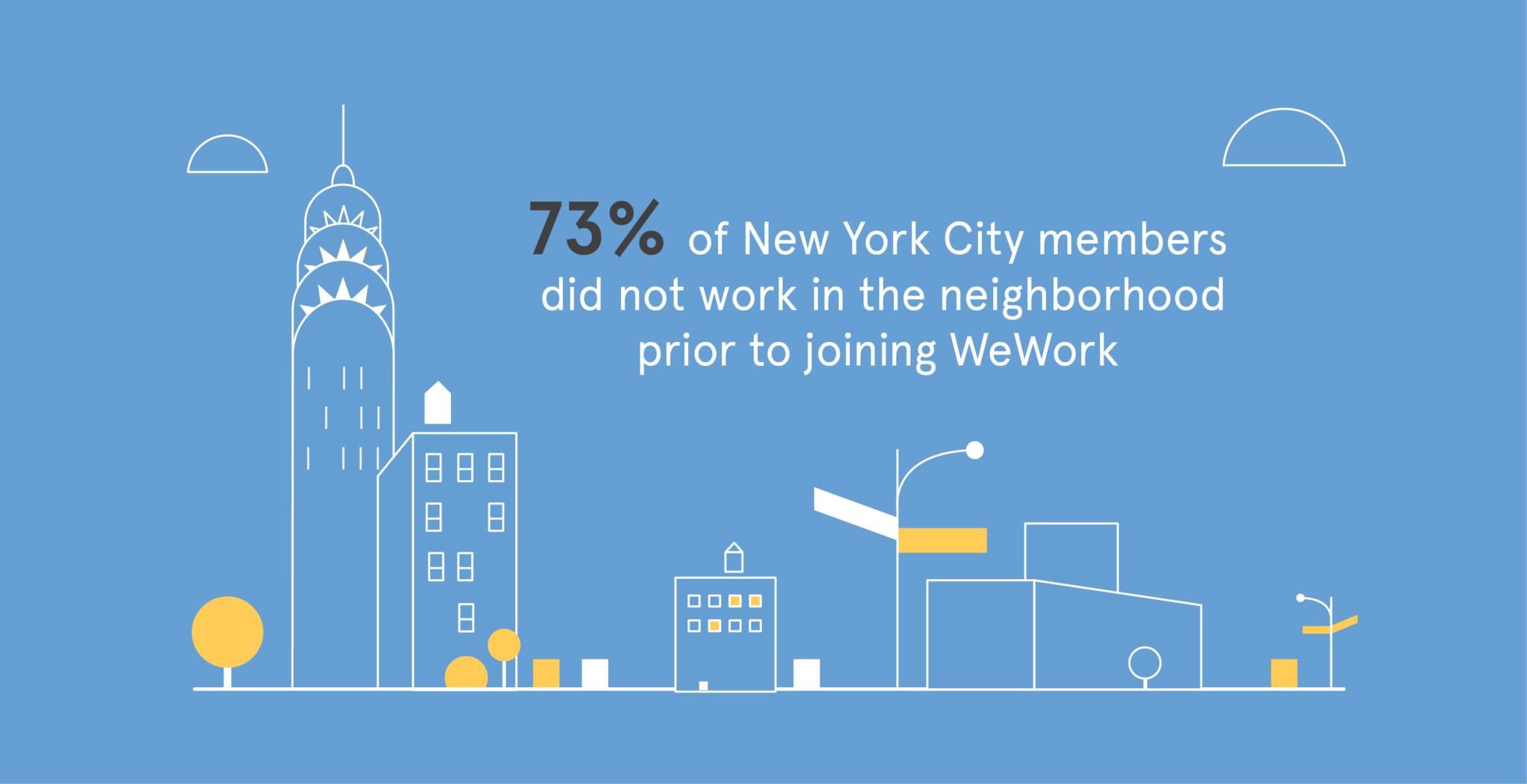 One example is Glaze, a sleek storefront restaurant focusing on Pacific Northwest-style dishes that opened less than a block from Brooklyn's WeWork Williamsburg. Founder Paul Krug credits WeWork for its success when it opened in 2017.
"From a startup perspective, there are so many ways that WeWork has helped us," says Krug. "And it led to other business opportunities for us as well."
Krug says WeWork members are still a big part of his business.
"WeWork continues to be extremely important for us," he says. "It's fair to say around 15 percent of our weekday lunch business is from WeWork."
With WeWork locations all over the city, people have the flexibility to choose their ideal place to work, finding one that allows them to work and live closer together—reducing the amount of time spent commuting. In fact, small business members in WeWork LA are three times more likely to rely on public transit, walking, or biking—and more than 66 percent live within 30 minutes of their office, compared to the national average of 51 percent.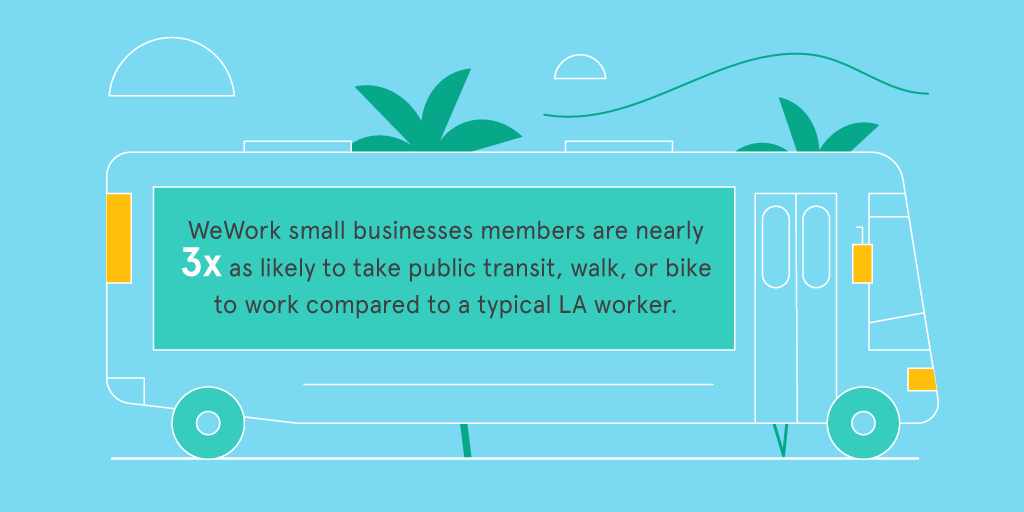 But the sustainability benefits don't stop there. WeWork is 2.5x more efficient with space than a typical office, freeing up room for new people, businesses, and jobs. Increased density and efficient use of real estate can reduce a city's carbon footprint, unlocking space in neighborhoods without requiring additional construction.
City impact
The study also found that WeWork creates a powerful economic ripple effect for cities. It was clear that WeWork has had a positive impact on businesses of all sizes—something that the study proved over and over again. Bringing all of these entrepreneurs, small businesses, and global enterprises together creates an innovation cluster in each WeWork building and a network effect connecting WeWork locations that form a constellation across the city.
Powering the innovation economy in cities. The innovation economy—including advertising, media, tech, and telecommunications, among other fields—is bringing high-paying, accessible positions to big cities like New York, Chicago, and Los Angeles. Entry-level jobs in this area pay at least 10 percent more than average.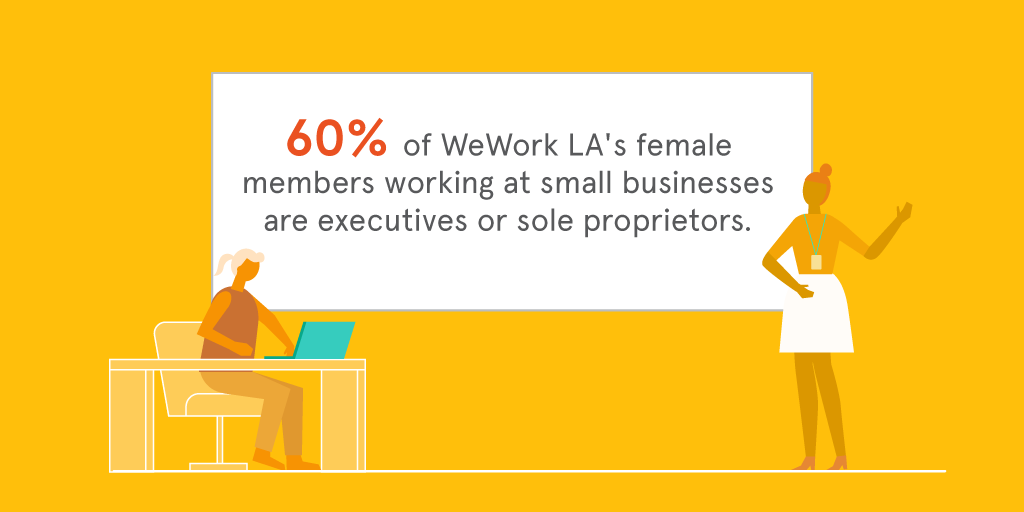 More than two-thirds of WeWork members are employed in the innovation economy, compared to 14 percent of employment in the top 10 U.S. cities. These members add millions of dollars into a city's economy each year.
WeWork gives companies involved in the innovation economy a definite edge. They have access to beautifully designed workspaces in desirable neighborhoods, can network with others in their field, and have access to important clients.
Sam Zaid, CEO of Getaround, the leading peer-to-peer car-sharing company, explains how WeWork's global network enables frictionless growth. "Getaround has regional offices at WeWork in cities all over the country, and it's been an important part of how we've been able to rapidly scale our team and operations in new markets," he says. "It's not just about the space—having a community of over 250,000 potential users is invaluable to our growth and to achieving our mission of bringing sustainable car-sharing to people everywhere."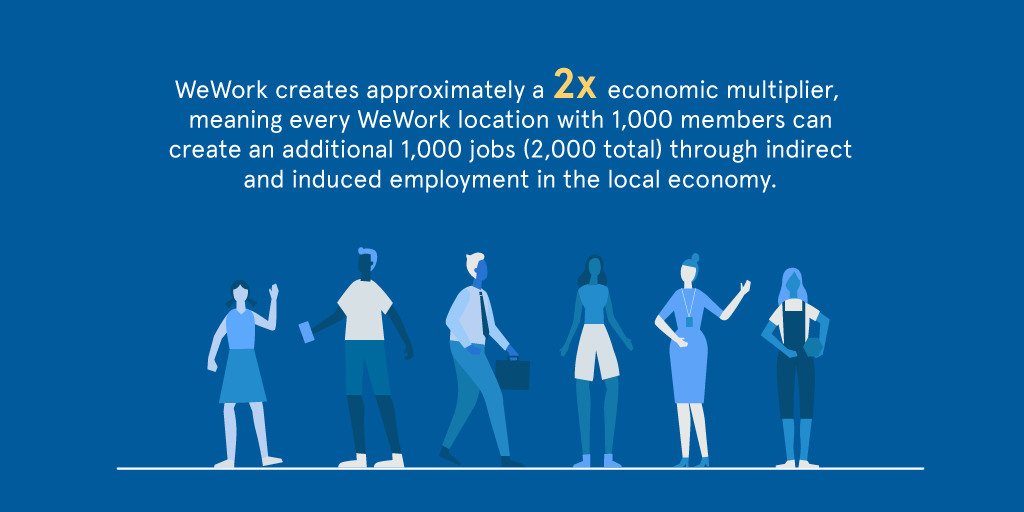 A powerful economic multiplier for cities. The WeWork Economy creates an approximate 2x economic multiplier for cities, meaning for every 10,000 WeWork members, an additional 10,000 jobs are created through indirect and induced spending—outpacing job creation in high-growth industries like management consulting, legal services, and real estate.
Why is this significant? The survey found that this "multiplier effect" was responsible for millions more in taxes—a boon to local and state governments.
Injecting billions into the city economy. The WeWork Economy is big and getting bigger. In New York alone it generates $16.7 billion, approximately 2 percent of the city's total GDP.
In fact, with over 50 WeWork locations and nearly 50,000 members across the city, if all of WeWork's members were a single company, it would be the largest private sector employer in New York City.
A global network of cities. Together we are reimagining, reshaping, and humanizing the architecture of our space, our buildings, and our cities to support innovation, encourage human connection, and provide economic opportunity.
What started as a single coworking space in New York City in 2010 has grown into a global movement.
With an international community of 250,000 members across hundreds of WeWork locations in 74 cities, WeWork is building the largest physical network on the planet. We are committed to keep building, innovating, and fighting to create economic opportunity around the world.
Check out the complete 2018 WeWork Economic Impact Report.