Space to inspire your best work
Whether you're looking for an office for focus or a shared space to connect, our locations are designed with your goals in mind—inspiring greater creativity, collaboration, and workplace productivity.
Speak to a workspace solutions expert today
Designed to fuel the work of tomorrow
Improve workplace productivity and performance
The home office has its shortcomings: lack of space and privacy to name a couple. WeWork, on the other hand, is built to enhance workplace productivity. Here, you'll have a quiet, professional space that empowers you to do your best work.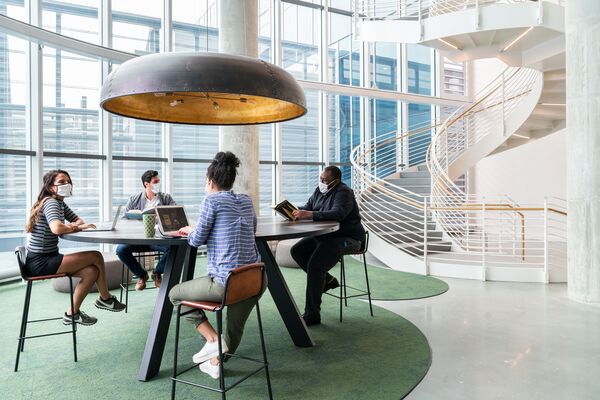 Connect and collaborate safely
From fully-equipped meeting rooms to bright, airy lounges, our spaces are designed to bring people and ideas together—sparking creativity and bolstering company culture. Teams can collaborate in-person while practicing social distancing in the workplace.
Work the way you want
Whether you need a turnkey office that prioritizes privacy or a custom buildout that sparks collaboration, all of our spaces are configured to meet your unique needs. Our designs are as dynamic as you and your teams.

Give teams more flexibility
The future of work is flexibility. With WeWork, you can empower employees to choose where and how they work best, whether it's at a central headquarters, several offices around the city, or something in between.
View flexible workplace solutions→
Workplace trends and insights