Everyone knows WeWork provides workspace for creators of all types, from solo entrepreneurs to teams from global corporations. But cofounder Miguel McKelvey says it's always been more than that.
"When we first started WeWork, we thought about it as a holistic solution," says McKelvey. "Our goal was to think, 'What do you need to be successful? What are all the things we could do for you?'"
Unveiled this week, the WeWork Services Store marks the next chapter in the company's evolution. This integrated hub for business services—similar to an app store—gives members the tools they need to better run their companies. It streamlines the process of finding, managing, and purchasing the various services that a growing company needs.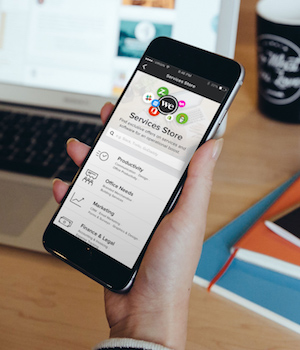 "We are going to make it easier for you to operate," says McKelvey. "We are going to save you money, packaging services that can all be billed through one invoice."
WeWork is partnering with more than 100 top providers, including Slack, Amazon Web Services, Office 365, Salesforce, and GoDaddy. Members will have discounted access to these and other services, which they can handpick to meet the needs of their company. The services include tools for everything from hiring and recruiting to accounting and invoices to marketing and website creation. Think of it as one-stop shopping for your business needs.
"What we are saying is, 'These are software tools that we really believe in, that we feel are the right ones for you,'" says McKelvey. "We are consolidating them all into one place, so with one click you can have all the software you need to run your business."
Ron Gura, the company's senior vice president of digital products, says his team did a lot of research so they could "really understand what would be the most meaningful offers" for WeWork's 100,000 members worldwide. The store launches in the U.S. this week, and will roll out globally in the future.
One of the members that the digital products team reached out to is Teresa Tsou, the president of Pipcorn, a snack company that makes hand-seasoned mini-popcorn.
"One of the things about WeWork that's great is that they really do understand how businesses and entrepreneurs work," says the member of Brooklyn's WeWork Dumbo Heights. "And so with the WeWork Services Store, to be able to find recommendations on applications that make sense for businesses our size is invaluable. It allows us to really focus on what we love — which is popping popcorn."
The store includes recommendations from fellow members about what products they use, helping streamline what can often be a confusing and time consuming process.
"Bringing a curated selection of things that are relevant to you, and are trusted by people like you, is exactly what you want when you are trying to build something," says Clark Valberg, founder and CEO of InVision, a platform for planning, designing, and building apps.
Valberg says the last thing entrepreneurs and creators want to think about, and spend time on, is what marketing email or accounting software to use; "So getting clarity on that decision super fast, and knowing the people around you feel the same way, and actually love the product, is incredibly liberating for people starting a business."