When a global pandemic forced much of the world to stay at home, media consumption hit an all-time high. According to a recent study by Nielsen, time spent streaming content around the world increased by one billion hours from March to May this year.
With this rapid rise in content consumption, there are big changes happening to the media and entertainment (M&E) industry. This growth is leading to an evolution in how these companies think through their space requirements as they bring employees back to the workplace.
As the portfolio sales director for WeWork in Southern California, the M&E industry is (extremely) close to home for me. Over 300 global M&E companies—a large majority of which are in the Los Angeles area—have space with WeWork. Below, I share some of the specific ways that M&E companies are thinking about their unique real estate needs, and how WeWork is positioned to help this market.
The show will go on for media and entertainment
Global demand for content is currently soaring. And while M&E companies can rely on backlogs of programming, their success hinges on their ability to develop fresh, engaging content, which means production needs to keep rolling. For many companies and studios, that also means hiring more employees.
Companies are implementing guidelines—including securing more space per employee—that keep these employees safe. That means many major studios will need to invest in more space than before as their headcount increases.
Recently, WeWork helped many of these production studios and media giants expand their footprints into global markets because of an increase in demand for content. This impressive growth trajectory, as well as today's economic uncertainty, means that real estate flexibility is at an all-time premium.
The small screen needs a bigger space
Today, companies across all industries require more space to keep their employees at a safe distance. But entertainment companies often require more space than the average office. They need soundstages, edit bays, production rooms, back offices, front offices, and more (this is why sprawling metro areas like Los Angeles and Atlanta are ideal for this industry). As such, de-densification measures for the media and entertainment industry are even more dramatic.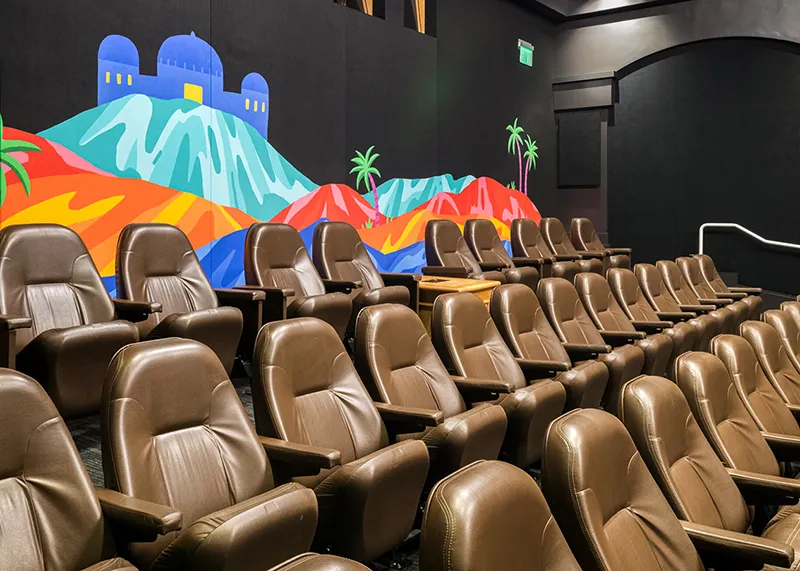 The need to de-densify spaces will make it harder for your clients' teams to work down the hall from one another, but it's not impossible. In 2020 alone, WeWork has established more than 60,000 rentable square footage (RSF) of full-floor agreements in greater Los Angeles—many with neighboring buildings—making it convenient for different departments to collaborate when they need to. And we're continuing to expand our inventory in metro areas like New York City and Atlanta, where the media and entertainment industry also centralizes.
More than just craft services, M&E requires well-crafted amenities
Unlike other industries, not all M&E clients can move into standard office buildings. They require marquee locations and need special amenities. These types of build-outs can be extremely expensive and take time—time that many of these fast-growing studios can't afford right now.
That's why WeWork has worked closely with our partners in M&E to develop premium locations with state-of-the-art amenities that we know these clients need. Brand-new locations in Los Angeles, such as WeWork Pacific Design Center, come standard with ready-to-use, high-end amenities like screening and recording rooms, editing bays, and podcasting studios.
In addition to high-tech amenities, many large M&E clients may need additional space for their executive management or talent-facing interactions in marquee locations that mirror their studio's branding. Any of your clients can put their stamp on a WeWork location by influencing design and branding throughout the space without extra up-front costs. In an industry where image is everything, tailored, branded space matters.
Is M&E ready to move to a flexible model?
The answer is a resounding yes. It's common for studios to own their space and put down their flags. But given economic uncertainty, companies aren't willing to sign a 10-year lease anytime soon. Space and term flexibility is more valuable than ever, and companies need to move fast to keep pace with their competition.
WeWork provides flexible and negotiable membership terms for M&E clients, allowing them to immediately move in and stay as long as production lasts, whether that's for months or years. This flexibility makes WeWork an ideal option for an industry that doesn't seem to be slowing down anytime soon.
If you'd like to learn more about how we can creatively structure deals, layouts, and locations to serve your consulting clients, please visit brokers at wework.com/brokers, or email brokers@wework.com to connect with us today.
Dan Carr is portfolio sales director for Southern California at WeWork. Carr has served in various finance and real estate transaction capacities since joining WeWork and brings more than eight years of real estate and corporate finance experience. He now helps companies to unlock value by leveraging flexible real estate solutions across their footprint. 
Rethinking your workspace?