More than 100,000 people arrive at London's Canary Wharf every morning, drawn by the businesses, shops, and restaurants housed in sparkling highrises towering above the River Thames. But this bustling complex—the entranceway to the Isle of Dogs peninsula and the home of London's financial district—was not always so lively. Where now Canary Wharf is one of the largest contributors to the UK economy, and the wider borough, Tower Hamlets, is the fastest growing in London, the history of the Isle of Dogs is dotted with fallbacks and struggle.
As WeWork opens its first building in Canary Wharf at 30 Churchill Place—a shared workspace that features 12 floors of more than 6,000 desks and premium amenities including spaces for meditation, a rooftop terrace, and a speakeasy hidden in the library—it's in stark contrast to the neighborhood's storied past. The history of Canary Wharf reflects London's political and economic background, and signifies the promise and potential of the city's future.
"Today, the area is one of the main financial districts within the UK, and you'll find many locals from surrounding areas come to Canary Wharf for shopping and leisure during weekends," says Zoe Mitchell, a community manager at WeWork 30 Churchill Place.
The story of Canary Wharf begins in the late 1600s, when docks were built at Rotherhithe in Southwark, directly across the river from the Isle of Dogs. This opened London to trade with other British colonies and quickly gave way to larger operations, including the West India Docks on the Isle of Dogs—the site Canary Wharf now occupies.
Rapidly, the Isle of Dogs grew in industry and employment. Almost as many people were employed at the docks in the 1800s as there are at Canary Wharf today; it was the busiest port in the world. People from all over England and Europe came to the neighborhood looking for work, and the mix in nationality and culture could likely be compared with the city's current population—nearly 40 percent of London residents are from overseas.
What's in a name? Canary Wharf was named after the 32nd berth of the West Wood Quay, which was built in 1936 for the importation of fruit from the Mediterranean and the Canary Islands. The same way the Canary Islands were given its name by Spanish settlers inspired by the islands' native dogs ("canis" is Latin for "dog"), the Isle of Dogs was named after the Canary Islands.
A global hub of business and trade
Through the 1800s and into the 20th century, London's East End was a global economy supported by business on the Isle of Dogs. But the good times didn't last: The docklands and London's East End were hit hard in World War II. More than 2,500 bombs were dropped on the area in an attempt to hinder the route of supplies flowing from London to the troops overseas and into London from the U.S. and wider Europe.
The area never fully recovered, and this decline was intensified by the introduction of cargo ships, which needed larger docks and deeper water to berth. Newer docks were created elsewhere and, by the 1980s, what had been a thriving, bursting economy was a wasteland of unemployment and abandoned buildings. Every dock was closed, and the area became a hotbed for crime.
London's next business district
Despite public protests (some involving a herd of shepherd dogs and the release of more than 150,000 bees in the neighborhood), plans for mass revitalization began in 1981 with the establishment of the London Docklands Development Corporation. The docklands were slated to become London's next business district, home to new transportation options and anchored by the 50-story One Canada Square, which would be the tallest building in the UK.
Yet when Prime Minister Margaret Thatcher first broke ground on the construction site in 1988, no one could predict that the company in charge of the project, Olympia & York, would soon fall victim to the city's crashing property market. Having successfully opened One Canada Square in 1991, the company went on to file for bankruptcy a year later, and the area once again became a scene of desolation.
"I used to call up the CEOs of different companies and ask them [why they didn't like Canary Wharf]," said Lord Levene—a former mayor of London who became the chief executive of the Canary Wharf Group in 1997. "Many of them simply felt that it was too far away—on the other side of the moon—and it would be impossible to get there."
The largest urban regeneration project in Europe
Gradually the vision for a new business district was realized after the site was purchased by an international group of investors in 1995; Canary Wharf became the largest urban regeneration project in Europe. Today more than 17 million square feet of corporate real estate houses Fortune 500 companies, international banks, and media companies—spurring a wider revival of businesses and residential areas throughout Tower Hamlets.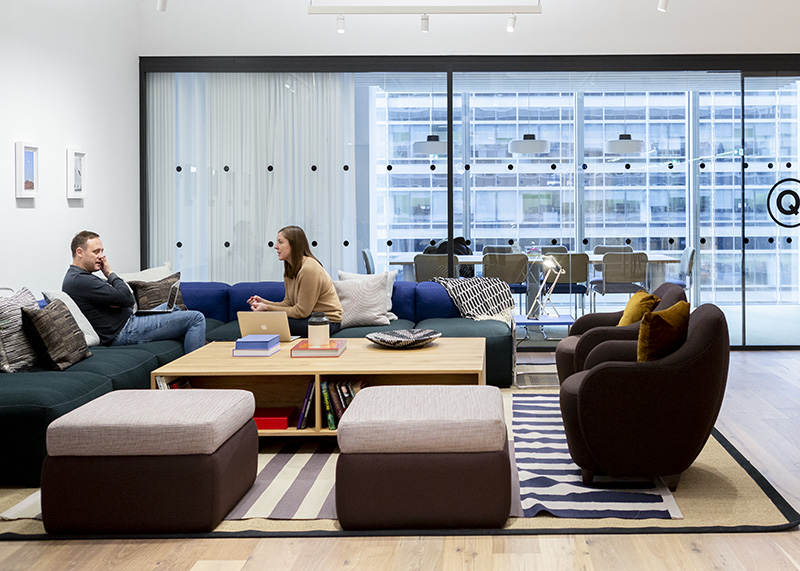 WeWork to 'challenge traditional office space' in Canary Wharf
WeWork 30 Churchill Place opened its first floors in December and—once complete—will be one of WeWork's largest locations in the world. It "challenges the typical expectation of traditional office space in Canary Wharf" and caters to growing startups, medium-sized businesses, and large enterprises.
The space, which will open fully next spring, features WeWork's first conference center (a suite spanning 11 boardrooms) and a WeWork Labs to help early-stage tech startups stay innovative and scale.
"London is a very successful and important market for us, so we are really excited to have opened our doors in one of the city's most attractive business districts with such an innovative building," says Mathieu Proust, general manager for WeWork in the UK and Ireland. "We're creating a diverse, inspiring environment at 30 Churchill Place so people from all sorts of industries and companies can work, connect, and thrive."
WeWork 30 Churchill Place community manager Mitchell shares the best places to eat, drink, and bask in history at Canary Wharf.
Best places to eat in Canary Wharf
Things to do after hours in Canary Wharf
Exercise: There are several exercise studios dotting Canary Wharf: "Sweat by BXR, Barry's Bootcamp, and Third Space are a great way to wind down at the end of the workday," says Mitchell.
Shops and eateries: Crossrail Place is a man-made island complex in Canary Wharf and offers a shopping mall, outdoor areas, and several eating options. Mitchell recommends Giant Robot, an indoor market located within Crossrail Place. "With both food and cocktails in plentiful supply, Giant Robot is the perfect after-work spot and it's open until late."
Shopping: In addition to Crossrail Place, there's shopping at Canary Wharf Shopping Center, Canada Place, Churchill Place Mall, and Jubilee Place Mall. Plus, Everyman Cinema is also nearby.
A spot for a break in the workday
For a breath of fresh air between meetings, Mitchell recommends the Crossrail Place Roof Garden. "With lots of exotic plants, it's a peaceful haven and you often forget where you are," she says. "There is also an amphitheater that hosts a number of performances throughout the year."
A note on transportation: The Docklands Light Railway led the way for the extension of the Jubilee Line and the Limehouse Link road tunnel, as well as connections to London City Airport. The Canary Wharf tube station, which opened in 2018, also connects commuters to Central London, West End, and Heathrow.
For more detail on WeWork's spaces and buildings around the world, check out all our articles on Ideas by We.
Caitlin Bishop is a writer for WeWork's Ideas by We, based in New York City. Previously, she was a journalist and editor at Mamamia in Sydney, Australia, and a contributing reporter at Gotham Gazette.