Dallas, Texas, is among the fastest-growing commercial real estate markets in the United States, featuring 921 million square feet of space in the combined Dallas–Fort Worth metroplex. With a thriving job market and a low unemployment rate of 3 percent, business is booming.
In its Q1 2019 market report, commercial real estate firm Lee & Associates predicts the region's "largest development year ever, possibly topping 35 million SF constructed." With net absorption expected to triple by Q4 2019, commercial rents continue to rise as landlords target 4 percent annual rent growth or more.
Dallas–Fort Worth is home to a diverse range of businesses, from local incubators creating startups in tech and biotech to established entities like Southwest Airlines, which was founded in 1967. Recent additions to the scene include healthcare giant McKesson Corporation, ranked sixth on the Fortune 500 list.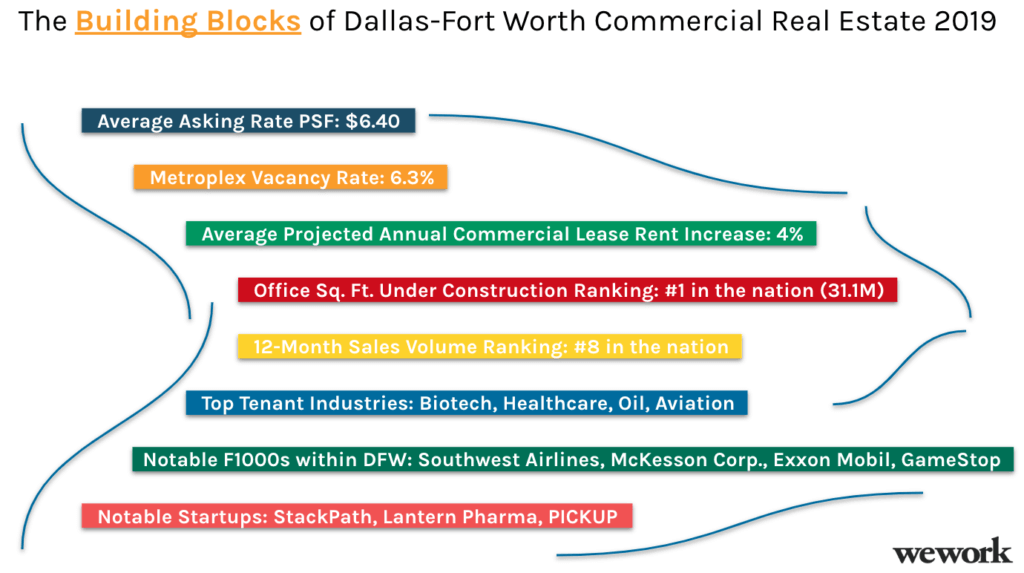 Why WeWork works for Dallas
In a market as competitive as DFW, the flexible office space model has quickly gained ground, particularly with midsize and large companies looking to set up shop or expand into new space under more flexible terms. WeWork is a desirable option for commercial real estate clients in Dallas looking for a turnkey solution. Short-term lease options, zero upfront capital investment, and no construction or real estate risks are just some of the financial benefits of flexible office space. Clients also appreciate the peace of mind that comes with securing a private, move-in ready space with amazing amenities and an on-brand look and feel.
How commercial real estate brokers win too
Finding the right space that works for a client can be challenging in a tight commercial real estate market like DFW. Beyond space constraints, the lead times for deal closings in traditional transactions push move-in dates even further. Because of how the transactions are structured with WeWork, flex office space deals tend to go much faster, and commissions are paid in a more timely manner.
Broker commissions in these transactions are also very competitive. For example, WeWork pays commercial brokers commissions of either 10 percent of year one fees or 5 percent of total contract value (the greater of the two numbers) for the initial client contract. For renewals and expansions, WeWork pays 3 percent commission on subsequent client contracts.* The ease of structuring the deal plus access to offices that have all the perks make selling flexible office space a very attractive option for busy brokers.
Whether it's midtown Dallas, Las Colinas, or Southlake, companies are flocking to the DFW area to take advantage of tax incentives, a comparatively low cost of doing business, a talented workforce, and a thriving economy. For brokers, it's all about finding the right space in the right time frame for clients scrambling to gain traction in the market.
Check out two new WeWork locations filling up quickly in trendy North Dallas' Preston Center and Las Colinas' Williams Square, or connect with us for other locations nearby.
*Up to any opt-out clause, exclusive of incremental configuration costs, net of any unpaid TCV from previous contract.