As we return to the office amid the COVID-19 pandemic, workplaces must make certain modifications. Offices must now feature spaces designed for professional distancing, increased sanitization, and lower elevator capacities. In that vein, we are looking at HVAC's role in a safe return to the workplace. 
HVAC (which stands for heating, ventilation, and air conditioning) distributes air around an interior space. These systems control the amount of air in an indoor area, the cleanliness of that air, and the overall thermal comfort that the air can provide.
The air we breathe is always an important aspect of any office—and with COVID-19 it is even more so. The HVAC systems distribute air around the space, so they have a huge impact on the spread and survival of airborne viruses in the air and on surfaces. That's why WeWork is closely monitoring guidance from industry and health experts to ensure that our HVAC systems are reducing the risk of transmission through airborne particles.
Around the world, our members and broker partners have the same questions: What are we doing to make sure the air within WeWork is clean and safe? How are we keeping up with industry guidance? And what are the costs associated with all of this?
As WeWork's global head of MEP (mechanical, electrical, and plumbing work), I spend my days thinking about these questions. I share some answers and discuss how this will impact your clients, below.
What is WeWork doing to address businesses' HVAC concerns?
Over the past few months, WeWork has kept a close eye on the global responses to HVAC by industry experts like Arup, a design and engineering firm. We've been reviewing industry guidance from organizations like ASHRAE and the Centers for Disease Control and Prevention (CDC), as well as gathering insights from our global team of MEP engineers.
It's important to note that long before COVID-19, WeWork already provided our member spaces with HVAC systems that would adequately supply outside air and filtering technology as required by local codes and regulations. With the sudden introduction of the novel coronavirus to our lives, WeWork is taking additional steps to review and track our indoor air quality—and we're ensuring all measures are in line with CDC and ASHRAE recommendations.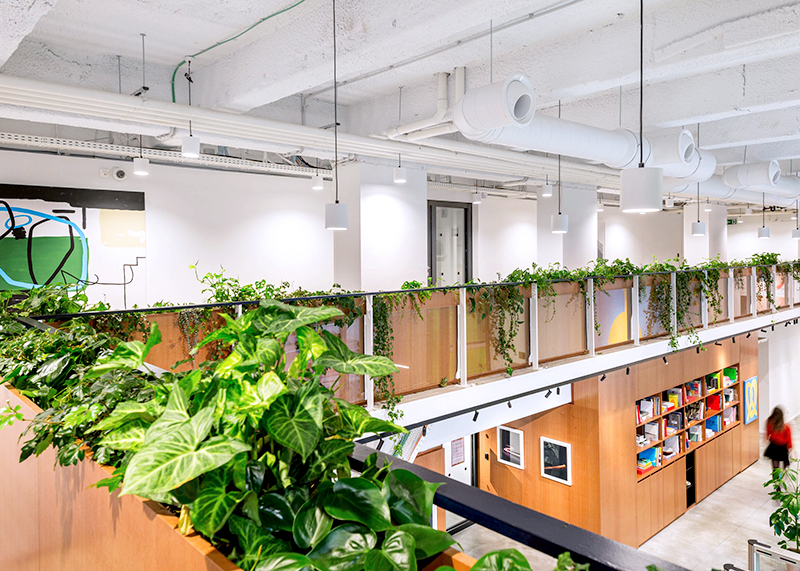 What additional steps is WeWork taking to maintain HVAC systems?
WeWork is centering our HVAC work around three main buckets:
1. Dilution
Dilution refers to replacing "used" air with "fresh" air. First, we're looking at ways to maximize the outside air that's brought into the building by modifying our outside air control where possible. We do this by, at times, using economizer cycles or resetting the minimum damper position to 100 percent open—both allow a higher amount of outside air in. As these systems are controlled by our landlords, we are working with them to see how these or other changes can be made.
We're also focused on the operating hours of our HVAC system, aiming for run times that continue before and after buildings reach design occupancy. These measures bring more outside air into the building for longer periods of time, and displaces (or dilutes) more of the recirculated air from within.
2. Filtration
Filters help reduce the amount of particulate matter in the airstream before that matter enters the office space. We are reviewing the maintenance and replacement schedules of these filters, and ensuring they're in line with manufacturers' requirements. The type and duty of filters vary across our global portfolio, so we are keeping a close eye on industry standards to watch for requirements as they arise.
3. Thermal conditioning
Thermal conditioning refers to how we monitor the air in our spaces. We already control and monitor the airflow in our spaces using building management systems. But to give us even more data, we are stepping up the monitoring of space temperature, relative humidity, and carbon dioxide (CO2). We'll be using an additional independent sensor network across 100 of our buildings. They will provide key data on ventilation effectiveness, and will allow us to stay nimble in the event that codes and regulations change in the future.
Does it cost more to stay compliant with new HVAC standards? Who assumes those costs?
There are indeed higher costs associated with operating HVAC systems for extended hours, increased maintenance checks on filters, dilution measures, as well as additional sensors and their supporting digital networks. But WeWork is committed to ensuring the health and safety of our members—at no extra cost to members. In other words, the increase in HVAC costs will not be passed on to your clients.
Additionally, members don't have to worry about having in-depth discussions with building operators, maintenance contractors, or landlords. In WeWork-maintained buildings, these measures come standard. In shared buildings, our operations teams work extremely closely with building managers to identify the right response and ensure service requirements are followed.
As more countries return to the workplace, WeWork is committing to continuously evolving our safety standards. Working with top industry experts, we will continue to apply new technologies and modify our systems to keep your clients safe. 
Have questions about our approach to HVAC safety, or want to learn how we partner with brokers? Visit wework.com/brokers, or email brokers@wework.com to connect with us today.
Daniel Hallett is global head of MEP at WeWork. He leads a diverse team of engineers working to simplify and standardize the way that mechanical, electrical, plumbing, and fire protection systems are designed and installed in WeWork spaces globally. Hallett brings 10 years of experience from the global consulting firm Arup, where he designed commercial, technical, and manufacturing facilities in cities across the U.S., Southeast Asia, and Australia.