Having your first coffee of the day at WeWork is part of an everyday workplace routine much loved by members. But WeWork coffee is about more than just a great-tasting ritual; it blends ethical values and sustainability with a huge outpouring of kindness.
In the UK, that impact is thanks in part to three of WeWork's partners: Change Please, the company that supplies both the baristas and the coffee beans in 26 WeWork buildings across London, Cambridge, Manchester, and Birmingham, as well as in Scotland and Ireland; The Estate Dairy, which provides non-homogenized, bottled milk each day to 56 WeWork offices across London, Cambridge, and Birmingham; and I Love Coffee, the social enterprise that employs and trains Deaf individuals to become baristas – stationed at seven WeWork buildings in London, Cape Town, and Johannesburg. All three business were chosen because of their commitment to making the world a better place. 
Why is it so important to do more than just provide coffee beans and sell milk? We asked all three founders—Cemal Ezel of Change Please, Shaun Young of The Estate Dairy and Gary Hopkins of I Love Coffee —to explain the mission of their companies, and how working with WeWork is furthering those goals. 
Happy cows produce great-tasting milk
Established just six years ago, The Estate Dairy is considered one of London's leading dairy suppliers, dedicated to producing and bottling the highest-quality milk and cream from the heart of the Somerset countryside.
Shaun Young and his partner (now wife) Rebecca had spotted a gap in the market. They knew there was room for their exciting vision: to produce milk that not only tasted better but was sustainably packaged, and that came from cows that were raised and cared for in a more humane environment.
"The way we source our milk has a real story behind it, just like coffee does," he says. "It is less processed and better for you, as we keep the product as close to the farm gate as possible." From the start, the company focused on providing a free-range lifestyle for its cows, as well as sustainability.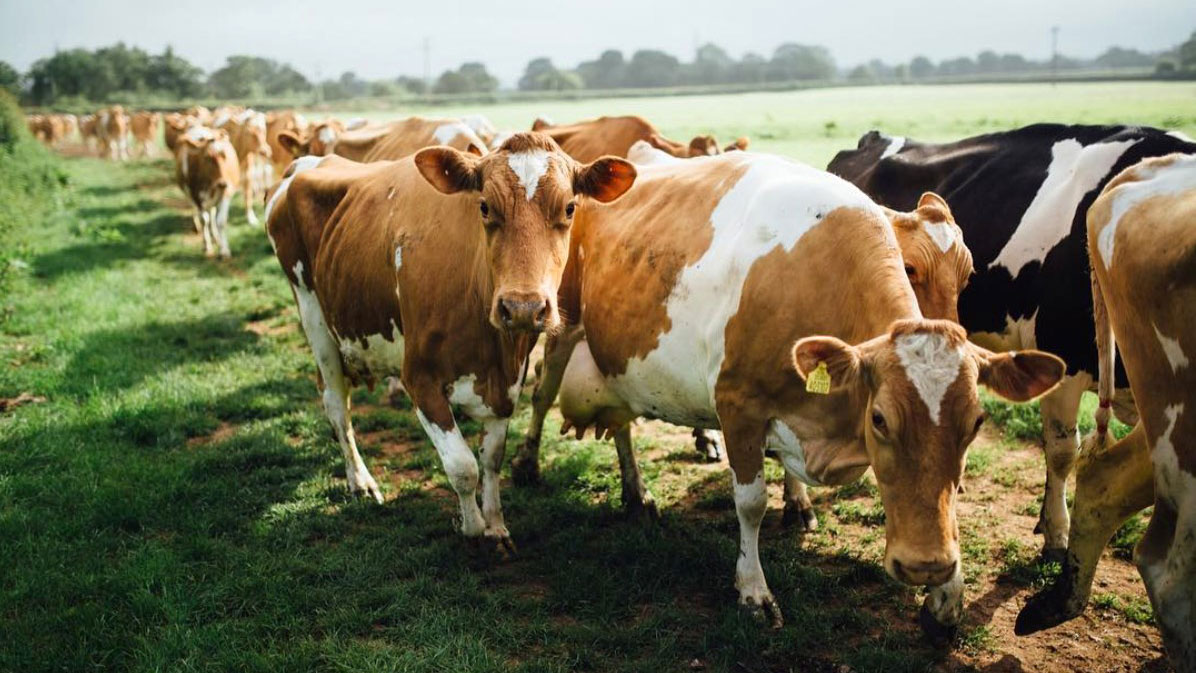 As the saying goes, the cream rises to the top, because The Estate Dairy has become one of the fastest-growing small businesses in the UK. Next, Young focused on working with small-scale family-owned farms, paying these dairies 15% more than the market rate to ensure a better-quality product.
"If you look at the dairy farms we work with, like Bickfield Farm, the cows are out on the grass 200 days a year," he says. "The Jersey and Guernsey cows we rear are well known for being higher in protein and fat."
While WeWork members and other consumers may experience all this work as a sip of delicious, creamy-tasting milk, Young says he's "just doing things right."
How the homeless found a home at WeWork
When Cemal Ezel was 29, he was on an 18-hour bus trip across Vietnam and found himself sitting next to a fellow traveler, telling him that he was disillusioned with his life as a commodity broker in the city.
"He told me to do the 'rocking chair' test and fast-forward my life to the age of 70, then ask myself three questions," Ezel says. "Had I made any positive impact on society? What would my legacy be? And how would my friends and family remember me?"
We produce and serve great-tasting coffee, with 100 percent of the profits supporting people who have experienced homelessness to get back on their feet.

Cemal Ezel, founder, Change Please
These profound questions had a huge impact on Ezel, and inspired him to look at himself—and the world—with new eyes. On his return to London, he was struck by the number of homeless people sleeping in doorways. One man held up a sign that read, "Change please." These words motivated Ezel to hand in his notice at work and sign up to attend The School for Social Entrepreneurs, where he worked on his business idea to get homeless people off the streets and into work.
In 2015, Change Please began operations, establishing dedicated academies that train people to be baristas. The three-month course helps attendees with timekeeping, confidence levels, and social skills, and also funds therapy sessions to help them deal with any underlying mental health issues. During this time, trainees receive accommodation, and if they're successful in the training, they're hired at a living wage of £23,500 ($28,490).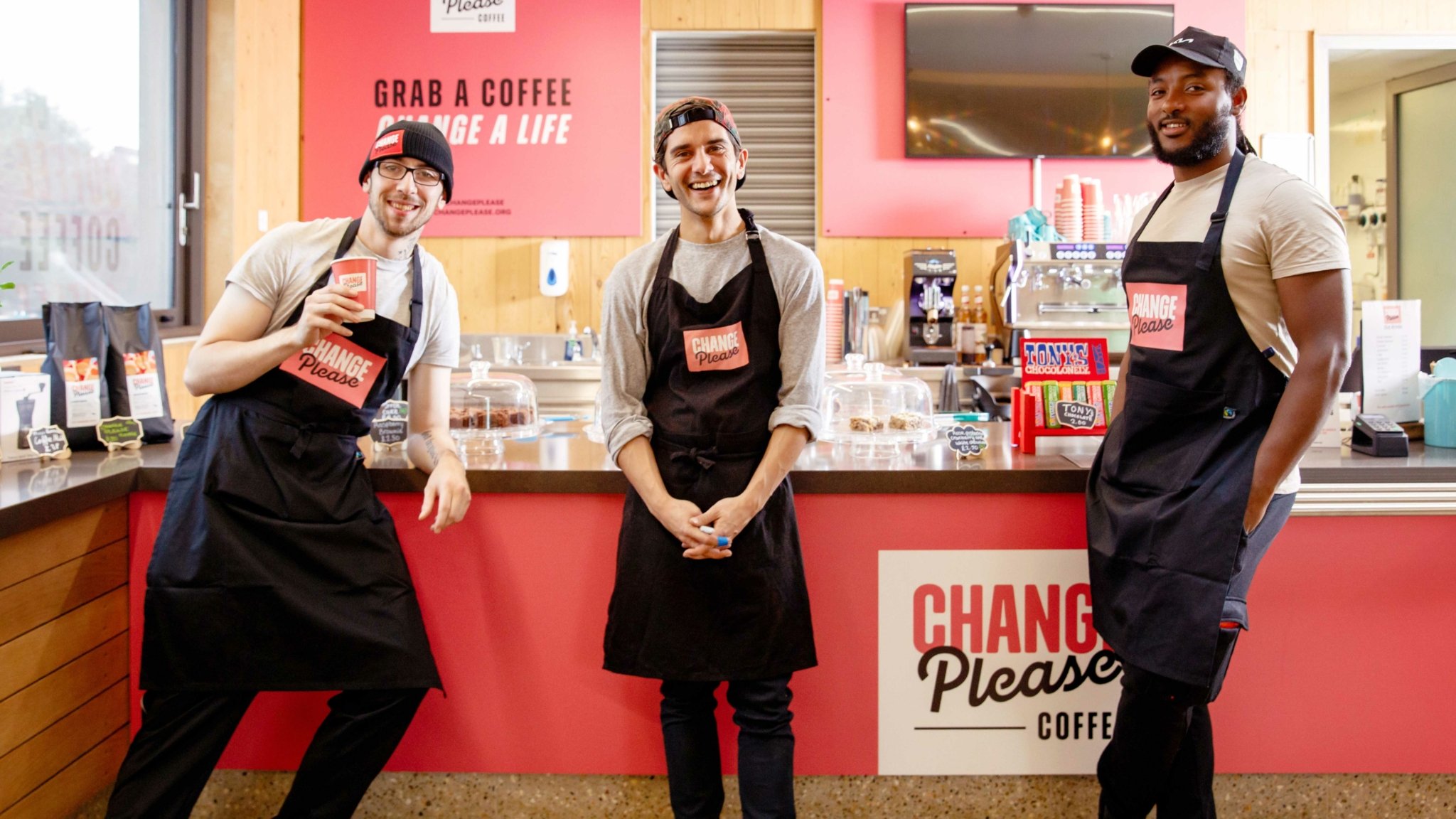 Change Please is also an award-winning coffee brand, sourcing coffee beans from companies worldwide and supporting farmers by paying them two to three times more than fair trade. All the coffee bean packaging is carbon neutral, too.

"Our mission, values, and ethos will always remain the same," Ezel says. "We produce and serve great-tasting coffee, with 100 percent of the profits supporting people who have experienced homelessness to get back on their feet."
Creating more opportunities for the Deaf community through the power of ordering hot drinks
Having spent almost 30 years as a copywriter and marketer, Gary Hopkins was freelancing for a major retailer in South Africa when he was introduced to the concept of a social enterprise. Soon after, he discovered that – due to the language barrier and poor access to education – more than 80% of Deaf adults in South Africa were unemployed. Like a lightning bolt, Hopkins knew at that moment that a cup of coffee could have a life-altering impact on the Deaf community; a way to create more job opportunities for Deaf individuals in South Africa.
And for those wanting their caffeine fix? Mastering a few signs wouldn't be difficult.
"We knew that coffee had the potential to unlock a new world of work for Deaf individuals," Hopkins says. "We were committed from that moment to exploring ways to open more doors, and provide more job opportunities for the Deaf community."
Launching their first coffee shop in 2016 in South Africa, co-founders Gary Hopkins and Mike Morritt-Smith were set on their mission to break the barriers of communication between the Deaf and the hearing through the power of ordering drinks. Starting out at a gym in Cape Town, the duo soon expanded their team of baristas and put down roots in-office cafés, including WeWork locations.
"Over the last six years," Hopkins says, "we have been overwhelmed by the outpouring of support from local businesses as well as companies like WeWork who share our interest in creating a positive impact for underserved communities."
Having recruited over 40 employees across 16 sites, and helped over 100 Deaf individuals into work in South Africa, Hopkins and his team aren't stopping there. 
Hopkins adds; "2023 will be a big year for us. In South Africa, we are soon to open our hospitality training academy, in which Deaf youth will be trained in sign language by our accredited Deaf trainers. Beyond this, we are expanding operations to the UK, and putting down roots in London, which will ultimately springboard us into other parts of the world." 
He says "as we continue to strive to create even more opportunities for the Deaf community through the life-changing magic of a cup of coffee, we hope to expand operations in the UK beyond just baristas to establish roasteries and recruit trainers."
Partnering with WeWork for an ideal cup of joe
In working with WeWork, Change Please, The Estate Dairy, and I Love Coffee have found more than new business—they've found a company, and customers, that help further their own missions. 
The Estate Dairy was able to grow its commitment to sustainability by partnering with WeWork to explore the option of switching to glass milk bottles instead of plastic. In just four weeks, The Estate Dairy presence at WeWork went from a single-building pilot to a 10-building rollout—and the switch from plastic bottles to glass saved 625,000 single-use plastic bottles.
"Because of WeWork's investment, we were able to bring in new machinery to fill and clean the returned bottles into a seamless process," Young says. "We now get about 30 uses out of each glass bottle, which is incredible."
The Estate Dairy now supplies milk to all 53 London WeWork buildings as well as to two of the newest offices in Cambridge and Birmingham, delivering 24,000 liters of milk per week to 55 WeWork locations. And because of WeWork's investment in the business, The Estate Dairy's product line now includes oat milk, butter, and yogurt.
Through its ongoing partnership with WeWork, I Love Coffee was able to expand beyond its homeland of South Africa to establish its presence in new markets with ease. By putting down roots in four WeWork locations in London, I Love Coffee is creating even more opportunities for the Deaf community. And, WeWork's ongoing support means I Love Coffee's positive work can ripple across the capital.
Hopkins adds; "It has been incredible to have a partner like WeWork on this journey. With an established presence already in London, and a barista bar setup in all of its WeWork locations, this partnership has felt like a natural fit from the beginning, and I'm excited to see how far we can take it. Watch this space!"
WeWork's business has also helped Change Please continue to grow. As a direct consequence of the WeWork partnership, Change Please has expanded globally, through different partners in eight countries including Australia, the US, France, and the UAE. They'll be helping different groups of people with social challenges, such as homeless veterans, victims of domestic violence, and refugees.
But beyond any financial benefits of working with WeWork, Ezel says the human connection is a true reward. "The people working there have more time to chat to the baristas because they haven't got a train to catch—they're at work already—which helps our baristas build self-esteem and confidence," he says.
"It's such a rich, fulfilling, rewarding, and impactful relationship that has transformed people's lives—and it's only been made possible by having a supportive partner like WeWork," Ezel says.
Ilana Salem is an author and advertising copywriter. She is a copy consultant for many startups and healthcare charities.
Rethinking your workspace?