Welcome to Washington, D.C., where all three branches of the federal government are found alongside international powerhouses like the World Bank and International Monetary Fund. A slate of Fortune 500 companies are headquartered here, and the city's universities are an ongoing source of fresh ideas.
As tourists from around the world descend upon Washington for its rich history, beautiful monuments, and leading museums, the dealmaking in this city never stops. This bustling administrative center offers a strategic location for companies collaborating with government agencies and contractors providing legal, education, and tourism services.
While the city is a draw for startups and established companies alike, the key to success in D.C. is knowing where to put down roots. Consider questions like: In which neighborhoods will your team thrive? And what's the most cost-effective way to settle in quickly?
Emerging opportunities in D.C.
As host of the bureaucracy, Washington has become a center for software, media, and information services catering to the government. The industries supporting these needs are projected to grow dramatically over the next few decades as federal agencies continue to modernize.
Then there's tourism: Domestic and international tourists pushed Washington D.C.'s visitor count past 22 million in 2017, and demand for travel-related services like hotels, restaurants, and travel agencies continues to climb.
Finally, as legal professionals, lobbyists, think tanks, and political organizations continue to thrive in Washington, they bring with them new ideas for automation. A burgeoning tech scene can be found in the inner city and Tyson Corner, and new pockets of innovation are constantly emerging across the metropolis.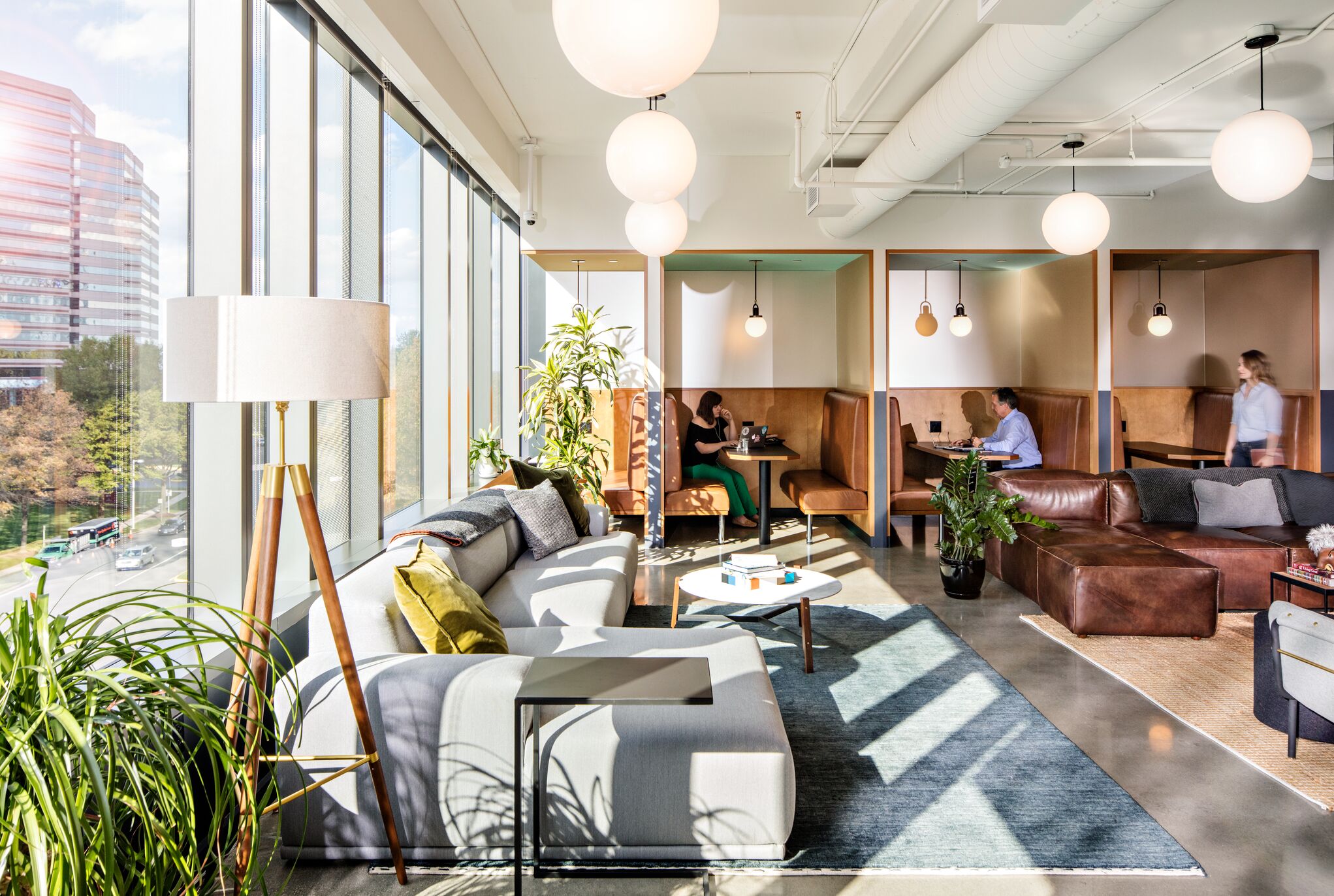 The cost of office space in Washington, D.C.
Office space in Washington has become a premium commodity as private businesses compete with federal agencies that need space for their own operations. Real estate developers and property owners are adding to the pressure by fueling development and increasing rents on existing buildings.
With affordable options all but disappearing, the market can be difficult for businesses hoping to keep their overhead low and avoid the rigidity of long-term leases.
Workspace options like WeWork offer a solution for this, providing flexible office space at several locations across the city. Set your team up in a private office or at a dedicated desk, and enjoy month-to-month leasing agreements, all-inclusive amenities, and a surrounding community of dedicated professionals.
Moving to Washington, D.C. with WeWork
Whether you're a legal professional after temporary office space in the capital, a software startup with your first contract, or an established business looking to expand, WeWork has locations that are well-suited to your needs.
Metropolitan Square
Ideally situated just a block from the White House—just off Metropolitan Avenue—WeWork Metropolitan Square is a draw for professionals in government affairs, public relations, and legal services.
With 10 floors of flexible office space, WeWork Metropolitan Square caters to teams of all sizes. The historic building is a winning backdrop to any growing business, and modern amenities like free-flowing fruit water, high-speed internet, printing service, and helpful onsite staff are all part of the WeWork experience.
An added bonus: The metro at McPherson Square makes getting to the building from outlying areas hassle-free.
Crystal City
Across the Potomac River in Arlington, Virginia, Crystal City is a thriving hub for innovative technology and media firms. The area is well-served by the local transit system: You'll have access to both the Yellow and Blue lines from a nearby metro station. It's also close to Ronald Reagan Washington National Airport, which is ideal if you're frequently partnering with businesses from out of town.
With spacious outdoor lawn spaces, relaxing lounges inside, and modern conference rooms that drive collaboration, WeWork 221 S Clark St helps foster out-of-the-box, entrepreneurial thinking. Heads-down productivity is possible, too, with sleek private offices and sound-proofed phone booths.
Crystal City is also a WeLive location, offering fully furnished apartments with flexible terms. Employees visiting the office from other cities for a few days or relocating to D.C. and staying for a few months will have access to all the amenities they need to feel right at home.
Whether you're launching a startup and tapping into the Crystal City tech scene or running a business Downtown and looking for space to expand, this is a lively and convenient location for your next venture.
Manhattan Laundry
Located on Florida Avenue on the northside of Washington, WeWork Manhattan Laundry is a well-located building for creative businesses, tech startups, and NGOs.
WeWork has several floors of rental space that can accommodate freelancers and small businesses. The ground floor of Manhattan Laundry is home to coffee shops and a beer garden—ideal if your guests are after a quick bite. The neighborhood is also bursting with nightlife and boasts an excellent selection of well-known restaurants.
If you're thinking about entering the Washington D.C. market, then consider streamlining the process by investing in a flexible solution that handles all the equipment, furniture, and amenities for you.