Elephant Skin is a creative archviz (architecture visualization) agency that helps real estate companies tell their stories through CGI illustrations, videos, and interactive tours of buildings and sites. The agency does this using technology such as 3D renderings, film animation, and virtual reality.
During the pandemic, when companies didn't hold many in-person meetings, real estate developers needed a different way to show their architectural designs. Elephant Skin stepped in and was able to meet this need by creating digital representations of the designs, so they could be viewed from anywhere in the world.
"I used to say that I changed to the fun part [of real estate] instead of the development, and now we help developers to present [and] connect with people," says Henrique Driessen, founder and CEO of Elephant Skin, who has a background in architecture and urban planning.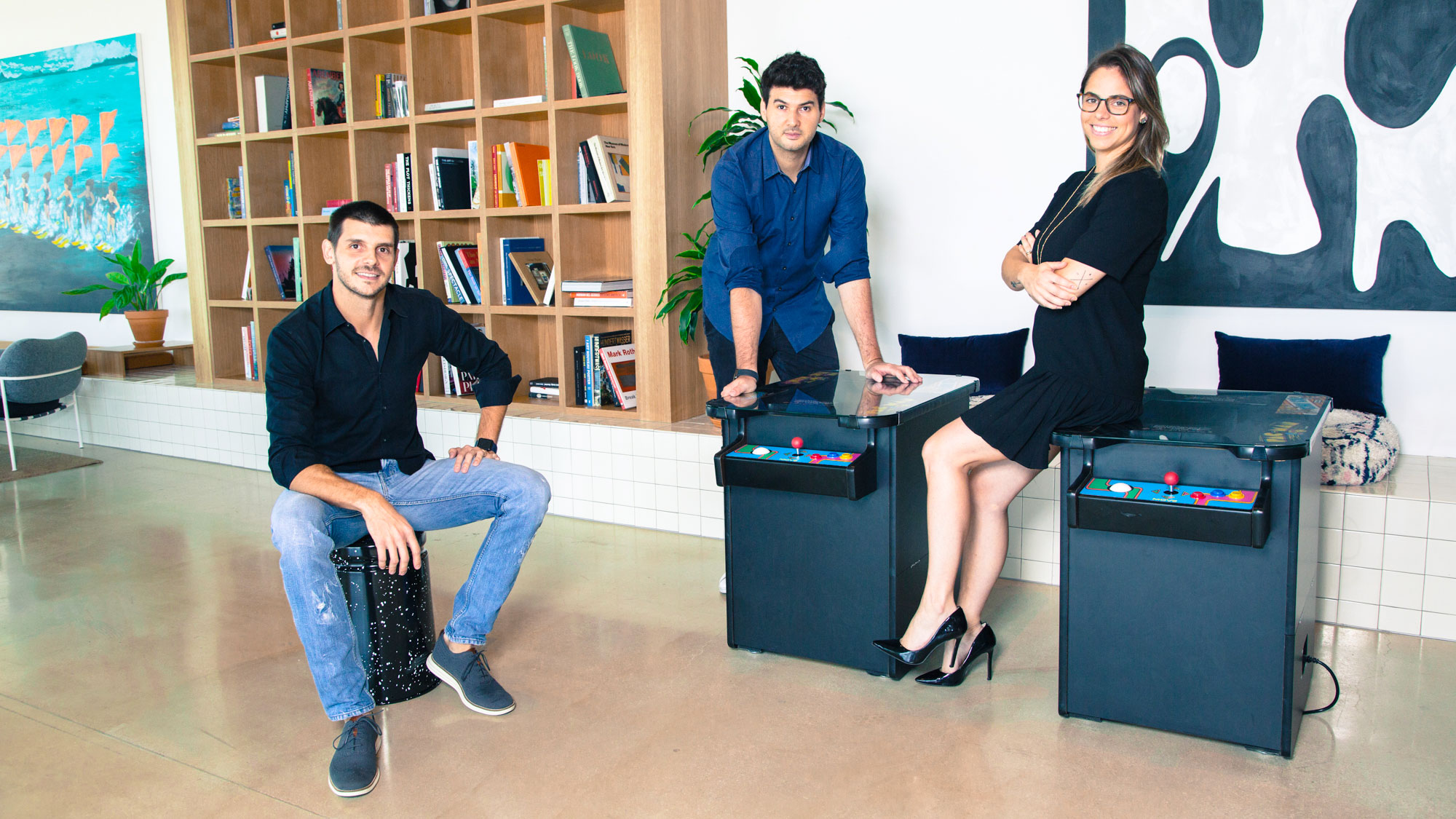 Elephant Skin was founded in the U.S. in 2017 and has expanded around the globe. Its employees, known internally as Elephants, work remotely in cities such as Miami, São Paulo, Portland (Oregon), and Toronto, so they can deliver the best VR experience to clients.
The company embraces a horizontal hierarchy, with flexible work hours allowing for personal autonomy and trust to naturally guide employees. This strategy has been working well. Since its founding, Elephant Skin has grown from two to over 100 employees spread across more than 30 cities and three continents. In 2021 the company saw a 150 percent growth, which it attributes to two things: its talent and a remote-first approach that enables the business to operate across the world.
The challenge: Creating a fully remote environment from the start
Elephant Skin started as a remote company with a limited budget. At first, Driessen worked alone, traveling to different cities to meet customers. But he missed collaborating with others.
"While remote is a good tool, people need people," he says. "We need to interact with one another. We need to see faces and exchange ideas, so we need to meet sometimes."
WeWork gives us a solid structure in places where we don't know the culture—it's a sense of security in an unfamiliar city.

Henrique Driessen, founder and CEO of Elephant Skin
He also wanted the company to be based globally. Culture and support weighed heavily on the founder's mind: How could an Elephant located in Miami feel as if they're part of the company when their coworkers are located in different parts of the world?
Remote work isn't always easy, he admits. Some days it's hard. But, he says, "you can't be lazy when it comes to your employees." Driessen knows how important it is to be available to other Elephants so people are comfortable asking questions and exchanging ideas. Having the right corporate structure combined with the right culture makes all the difference.
There are also practical concerns: Because of the nature of their work, Elephants often travel to new cities. Though they may not speak the local language or know the city, they need a reliable place to connect to the internet and have a cup of coffee.
The solution: Leveraging WeWork's reach to create a global business
Driessen had studied WeWork when he started working in real estate, and appreciated that companies can start small and grow at their own pace in a WeWork. Elephant Skin opened its first office in WeWork Wynwood Garage in Miami, moved to L.A., spent months in Europe, and then opened a bigger office in Miami, as well as a private space in Porto Alegre, Brazil.
The company now has dedicated offices at WeWork, and also gives its employees WeWork All Access memberships, which allows them to use WeWork spaces near home or around the world when it's convenient for them. Elephants can use WeWork offices when they need a desk or a meeting space with privacy, whether they're in their home city or thousands of miles away. 
"I personally use WeWork offices every time I travel, whether for meetings or in the mornings to organize my schedule," says Driessen. "WeWork gives us a solid structure in places where we don't know the culture—it's a sense of security in an unfamiliar city."
Earlier this year, seven Elephants traveled to Dubai for a trade show, and when they arrived, they headed straight to a WeWork to meet, drink coffee, and strategize about the company and the conference. And when Driessen is hiring new employees, he interviews them at a WeWork, rather than at a coffee shop or a restaurant, as many small companies do.
Result: A company of international scale
To date, Elephant Skin has dedicated WeWork office space in WeWork Wynwood Garage in Miami, as well as in WeWork Carlos Gomes 1672 in Porto Alegre, Brazil, and WeWork 830 NE Holladay St in Portland, Oregon.
While all employees are able to work remotely from wherever they choose, they frequently use WeWork spaces. No matter where an Elephant is working from for the day, they're connected with colleagues through Elephant Skin's "hello" culture, Driessen says. Every morning, people greet one another on Elephant Skin's platform as a way to start the day as a team—and to escalate issues as needed. "It's about being seen and showing people that you are there for them," Driessen explains.
"When people know that you are available, they feel comfortable inviting you to talk, ask questions, exchange ideas, and collaborate," says Driessen.
Elephant Skin's success as a remote-first company has inspired other clients to seek Driessen's advice, he says.
"The question is how we [can] empower artists and connect that with the best projects all over the world—and that's what's happening at Elephant Skin," says Driessen. "That's why a lot of people started becoming Elephants, so they can be creative themselves and not just be a follower."
Andrea Murad is a writer with a passion for storytelling. She covers business, finance, and technology, and her work can be found on BBC, The Real Deal, and in Global Finance magazine.
Rethinking your workspace?