Williamsburg restaurateur Todd Enany is multitasking. Sitting at a cozy corner table at the restaurant Sunday in Brooklyn, he's simultaneously discussing a catering job, keeping an eye on the kitchen, and feeding his one-year-old son, Arlo.
Enany is also deep in discussion with Natalie Williams, community manager at WeWork Williamsburg. She suggests that his restaurant cater an event for the largest company in her building.
"Every time we do an event with WeWork, we see a boost in our sales," Enany says, mentioning how his team brought in finger food for a recent holiday party at WeWork.
On this fairly typical weekday afternoon, at least two of the tables in the downstairs dining room are occupied by customer from WeWork, located several blocks away. At the far table a man is entertaining two clients, Williams notes, while a couple of seats away a woman is discussing her upcoming record release.
But can Enany quantify the effect that the proximity of WeWork has had on his business?
"My guess would be that 10 to 15 percent of our guests—dine in and take out—are WeWork members," he says.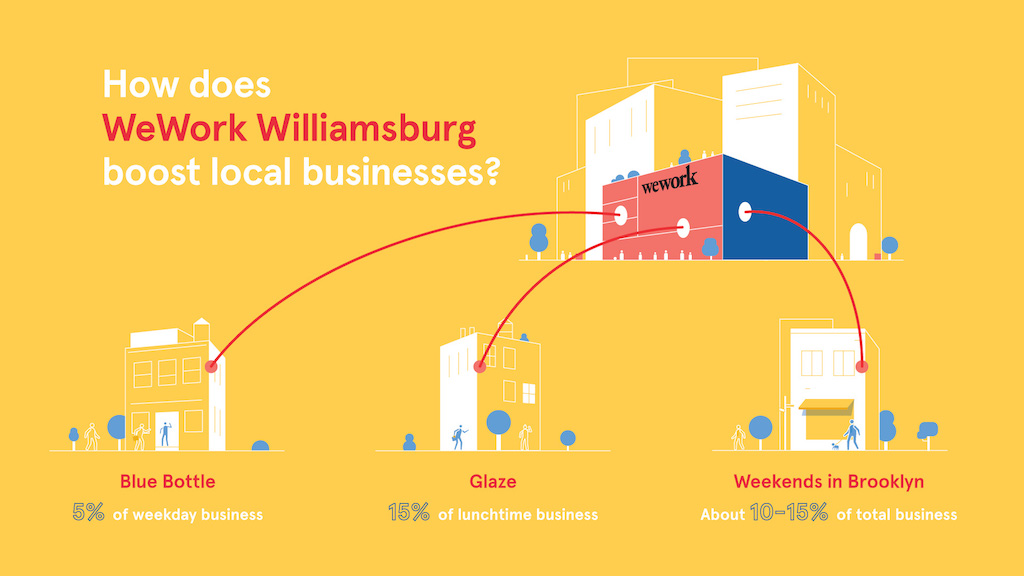 A recent economic impact report commissioned by WeWork shows that member businesses in New York generate $16.7 billion in spending each year, accounting for a huge chunk of the city's economy. Much of that "ripple effect" goes back into the local communities.
Take WeWork Williamsburg, for example. On the second floor of a brick building with floor-to-ceiling industrial windows, WeWork Williamsburg has 575 desks. It's not the largest of WeWork's New York locations—consider WeWork 79 Madison Avenue's 2,733 desks, or WeWork 85 Broad Street's 3,940 desks—but it has an outsized impact on its community.
Williams says that's because 70 percent of the members at WeWork Williamsburg live and work in the neighborhood. Many of them live within a five-block radius.
"You really see people getting behind local businesses in a way that's personal," says Williams. A transplant from Nashville, she has an easygoing manner that draws people out of their shells. Anyone who chats with her for five minutes will know half the building.
When WeWork Williamsburg opened at 134 North 4th Street in early 2016, this section of Brooklyn was attracting more shops and restaurants. A lot of small businesses were moving in along 4th Street and adjacent Bedford Avenue. As they established themselves, the hundreds of members at WeWork Williamsburg were crucial to their survival.
This was certainly the case with Glaze, a sleek storefront restaurant focusing on Pacific Northwest-style dishes like teriyaki chicken and salmon, charred pork ribs, and crispy dumplings. Glaze sits at 145 North 4th Street, less than a block from WeWork.
Founder Paul Krug, who supervised construction of the restaurant from an office at WeWork Williamsburg, says he appreciated the support from the WeWork community when they opened in early 2017.
"Being near WeWork was definitely a boost when we first opened and provided a steady stream in the early days," says Krug. "We really appreciated WeWork bringing us in for catering jobs and helping spread the word around the office about our opening."
It wasn't hard to convince people to stop by for lunch or dinner at Glaze. Williams says that other members at WeWork were anxious to see one of their own succeed.
"Because he was a WeWork member, people had seen him in the hallways all the time," says Williams. "He was already their neighbor."
Krug adds that when his restaurant was applying for a liquor license, the WeWork staff invited him in to gather the necessary signatures. Many members were frequent customers, so they signed the petition.
"From a startup perspective, there are so many ways that WeWork has helped us," says Krug. "And it led to other business opportunities for us as well."
Now it's more than a year since Glaze opened the doors to its Williamsburg location. Does being close to WeWork still have an impact on his business? Krug double-checks the number of reward cards redeemed from local businesses with his general manager.
"WeWork continues to be extremely important for us," says Krug. "It's fair to say around 15 percent of our weekday lunch business is from WeWork."
Boost in business
Other business owners echo Krug's sentiments. At Blue Bottle, a cafe across the street from WeWork, store manager ERic Pescador says he regularly sees WeWork members having meetings there on weekdays.
"I'd say that definitely 5 percent of our total business comes from WeWork," says Pescador. "Being near WeWork has increased our traffic Monday to Friday."
Charlie Bournis, who also had space at WeWork while he was opening his business services store Office 11211, says WeWork members have always made up a "good amount" of his customers.
"People come in for all sorts of things," says Bournis, leaning back again the rows of aluminum mailboxes that support the front counter in his shop. "It's everything from a couple of stamps to big shipments of promotional items."
A few doors away at Soap Cherie, an artisanal bath products shop where delectable looking soaps shaped like cupcakes are stacked in the front window, there's also a supply of shoppers from WeWork.
"We do have a lot of customers from WeWork," says co-founder Limor Abramov. "The staff there is always sending people our way."
Abramov says she has set up a pop-up shop at WeWork to introduce members to its products. So have Sweatshop (a popular coffee shop a few blocks away), Fawen (a packaged soup company), Blunt Umbrellas (eco-friendly raingear), and Bushwick Tea (blended teas packed in Brooklyn).
"When a new business moved into the neighborhood, we encourage them to come in and do a demo or a tasting," says Williams. "That way they can have that face-to-face moment where they can really connect with the community."
A reverse ripple effect
But the economic ripple effect doesn't just flow outward to businesses near WeWork. Many of those same businesses also patronize WeWork-based business, so the positive effect comes back to WeWork members—sort of a reverse ripple effect.
Kendra Borowski, vice president of RVD Communications, says that the PR company focusing on lifestyle brands represents a lot of restaurants in the area. She says 18 percent of the company's clients are nearby in Williamsburg or Greenpoint.
"We've moved into social media and brand partnerships, but our bread and butter is still public relations," says Borowski. "The industry has changed rapidly in the past 10 years, and we can help restaurants predict changes and stay ahead of the curve."
One way they've done this is to encourage their clients to do tastings and other events at WeWork Williamsburg.
"We find it's a really receptive audience," says Borowski. "You get the owner there answering questions from people. It's a great way to make people feel connected to your company."
Since moving into WeWork Williamsburg, RVD has grown into a 20-person operation. They've taken a sunny suite at the corner of the building, along with several other smaller offices.
RVD works with many clients in the neighborhood. Places like Barano (an Italian restaurant) and Harvey (an intimate eatery in the Williamsburg Hotel) have hosted happy hours for WeWork members.
"It varies by the venue, but they usually put out a little food and offer everyone a free drink when they walk in the door," says Borowski. "Once you get people in the door, they usually come back."
That's exactly what happened with Sunday in Brooklyn, which sponsored a happy hour for WeWork members soon after it opened in late 2016. Since then, Williams says she hasn't walked in the door without seeing others from WeWork Williamsburg.
"Being at WeWork Williamsburg for so long, the area feels like a small town to me," says Williams. "Everyone is so eager to support each other. That's why it's such a great community."