When expanding into new markets and office spaces, the first step is to gather a knowledgeable team who can help with office build-outs that fit your business needs. As you pull together your team, one big question may arise: Should you hire an architect or an interior designer? Both professions hone similar skill sets and can serve several overlapping functions.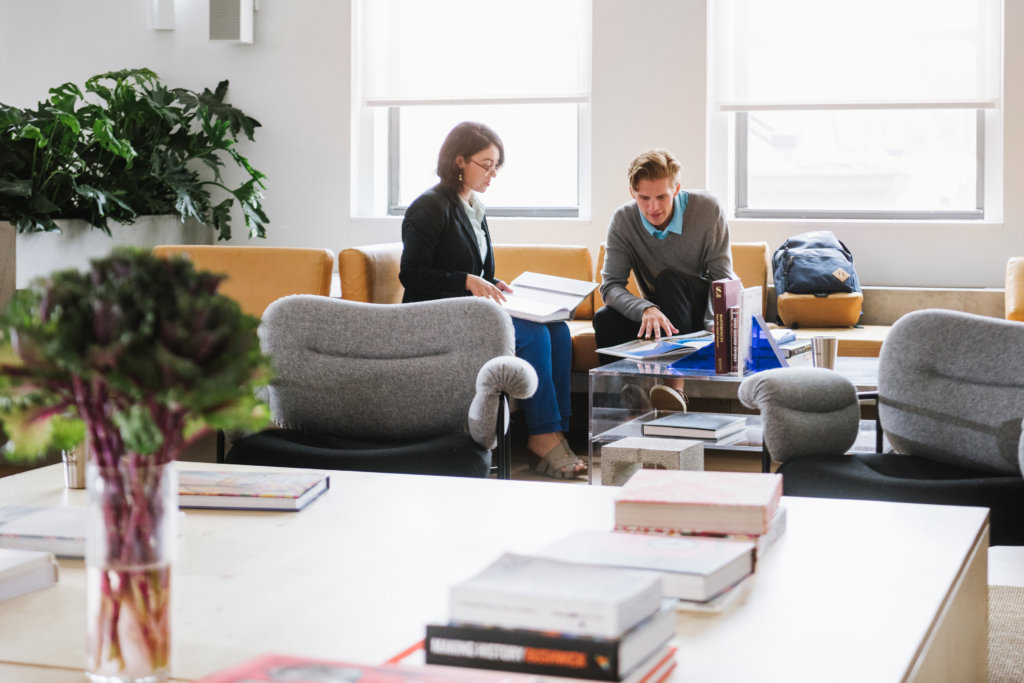 Who exactly do you need for the perfect office build-outs?
If you're adding or removing walls, or making any significant structural changes to an existing building, you're going to need a licensed architect. Whereas interior designers do not have the qualifications to submit site plans for approval by the city or county, architects do.
Most architectural firms also offer interior design services. Marketed as full-service firms, they can create floor plans with interior elevations and furniture placement, as well as select finishes like hardwoods, countertops, paint colors, fixtures, and wallpaper. However, this is only a subset of their skills—not their specialty. Unless the architectural firm employs dedicated interior designers, chances are you'd be compromising quality of design for the sake of a 2-in-1 special. Although a hybrid architect can get the job done, an interior designer specializes in creating spaces that are both functional and beautiful.
As you pull together a dream team for your office build-out, consider all the differences between an architect and interior designer to determine your staffing needs.
An architect is officially licensed for multiple skills & tasks
An architect must have a professional degree in architecture and be licensed by the state in which they practice to legally call themselves an architect. When doing a custom office build-out or extensive renovation, you will need an architect to handle the big-picture planning. They not only design the exterior of the building but also take into consideration safety, code compliance, energy efficiency, and so on. When creating a site plan, they must follow laws regarding zoning, fire safety, and disabled access. Since these regulations often change, they must stay up-to-date and are often required by the state to take continuing education classes to maintain their license. In Texas, for example, an architect must complete 12 hours of continued education a year to retain their licensing by the Texas Board of Architectural Examiners.
In large construction projects, a good place to start is by hiring an architect. An architect will consult with you to understand your needs in terms of design and budget. They can also assist with predesign decisions, like helping select a site and conducting a feasibility study to answer questions around construction and operational costs, construction time frames, and risk analysis.
Want your building to be LEED-certified? The green building certification system is a moving target as the U.S. Green Building Council (USGBC) accepts feedback for a new version of standards this fall. With that in mind, you might want to consider hiring a LEED accredited architect to get the job done. Consider it an HR investment: According to a survey completed by the USGBC, 93 percent of those who work in a LEED-certified building say they're satisfied on the job versus 81 percent of those who work in conventional buildings.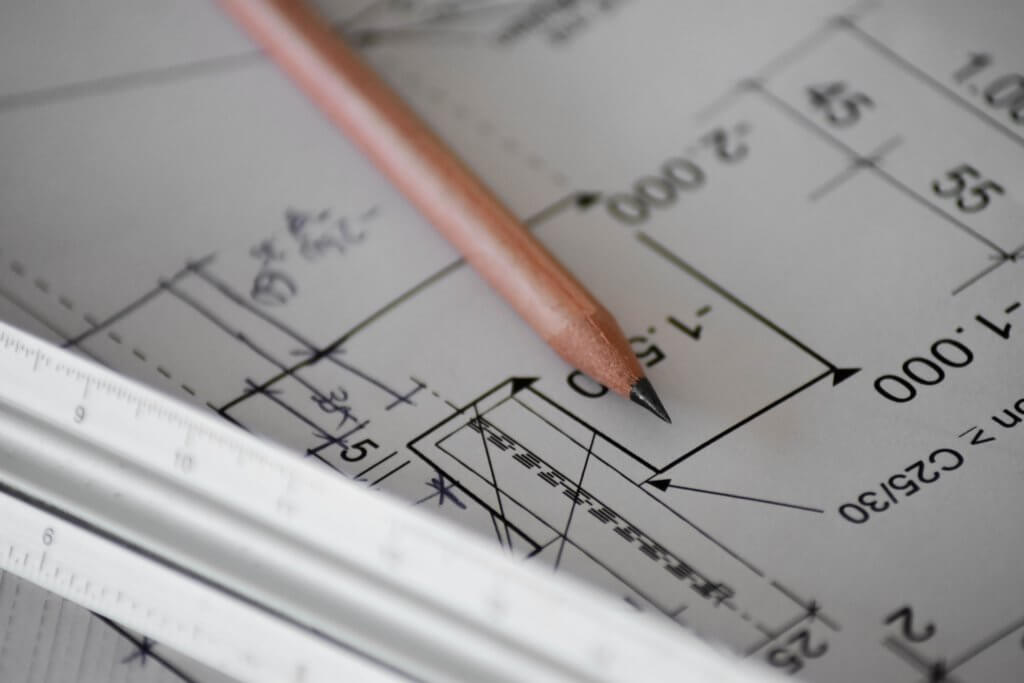 After working with you to create schematic drawings, an architect will create a set of permit drawings that detail the structural system, such as HVAC, electrical systems, plumbing, and landscape plans, in order to demonstrate code compliance. These are submitted to the city or other relevant authority for review in order to obtain a building permit. An architect will also create a construction set of drawings that are necessary to carry out the actual construction of a building. They fill in the fine details, from the location and dimensions of a window to the stain of a staircase.
Some full-service architecture firms have in-house construction teams that can turn plans into reality. Other firms can provide consulting services to manage the bidding process of hiring a general contractor. Once you hire a contractor, he or she will work hand-in-hand with your architect throughout the entire construction process, revisiting design plans and making adjustments to accommodate issues like weather delays, unavailable materials, and other unforeseen circumstances. An architect may serve as a project manager, consistently checking in on the construction process to ensure the right materials are being used, plans are being followed, and deadlines are being met.
An interior designer skillfully puts design elements together within a space
While architects focus on the big picture, interior designers handle details like design layout, lighting, drapery, wall coverings, interior finishes, and furniture selection. Unlike architects, interior designers do not necessarily need certifications to bill themselves as one. Each state has its own laws around the matter, with more than 20 states requiring a state-issued license. Before hiring an interior designer, you may want to confirm whether they have been certified by the American Society of Interior Design. In addition to six years of design education, being certified means the designer has passed the exam given by the National Council of Interior Design Qualification (NCIDQ). This rigorous exam tests the designer's knowledge on building systems, life safety and ADA codes, and construction standards. And just like architects, designers can also be LEED accredited.
When pulling together your team, consider what your objectives and goals are for the interior. How your office space looks, feels, and flows can be a huge draw to prospective employees and a significant factor in employee retention. According to a Fellowes Workplace Wellness Trend Report, 93 percent of workers in the tech industry say they'd stay longer at a company that offers workspace benefits like wellness rooms and ergonomic seating.
Interior design is just as important to your business as the integrity of the walls. An architect can pick out a backsplash for the break room, but that doesn't mean it's going to be pretty. That's why hiring an interior designer is often necessary in achieving your business goals.
Like an architect, an interior designer will work to understand your needs in design and budget. While people may assume an interior designer can be brought into the project once the walls are up and there's an interior to speak of, an interior designer can be most effective when brought on in the early stages. They can work closely with the architect to make sure design plans offer enough room for a flexible office space and that a conference room can comfortably accommodate your biggest team, and track other details that may otherwise get overlooked. Interior designers will also work closely with the contractor to price out plans, ensure their vision is being implemented correctly, and make adjustments when necessary.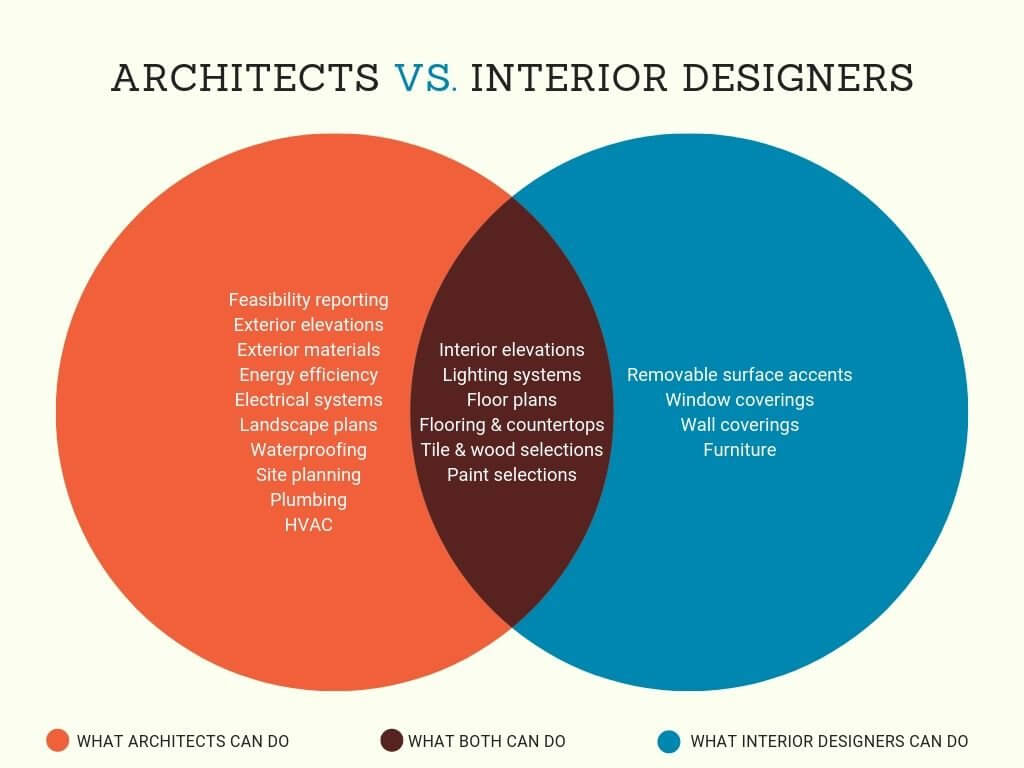 Architects and interior designers each have their own area of expertise. When doing a custom office build-out, structural changes to an existing building, or anything that impacts code regulations, an architect is a must. If you're looking to change only the look and flow of the interior space, then an interior designer is perfect for the job. On most projects, architects and interior designers work synergistically to create a safe, functional space.
We have a world-class team of architects and interior designers at WeWork, not to mention the space to utilize them for your next office build-out. Get started with a conversation today.