The best pitching advice from business experts? Don't be pitchy. That's the word from the business leaders who gathered earlier this month for the first-ever Creator Camp in Washington, D.C. The event brought together the regional finalists for WeWork's Creator Awards, giving them a chance to chat with each other, meet one-on-one with mentors, and finesse their one-minute spiels for the global finals.
On hand at Creator Camp was a stacked lineup of experts, ready to share their advice. Here are their top five takeaways:
1. Be authentic
Mary Iafelice, cofounder of Humble Ventures: "Being authentic and open about your business works much better than people assume. In pitching and pitch decks, so much [fluff] can be built in to mask the true maturity and capacity of startups. By being real, you get better feedback, better tailored areas to work on, and can build trust between your startup and the investment community."
2. Remember that the pitch is about you
Stuart of Pitch DNA: "I have a love for and an aversion to slides. One thing I ask people to do that surprises them is to put in a blank slide so that you bring the attention back to you after you show the data. Why are you pitching? It's you—not your slides. Think about the experience from the lens of the audience."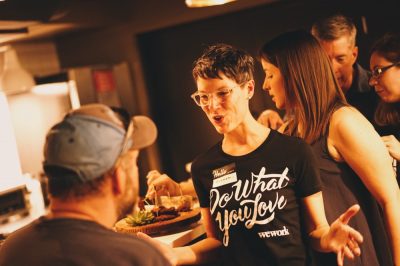 3. Get comfortable talking about your startup
Jeff Sheely, cofounder of UrbanStems: "You've got to be passionate about your startup. This is something you're going to be talking about a lot for a very long time."
4. Test the market
Mary Iafelice: "There's no way to know what sticks and what doesn't until you test it in the market, and that's what I encourage from any startups that I work with. Especially when it comes to storytelling, you have to observe the human behaviors of what happens when you tell your story (across all content mediums). Trying different methods to see what generates the best and most authentic responses from your target audience and replicating that over time is what really gets entrepreneurs moving in the right direction."
5. Show versatility
Kathy Korman Frey, professor at George Washington University School of Business' Center for Entrepreneurial Excellence: "Investors like to see someone who's coachable. If you can't adjust quickly, you won't survive."
For the Creator Awards, WeWork is committing more than $20 million to innovative projects and the people behind them. This global competition is now open for entrepreneurs, artists, startups, nonprofits—anyone who embodies our mantra, "Create your life's work." Apply today.