There are more than 2.5 million black-owned businesses in the United States—and according to the most recent statistics, they're booming, generating over $150 billion a year collectively. This Black History Month, we're celebrating some of those boundary-pushing black business owners who also happen to be WeWork members.
According to a recent survey of African-American-owned businesses, the key factors motivating the country's black entrepreneurs to go into business for themselves are: a desire to pursue individual passions, be one's own boss, and diverge from stereotypical corporate America.
For founders Selina Hanley, Wesley Burns, and Antoine Toussaint, there was another reason: to be able to serve their respective communities and clients.
In Manchester, United Kingdom, Hanley is advocating for a shift in her city's approach to social services with her company, Benevolent Life Change; meanwhile, in Seattle, Wesley Burns and Antoine Toussaint are well on their way to building a billion-dollar black-owned enterprise with their highly personalized wealth management firm, Burns, Toussaint & Associates.
A force for change
Selina Hanley was working as a pastry chef on a cruise ship when she had a life-altering revelation.
"I realized that Manchester is just a dock in this whole globe," she says. Hanley had spent years working 16-hour days at various jobs to support herself and her daughter. Seeing the world allowed her to imagine a different future. "That's when I realized how important [travel] is," she says.
The transformative power of travel is a key element of her brainchild, Benevolent Life Change. Through her charity organization, Hanley, a member at WeWork Dalton Place in Manchester, provides international vacations for its beneficiaries, with the aim to empower young women, especially teenage ones between ages 16 and 18, who have been affected by homelessness.
The organization serves women particularly vulnerable to unplanned pregnancies, which they may not have the resources to manage. Travel is designed to bring these young people out of their everyday environments and introduce them to opportunities that exist beyond.
"Their children often will end up in care, and their life will be a revolving door unless something drastically changes," says Hanley, who herself had a daughter at 16. "If I didn't have my support network, any one of these girls could have been me. My vision is to help them change their reality."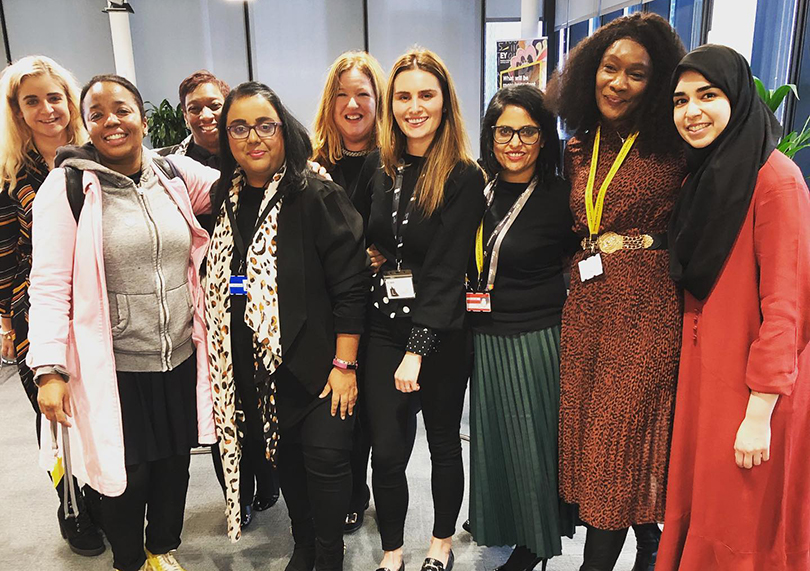 Although Benevolent Life Change—founded just 18 months ago—is in its earliest stages, Hanley's ambitions are expansive. Her goal is to work with other advocacy organizations to identify young women who are vulnerable due to limited resources, and introduce them to a host of opportunities that will expand their professional and personal opportunities—from travel to counseling and life mapping to supportive, safe housing.
The travel aspect of the program, Hanley explains, was not only the spark for the project but also one of the ingredients she believes is most crucial to its success.
"You can't be what you can't see," she says. Travel allows them "to see what other things are obtainable. Rather than looking in a magazine or watching it on television, they'll actually experience it."
Hanley's biggest challenge is finding the right allies and getting the parties she's in talks with—members of health services, foster care, potential donors, and the like—to understand how an approach that they might consider radical could in fact be effective.
"The current system [for vulnerable young women] is costing millions for each person," she explains. "You have to convince people to undergo a system change, a cultural change, from the norm. But once I understood the numbers, I understood that it's possible."
A sound investment
Many people of color are familiar with the "head nod"—the silent gesture of introduction and acknowledgment made between two POC in a space where they're outnumbered, be it a workplace, a neighborhood sidewalk, or a college. This was the case for Antoine Toussaint and Wesley Burns, who shared a head nod as underclassmen at Seattle University.
The greeting marked the beginning of a friendship, and the two went on to become college roommates, coworkers at a wealth management company, and, eventually, founders of their own financial planning firm, Burns, Toussaint & Associates.
As colleagues, Burns and Toussaint, who are members at WeWork 1411 4th Ave in Seattle, make a compatible team. "Wes is more of a risk-taker, and I'm more risk averse," says Toussaint. "So we meet in the middle."
"In a client meeting, there's a very good balance," says Burns. "It provides a nice one-two punch that makes people confident about hiring us."
They agree on the principles that anchor their financial planning strategy—in particular, treating the job as much more than a transactional relationship. "We do life with our clients," says Toussaint. "We pop the champagne bottle when they have a celebratory moment, and we're a shoulder to lean on when they have a bad moment."
With an emphasis on that familial ethos, the two men launched their independent firm in December 2019 by moving $120 million in business from their old firm, where both had worked for over a decade. Thus, even though Burns, Toussaint & Associates is technically a new venture, its relationships have been years in the making.
"In this business, even though you start out working for a firm, [your client relationships] are really your relationships," says Burns.
Their clients were equally as invested in Toussaint and Burns. "When we told clients we were leaving to start our own firm, I can't tell you how many folks said, 'It's always been about you—it's never been about the name on the door,'" says Toussaint. "'You made your way into our family and we're going to go with you.'"
The two felt the significance of branching out on their own immediately. "The very first day, walking into the office, there was a totally different sense of ownership," says Burns. "It was a surreal feeling, like, 'We don't work as independent contractors anymore. We have an LLC that we own—that's black-owned. We're here. And we have big plans.'"
Big plans indeed: The pair aim to be the largest black-owned wealth management firm in Washington state (as well as one of the largest on the West Coast), and to do so while remaining true to their core values.
"We'll continue to love on our clients the way we have," says Toussaint. "We don't want to build a wealth management firm any other way."
Rachel Mosely is a writer and editor based in Brooklyn, New York. Her work has appeared in Cosmopolitan, Town & Country, Elle, and more.