"I'm 100 percent unemployable," says Jenna Soard, laughing out loud. "It's not that I don't have the skills. It's that I don't always follow rules."
A yearlong stint as a designer at Nike—a dream job, she admits—convinced the Portland trailblazer that she needed to strike out on her own. Soard started You Can Brand, where she teaches other young entrepreneurs how to launch their own companies.
Soard is doing so well that in the past year she's tripled her company's annual income. She was able to shelve her teaching gig at the University of Oregon, where she "made as much per class as I do now for one student of my own."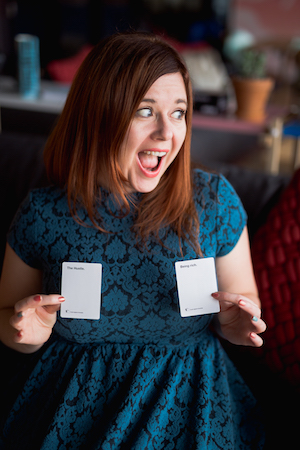 The secret of her success? First of all, she has amazing branding for her own company. There's nothing boring about her website, which features a photo of Soard parachuting down from the clouds wearing an aviator helmet and a jet-black leather jacket.
Soard says she was inspired by 1930s aviation pioneer Amelia Earhart, who she describes as "a pilot, a professor, and an entrepreneur—a really cool lady." One of the photos on her website has Soard perched atop the fuselage of Earhart's own plane.
The lighthearted feel is intentional: Soard wants to convince potential students that they can create their own brand, design their own website, or put together a great online course.
Her business model is unique. Instead of doing all the work herself, Soard teaches entrepreneurs how to do it on their own. They sign up for online courses in topics like "The Biz Plan" or "Launch Your Lead Magnet" and get one-on-one support from Soard.
"It's like they're getting me to be the creative director of their brand," she says. "They're learning as they're going along. I tell them what's going to work and what's going to not work, and explain why."
Along the way Soard became a member at San Diego's WeWork B Street, a move she says has made running a business a lot easier.
"Coming to WeWork solved a million problems," she says. "I was working solo, always trying to find a reason to get out of the house. Now I have this amazing place to go and hang out with other creative people."