After leaving the Army, Josh Rosenthal knew the transition back to civilian life would likely be difficult. Many former military personnel—especially combat veterans like Rosenthal who have had challenging tours of duty overseas—struggle to find work that feels meaningful.
"The military is very team-oriented, very community-oriented, and very mission-driven," says Rosenthal, who served in Kuwait and Iraq. "It's hard to find all that when you come back home."
His first job in banking wasn't a good fit for just that reason. He wanted to feel like he was doing something that would "move the needle forward." That's why, in 2015, he joined WeWork.
"When I came to WeWork, I realized that I could continue to make a difference in the world," he says.
Rosenthal says that WeWork has created a environment where veterans transitioning out of the military can pursue a path that they find meaningful. Last year, the company committed to hiring 1,500 veterans over the course of five years.
WeWork is also working with aspiring entrepreneurs in the Veterans in Residence program. In partnership with Bunker Labs, an organization that helps veterans and their families start their own businesses, Veterans in Residence provides veterans who are becoming entrepreneurs with the space, services, and community they need to build their businesses.
In the summer of 2017, Veterans in Residence opened its first space in Denver. That fall, the program expanded to 14 other cities. Every six months, new cohorts of 10 veterans move into each of these spaces. A total of 250 people have been a part of the program.
A recent survey of 140 of WeWork's Veterans in Residence members found that only 23 are satisfied with existing military-provided transition programs. And 33 percent say that they had clear sense of what they wanted to do professionally after their military careers were over.
About 44 percent of Veterans in Residence members knew they wanted to be an entrepreneur after leaving the military. But 97 percent say that the skills and experience they garnered while serving their country is helping them in their current venture. The most valuable skills were leadership (noted by 84 percent of respondents), collaboration (77 percent), and focus (71 percent).
Tiwanna Kenney, president and principal auctioneer at Astounding Auctions, is one of the current crop of veterans based at Austin's WeWork Domain. She says Veterans in Residence was the perfect program for a first-time entrepreneur. Half of the veterans in the program are starting their first business, and 95 percent are executives or sole proprietors.
"I was kind of an unexpected entrepreneur," says Kenney. "Earlier this year I found out my job was being eliminated. I had to figure out what I was going to do with my life."
The Army veteran decided to follow her longtime dream of founding Astounding Auctions, which helps nonprofit organizations create effective fundraising events. Veterans in Residence put her in touch with a group of people who inspired her to persist.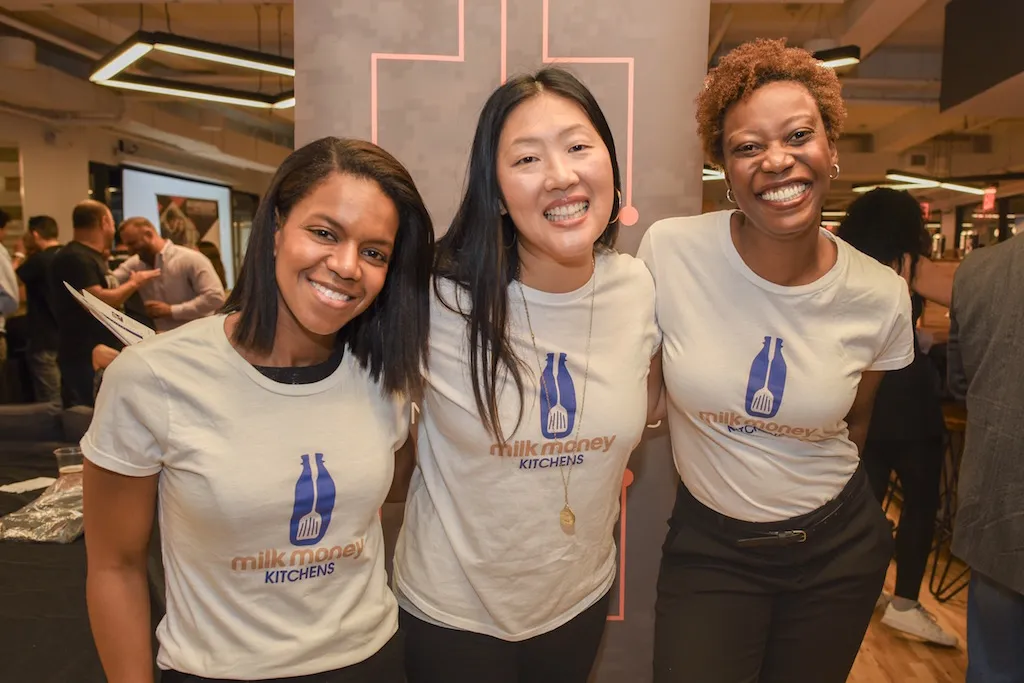 The team behind Milk Money Kitchen, a veteran-run business, celebrates joining the Veterans in Residence program.
"I feel like with veterans there's a kind of tenacity, and a duty to give it your all," she says. "Some people take a hit and it stops them cold. But veterans recognize that when we take a hit we have to get up and get back out there."
The veterans based at New York's WeWork 142 West 57th Street are a tight-knit group, but they have also become an integral of the larger community.
"They are passionate about getting to know neighbors in the building," says community lead Abbey Lelina. "They are constantly showing up for events other WeWork members are holding in the building, and inviting these members to their own events. They really embrace the sense of community we have here."
Although San Francisco's WeWork Golden Gate Theater recently welcomed its second group of veterans, community manager Philip Greenholz is still in touch with those in the first group.
"A lot of us here still have friendships with them, even after they have graduated from the program," he says. "I think that speaks to what a great job the program has done in bringing people together."
Rosenthal feels the same sense of camaraderie being an employee at WeWork. The director of operations for the company's northeast region is regularly in touch with 30 to 40 other veterans who have taken jobs at the company.
But friendship is just a part of what Rosenthal values about WeWork. He has learned a lot about himself in his more than three years at the company.
"Coming to WeWork was a humbling moment, because I was learning things from other employees who've never done what I've done or seen what I've seen," he says. "Everyone here has something to teach you."
And the people he works with share his desire to be a part of a mission-driven company.
"At WeWork, I've worked on projects in London and Singapore," says Rosenthal, "and the common thread everyone has in common is caring about making the world a better place."