As our physical workspaces evolve, so does the way we dress. Work Style explores what we wear to work today—and why.
Who you are: Michael Henein
What you do: Founder and creative director of Depuis Toujours menswear line
Where you work: 109 S 5th St, Brooklyn, NY
Michael Henein's menswear line, Depuis Toujours (which means "since always" in French), debuted just shy of one year ago, with a definitive sense of timelessness. "I knew I wanted to play on the forever aspect with elements of the past," says the founder and creative director, who sourced inspiration for his first collection from movies such as The Godfather and Goodfellas. Having lived in a variety of cities throughout his life—from Athens to Dubai to San Francisco—Henein is also influenced by fabrics and textiles from around the globe. "I consider myself more of a curator than a fashion designer," he says. We caught up with him as he was art-directing his next photo shoot.
Q: How would you describe your style?
A: I take a lot of inspiration from outfits from the movies—especially those from the '60s and '70s. My first collection was inspired by those incredible shirts with the big lapels and collars from back in the day. I also love current films that are set during that time period, like the new Tarantino film Once Upon a Time… in Hollywood. I'm a huge fan of a casually styled suit: No tie with just a relaxed, simple white button-down is so timeless. Wes Anderson, without a doubt, does it best. It'd be a dream of mine to dress him.
Q: Tell us about today's outfit.
A: It's my uniform: navy pants from H&M and a white linen shirt with a V-neck sweater, both from Club Monaco. I like to keep it simple, but then throw on an accent jacket or coat. A lot of the time it's one of the ones I've designed, like today. I make trucker, bomber, and chore jackets. I make them for myself, really. Other days I wear vintage French chore jackets or tweed coats. And then I usually wear either Vans or Clarks.
Q: What's a "normal" day like for you?
A: I'd like to believe that my days have some normalcy to them, but for the most part, they're all over the place. I'm a night owl, so I usually go to sleep around 1 or 2 a.m., wake up around 8 a.m., and work out of my apartment for a couple hours. Then I head to WeWork, where I have a small office space that doubles as a showroom. I'll usually work there, answering emails, designing new pieces, working on ads, prepping for photo shoots, and dreaming up new partnerships or activations. My nights are usually spent with friends, my partner, or meeting new people and making new connections. I'm always on. My brain is always working on the brand, trying to figure out creative ways to get the word out about it and how to make it better.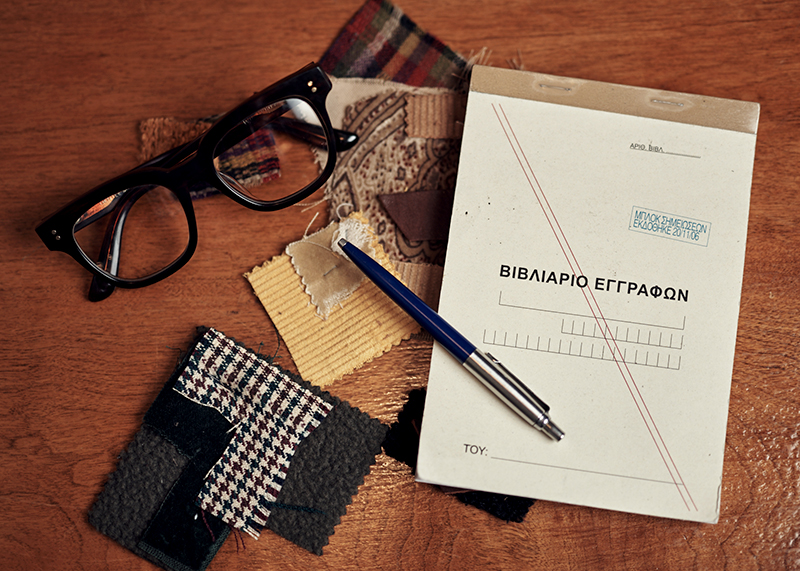 Q: Does working in a social environment like WeWork help create brand awareness?
A: Because I am surrounded by the clothes I've designed, I will throw on a sample piece every now and then, especially during the colder months since most of our garments are better suited for fall and winter, and people will definitely stop to ask where I got my clothes from.
Q: What's the most exciting thing you're working on right now?
A: Our first retail connection in Williamsburg and some experiential activation ideas are in the works.
Q: How much do your weekday and weekend wardrobes differ?
A: My friends make fun of me a lot because I'll wear the same thing everywhere I go: some form of linen long-sleeve button-down, simple black or navy pants, and a pair of Vans or Clarks. I've been known to even go camping in the same outfit. It's what I'm most comfortable in. Every now and then, I'll mix it up—different pants, a simple T-shirt. But for the most part, it's consistent.
Q: Do you have a "one that got away"—something you almost bought but didn't, and now you regret it?
A: I don't think I have any shopping regrets, but I did almost buy a 1950s Rolex once. It was a manual winding model with the original strap and in near-mint condition. Absolutely beautiful. It would've been fun to imagine who wore it over the years.
The watercooler:
Book you've read over and over again: The Promise of a Pencil: How an Ordinary Person Can Create Extraordinary Change by Adam Braun (2014)
Last great film you watched: Valley of Saints (2012)
Favorite workday lunch in Brooklyn: La Superior for tacos
Favorite Instagram account: @_whereisthecool_
Sara Lieberman is a freelance journalist based in Paris. Her writing appears in The New York Times, The Washington Post, Condé Nast Traveler, AFAR, and more.