Startup founders have infamously unpredictable daily schedules as they work to establish and grow their businesses. What does such an entrepreneur's weekly, daily, or even hourly routine look like when sometimes there aren't enough hours in a day? In the Startup Diaries, founders walk us through a week in their lives and show what it really takes to get a fledgling business off the ground.
Three weeks after getting married, Lauren Grech had a change of heart—about her career, that is. She was 24, working as a research and development scientist, and planning to attend medical school. "But when I saw the way a wedding came together, I realized that I would be the perfect leader for that," she says.
She reached out to her venue's general manager, and soon she and her husband, Paul, were shadowing him at a wedding. "We watched everything, absorbed, learned," Grech says. She knew it was what she was meant to do, and in 2014, she and Paul moved in with his parents to save money, and launched LLG Events. (Paul also works full-time as a data engineer.)
"I was scared," Grech says. "I made this massive career change… everybody was looking at me like, Is this girl going to fail? She was supposed to be a doctor!"
Six years later, Grech's wedding-planning company has grown to four full-time staffers, two senior event producers, and two interns, and this year, the team launched a new arm, LLG Agency, which focuses on developing industry standards. Venues can hire LLG to figure out where they may have gaps in their services or why they might be underperforming. "I'm putting together target stats for venues, from the perspective of an events planner," Grech explains. "That aspect of our business is in the startup phase."
Below, Grech, who launched her company out of WeWork 315 W 36th St in New York, shares a diary of a recent workweek.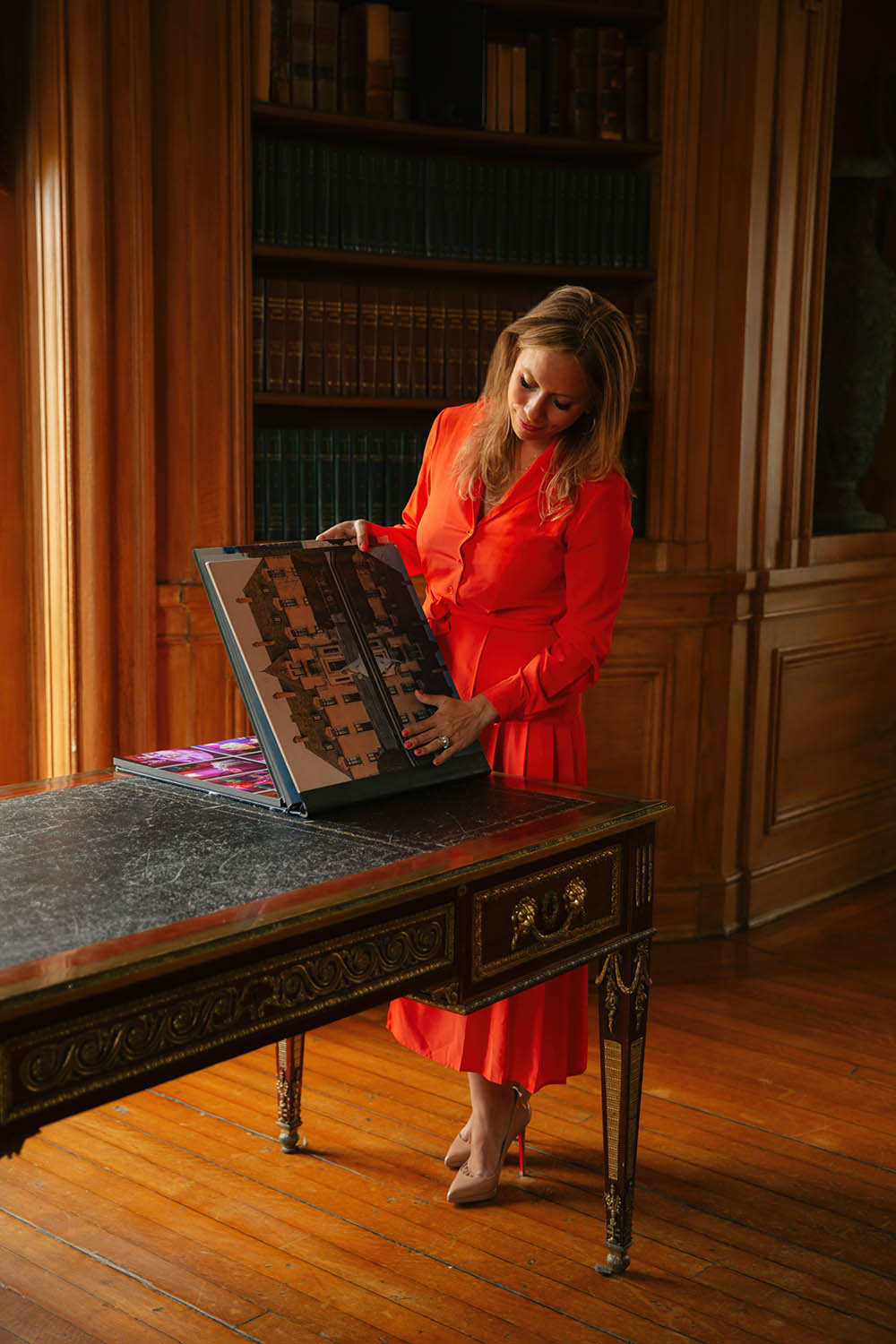 Monday
7 a.m. Wake up and check Instagram. Then I set a personal intention for the day. Today's intention is to get to in-box zero—this makes me happy.
7:15 a.m. Write my "five-minute thoughts" for the day. I jot down what I'm thinking or feeling, or a reflection.
7:20 a.m. Paul and I get ready while discussing LLG. Depending on the day, we talk finances, proposals, lingering questions, how our employees are performing, upcoming events—honestly, this list is endless.
9 a.m. Housekeeping: Pay bills, call mortgage company, organize the office.
11 a.m. Empty the dishwasher and order lunch.
11:30 a.m. Tie up loose ends for an upcoming wedding: Email vendor to reconfirm time line and logistics; call photographer to finalize must-have photo list; and call the band leader to finalize time line, entrances, and must-have music.
12:30 p.m. Reach out to videographers for an upcoming pro-bono wedding. We planned our inaugural pro-bono wedding last year, for a couple who put their wedding on hold because they lost everything in Hurricane Irma and were dedicated to relief efforts. This year we're doing a pro-bono wedding for a 26-year-old breast cancer survivor.
1 p.m. Call with client to discuss a vendor—the client is not happy with the vendor's design deck.
1:20 p.m. Call the vendor to mediate the situation. I want to preserve the relationship with the vendor, but at the same time I have to advocate for my client.
2 p.m. More emails. Follow up with 28 potential corporate clients.
4:30 p.m. Work on our LLG Agency proposal of services.
6 p.m. Create official lead list for all potential new business.
7 p.m. Dinner with Paul, my mom, and my abuela. Discussed the "middle phase" of our business. That's a term business owners use to describe the stage where you've lost sight of the shoreline but don't yet see the other side. You're in uncharted territory. This is what I want to talk about all day, every day: the recession, wedding tourism, our potential client who ghosted us, how every proposal and pitch is suspended in midair. It's crazy!
Tuesday
5:30 a.m. Wake up early—still getting over jet lag from last week's trip to Greece to scope out venues. Set intention to get a manicure and pedicure and schedule a haircut, then check email. Answer all 16 before 6 a.m.
7 a.m. Book flights to Mexico for a venue familiarization trip—we were invited as guests.
8 a.m. Light candles, put on my "chill" playlist, and make breakfast.
10 a.m. Carly, our head of PR, arrives at our home office in Brooklyn.
10:20 a.m. Put on Avicii Spotify playlist and reach out to media outlets to pitch coverage of our Greece trip.
11:20 a.m. Reach out to vendors for upcoming trip to Italy. We have work trips booked every month until November. I live off travel, but coming back home is hard. Life can sometimes feel a little dull by comparison!
11:45 a.m. Pitch. We're pitching different hotels all over the world on how to drive more weddings to their destination by making the region an experiential place—not just "I come here for a wedding, then leave." How do you make the experience reflect the local culture?
1 p.m. Call with new company to discuss potential collaboration. Call Paul afterward to weigh the pros and cons. (We check in many times a day.) Grab lunch and head to next appointment.
2 p.m. Meet with the department chair at NYU for Tisch Center of Hospitality. I'll be an adjunct professor for their upcoming, graduate-level master's program in event management, the first of its kind in the country.
4 p.m. Back home. Answer email, book hair appointment, and call my dad.
5 p.m. Mani/pedi.
8 p.m. Sales call with potential wedding client in N.Y.C.
8:30 p.m. Cook dinner with Paul and talk about our friend's upcoming wedding. We have a rule to not talk business during dinner (which we clearly broke last night). This helps us maintain a marriage and have more in common besides LLG.
10 p.m. Watch Wedding Crashers until we fall asleep.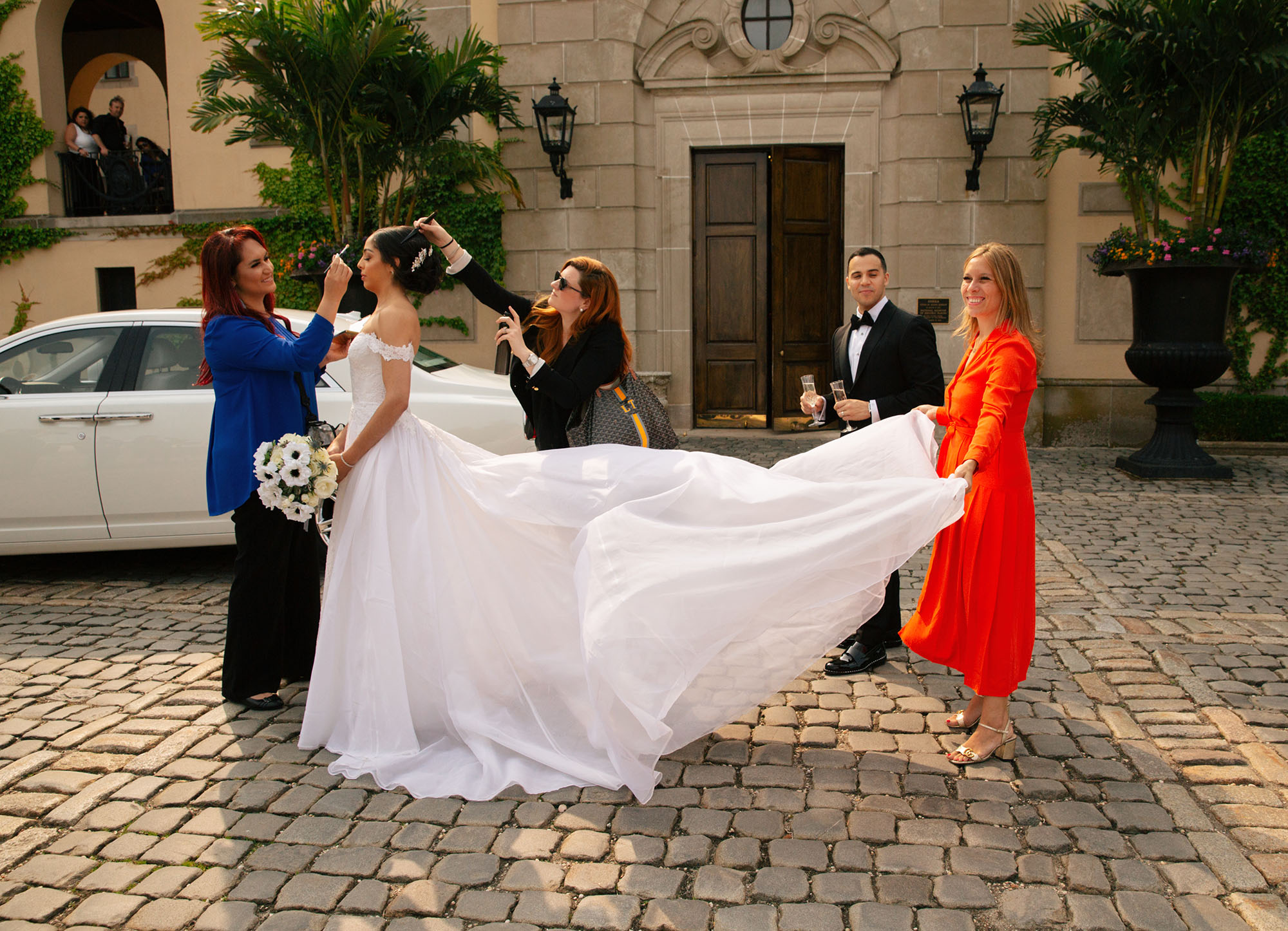 Wednesday
6 a.m. Wake up, scroll Instagram, set intention to go to a Pink concert with my mom and sister.
8 a.m. Sales call with potential corporate client in Abu Dhabi while I cook breakfast.
9 a.m. Sales call with potential wedding client in N.Y.C.
10 a.m. Walk Paul to the subway and discuss our current struggles with LLG. I love the new, agency side of the business. But I'm eager. I want more clients there. I remind myself that I need to be patient.
10:15 a.m. Call with transportation company to finalize logistics for next week's wedding. Call the venue to discuss signature cocktails and recipes.
11 a.m. Call with potential wedding client in N.Y.C.
11:15 a.m. Answer emails.
12:30 p.m. Lunch with my mom and abuela to discuss how I can overcome insecurities about myself and the business. My abuela's advice: Write a list of what I do and don't like about myself and the company. I do, and realize that my achievements and likes far outweigh my insecurities. Sometimes family helps you see the bigger picture.
2:30 p.m. Return home, answer emails.
3 p.m. Meditate.
4 p.m. Pay bills.
5 p.m. Discuss new media agreement with lawyer. If a vendor posts something on Instagram that a client didn't want to post, for example, that is something we have to mitigate. We're building an agreement into our contracts to get out ahead of that.
6 p.m. My favorite entrepreneur blog, Carats & Cake, has a great message about falling in love with your business again. I write this to myself and Paul: "You need to fall back in love with LLG. You resent the wait and the effort. It's a constant struggle to keep motivated, alive, and fresh. But we have no choice. Giving up is NEVER an option."
6:30 p.m. Get ready for Pink concert and vacuum the apartment.
7:30–11:30 p.m. Pink!
Thursday
8:30 a.m. Wake up late. Set an intention to watch a movie of my choice later.
10 a.m. Call with Carly to discuss a social media takeover we're doing to recap our Greece trip.
12 p.m. VOW meeting. LLG is on the advisory board for the organization, which works to end child marriage.
1:30 p.m. Back at the office, answer emails. Request meeting with the director of PR at Kleinfeld to discuss a bridal fashion week event that we'll be organizing for them.
2 p.m. Review case studies of previous social media takeovers.
3 p.m. Call with Party Slate [the Houzz of event planning and inspiration] to discuss an upcoming event.
4 p.m. Curriculum-building for NYU class.
5 p.m. Wedding-driven tourism proposals.
6 p.m. Prepare for an NYU documentary I'm shooting tomorrow, for young professionals pursuing a career in event management and hospitality.
7:30 p.m. Cook dinner with Paul.
10 p.m. Watch The Ugly Truth.
Friday
6:30 a.m. Wake up early and scroll through Instagram.
7 a.m. Cook breakfast and discuss the documentary.
8:30 a.m. Leave for hair appointment.
9:30–11:30 a.m. Take calls and send emails while at the salon.
12:45–2 p.m. Film NYU documentary. Discuss where I see the industry in the next five years, how I started my business, career advice, etc.
3–4:45 p.m. Celebrate the film with Paul over lunch.
5–7 p.m. Meet up with friends.
7:30 p.m. Come back home and review the week. Eventually, I might have to take a step back from the planning side of the business if the agency side needs me more. But there will always be something magical about weddings—and the truth is, I'd go to all of them if I could.