In 2018, more than 70 million people were displaced from their homes. That number is likely to grow this year, as people worldwide desperately seek safety from war, conflict, persecution, and natural disasters, according to the United Nations High Commission for Refugees (UNHCR).
During Refugee Week (World Refugee Day was celebrated June 20), WeWork hosted a Refugee Creator Festival in New York showcasing refugee makers and startups that support refugees and asylum seekers.
"The opportunities that may have been cut short to people in their home countries—we want to provide tools and pathways for them to continue to grow," said WeWork partnerships director Mo Al-Shawaf when he introduced the evening's program. In early 2017, WeWork established its own Refugee Initiative by partnering with the International Rescue Committee (IRC) on a pilot program to employ refugees in New York City.
"We're standing for refugees," said Joung-ah Ghedini-Williams, head of global communications at UNHCR New York, which co-hosted the event. "We're standing for empathy and humanity and connection."
The Refugee Creator Festival included poetry by former Iraqi refugee Ahmed Badr, an Iraqi cooking demo with chef Dhuha, and a conversation between Venezuelan refugee, barista, and photographer Andrew Morales and Everyman Espresso owner Sam Penix. They and others shared the many ways we can all support refugees and make an impact in local communities and worldwide. Here's how to do it.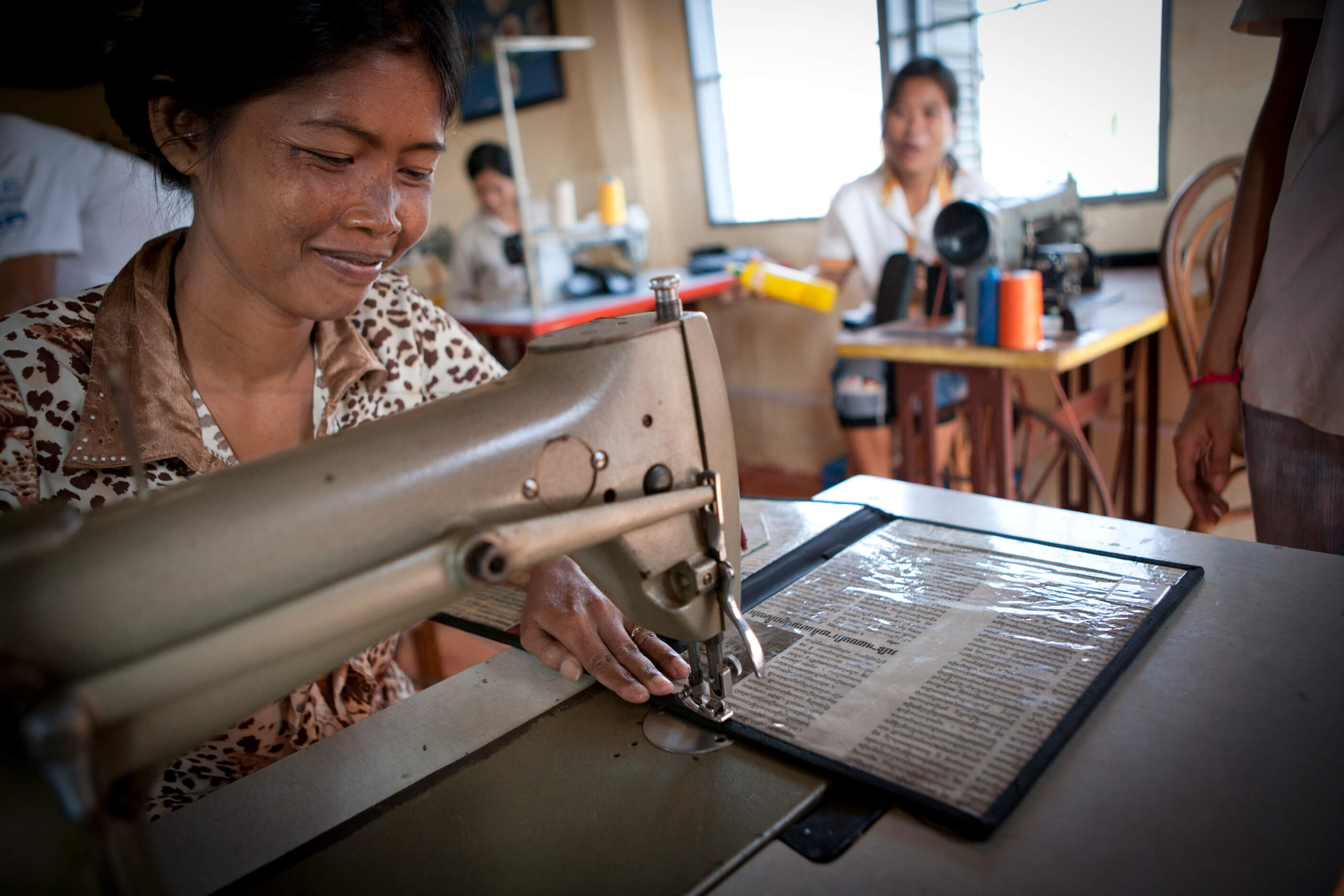 Get a taste of other cultures
One of the best (and most delicious) ways to experience a new culture is through its cuisine. Eat Offbeat is a catering company (and a member at WeWork 27 01 Queens Plaza N in New York's Long Island City) that provides everything from office lunches for 10 to banquets for 1,000—all powered by refugee and immigrant chefs from Iraq, Syria, Sri Lanka, Guinea, Iran, and Afghanistan. At the Refugee Creator Festival, guests enjoyed Iraqi salad with cucumber, tomato, and sumac; red rice; vegetable samosas; and Sri Lankan curried eggplant.
Hot Bread Kitchen employs immigrant, refugee, and low-income women through its culinary training program in East Harlem to create multiethnic breads, like Moroccan m'smen and chocolate babka, available at Park Slope Food Co-Op, Greene Grape Provisions, and Whole Foods.
Sip ethically sourced coffee and tea
During the Refugee Creator Festival, Refoodee worked with Venezuelan refugee baristas to serve a flight of coffee from Uganda, Ethiopia, and Burundi, which represent Africa's largest refugee hosting and crisis nations. The coffee is available at New York City coffee shops Third Rail, Rex, Little Collins, and Everyman Espresso. Proceeds go to training and placing refugees with jobs as baristas across the U.S. Similarly, tea company ReTea donates a portion of its sales to the IRC to provide education to refugee children.
Learn a new language
If you've been meaning to brush up on your Spanish, French, Persian, or Arabic for work or travel, learn through NaTakallam (a member at New York's WeWork 175 Varick St), which provides language and cultural exchange with refugees and displaced people. From online language sessions (starting at $15 an hour) to translation services and classroom visits, NaTakallam has provided more than $600,000 in earnings to refugees.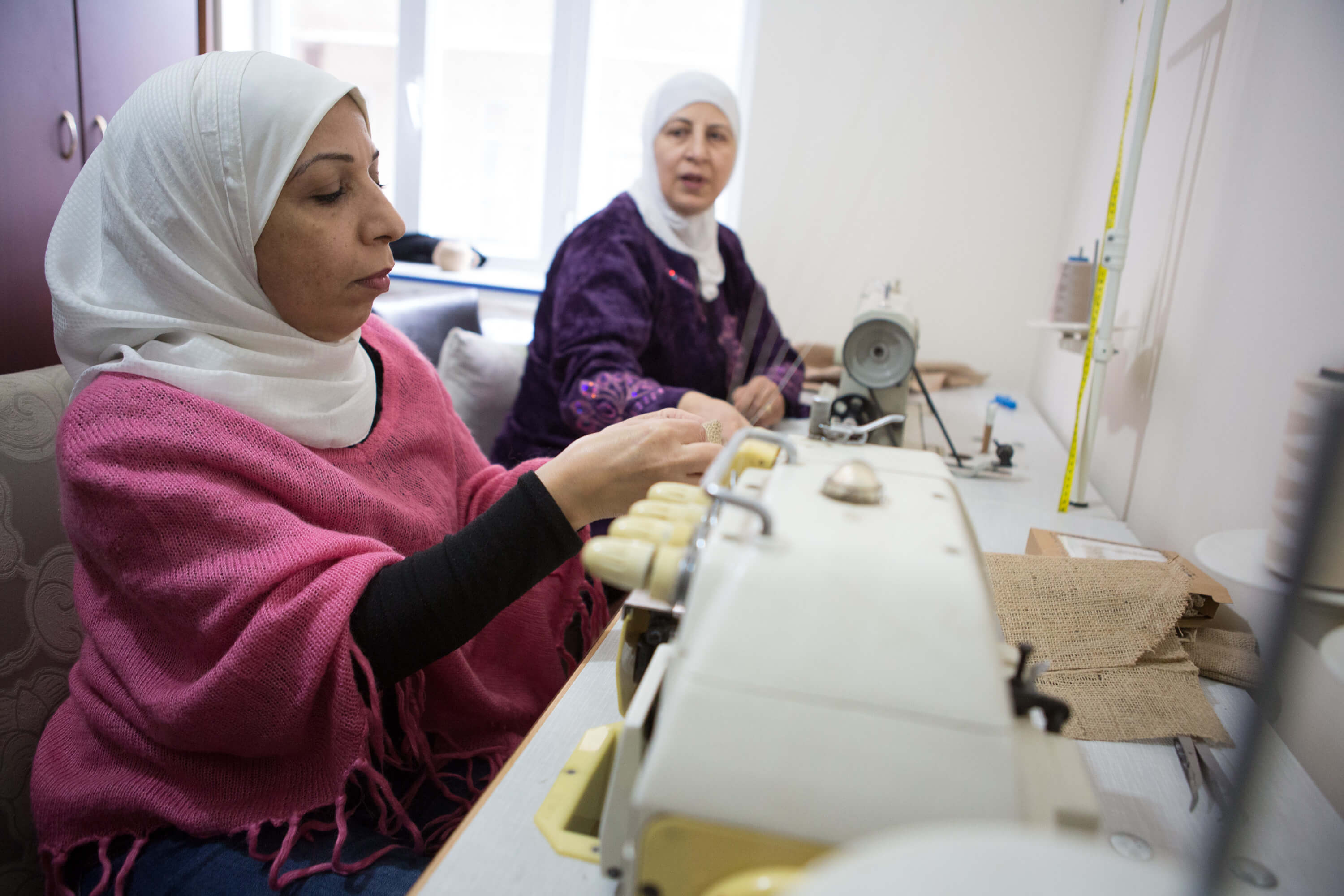 Volunteer with refugee organizations
In addition to organizations like UNHRC, a member at London's WeWork Fox Court, and IRC, Hebrew Immigrant Aid Society (HIAS) offers a robust volunteer program. Founded in 1881 to assist Jews fleeing from the pogroms of Eastern Europe and Russia, HIAS expanded its global reach in 2000 to help non-Jewish refugees as well. Opportunities abound for volunteer interpreters, translators, mentors, ESL tutors, advocates and grass-roots campaigners. It's also recruiting pro bono attorneys.
Shop refugee makers and upcycled fashions
Female-founded fashion line ADIFF creates street and outerwear using upcycled materials sourced from the UNHRC. ADIFF turns life jackets and other items to into minimalist T-shirts, bomber jackets, cross-body bags, and even a trench coat that transforms into a tent. Winner of the CFDA's Elaine Gold Launch Pad fellowship, ADIFF's products are manufactured in Athens, Greece, by resettled refugees.
You can also shop collectives like Karam Foundation, a member at WeWork 515 N State St in Chicago, as well as the Refugee Makers Project and Global Goods Partners, all of which support artisans from across the globe and provide sustainable jobs for refugees and women.
Immerse yourself in art
Art is an incredible tool for human connection, and you can gain insight into the LGBTQIA+ refugee experience through portrait photography at Toronto's Am I Wrong To Love? exhibit (which you can also view online). Orembark on the virtual-reality experience Under the Net, which follows an 11-year-old girl through a refugee camp in Tanzania to learn about the importance of mosquito nets to help control the spread of malaria.