"I am here all the time now, I love it so much!" supermodel Toni Garrn exclaims from her WeWork office in Berlin, as sun pours through the large windows that frame views of the city's eclectic architecture.
Cardboard boxes are piled in the corner of her bright space, packed with high-end designer clothing she's saving for her next Supermodel Flea Market, the fundraiser where she sells pieces of her designer wardrobe alongside other models, like Gigi Hadid and Gisele Bündchen.
On her desk, she keeps stacks of photos as a reminder of the reason she fundraises. In one picture, Garrn sits in a circle of girls in a Congolese refugee camp in Rwanda, each with their legs outstretched and bare feet touching in the middle, like a pinwheel. In another, she's surrounded by smiling schoolgirls, with Burundi's bright, green hills rising up in the background. In a snapshot from Zimbabwe, she looks on as a girl gesticulates with her hands while telling a story to her peers.
Garrn made her first humanitarian trip to Africa when she was around 20. She traveled to the small West African country of Burkina Faso with the nonprofit Plan International, which focuses on children's rights and equality for girls.
It was on that trip that Garrn learned about underage marriage, meeting 14- and 12-year-old brides. She spoke with one 14-year-old girl—an incredible math student—who was desperate to find a place to stay over the holidays because she faced violence at home for choosing education over marriage. It was an experience that stayed with her.
"It was one of the most incredible trips but also one of the most eye-opening," she says. "It was really tough, but it also woke me up to what we need to do."
A struggle unique to girls
In 2016, she started the Toni Garrn Foundation to tackle these problems. Today, her foundation operates in five countries—Burundi, Ghana, Uganda, Rwanda, and Zimbabwe—partnering with local organizations and leaders to tackle everything from building new classrooms and girls' dormitories to providing scholarships for secondary school. In large part, her work is inspired by what she saw on that first trip.
"I think seeing it firsthand: There were more boys wearing shoes; there were more girls who were outside carrying things on a weekday; or young girls responsible for caring for their younger siblings," she says.
While girls and boys tend to go to primary school at fairly similar rates across the continent, with 29 percent of girls out of school compared to 27 percent of boys, those numbers change dramatically by secondary school.
Only 40 percent of girls in Africa complete secondary school, compared to 75 percent worldwide. Instead of studying, these girls are forced to grow up fast: In sub-Saharan Africa, a staggering 40 percent of women are married as children, and the continent is home to 15 of the 20 countries with the world's highest rates of child marriage. Of the world's 28 poorest countries, 27 are in sub-Saharan Africa. And for a girl living in a conflict zone or in a dangerous part of a city, getting married might be her surest road to some level of protection.
"The main issue is poverty," says Garrn, pointing out that parents are often left with limited choices. If a family is starving, marrying a teenage daughter off before they're ready might be the only way to lessen the burden.
Garrn's foundation does a lot of work to promote and facilitate girls' education because of the incredible power that education can give them over their own lives.
Research shows that when a girl is educated, she'll earn up to 25 percent more for every year of secondary school completed and that she'll then reinvest 90 percent of those earnings into her family. Completing secondary school is also associated with better health for women and their families, as well as increased skills and agency.
"Female education does so much for the world. It can really break the cycle of poverty and strengthen the economy. Every woman who becomes empowered empowers her children and educates her children," she says. "It's not just a human right to have an education—it's a health issue, it's an economic issue."
The foundation works to support and amplify the work that community leaders are already doing. In Burundi, for example, Garrn works with Deogratias "Deo" Niyizonkiza, whose life—from fleeing genocide to being homeless in New York City and eventually attending Columbia University—was chronicled in the Pulitzer Prize–winning book Strength in What Remains. Now he runs a nonprofit called Village Health Works, which provides primary healthcare services paired with education and economic development. Garrn's foundation is raising funds to build a women's health pavilion at their facilities.
Making a personal connection
Garrn says that some of the most fulfilling work she's done on the continent is with the girls' camps the foundation hosts—that's where most of her photos are from. Over the course of a few days, the campers can relax in an all-female atmosphere and feel comfortable talking about the struggles they've dealt with and their hopes for the future.
"For me it's the most fulfilling thing, because I get a chance to know what's really going on," she says. "The girls are so full of energy and excited and inspired."
Garrn usually kicks things off by opening up about her own story: She started modeling as a young teenager, and as things took off for her professionally, she struggled to balance education with a burgeoning career.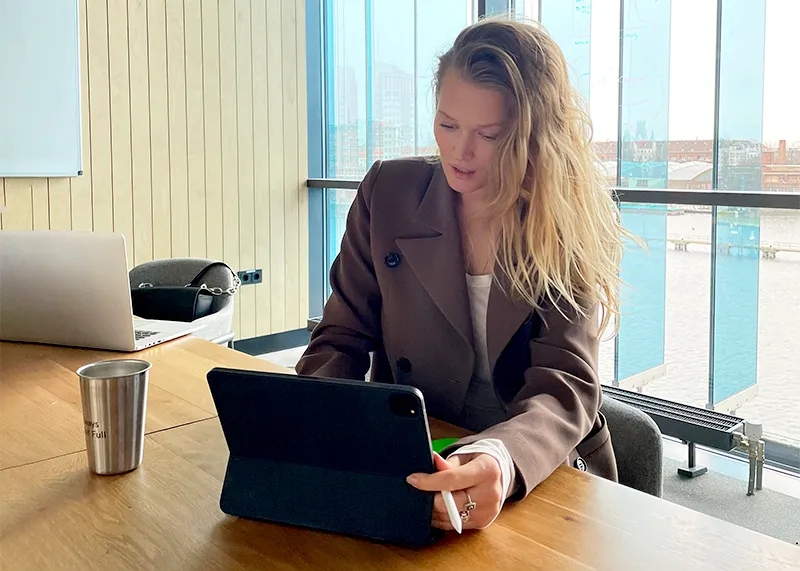 As Garrn builds the organization, she's grateful to have her office at WeWork, which gives her the space to hold Zoom meetings and eventually in-person meetings, where she can freely discuss what can often be difficult topics. WeWork offers the privacy that coffee shop meetings just can't provide.
"Having an actual office was super important to me," she says. "This work can be fun and light, but it can also be quite heavy."
For now, Garrn is grounded in one place like everyone else during the pandemic. But she's looking forward to getting back to her normal schedule of monthly or even weekly travel for fashion shoots and fundraising. When she does, she knows that, with WeWork, she'll have an office wherever she goes—and she'll always have her own dedicated space to return to.
"I never went to university, I never had a day job—it's really exotic and cool for me to have an office," she says. "I live my life in planes and cars and studios, constantly with different people and foods and cultures. It's really nice to have one place that is yours."
She hopes that her foundation will help give the girls she works with the space to manifest dreams of their own.
"All the girls just want to be educated," says Garrn. "They just want to be independent and think for themselves."
A.M. Higgins is a writer and content creator in Washington, D.C.
Rethinking your workspace?