Black business owners and workers too often face systemic biases: from underrepresentation in the boardroom to higher rates of unemployment. In Black-Owned and Proud, we profile innovative Black entrepreneurs building businesses and bringing much-needed change to the face of enterprise.
Growing up in Brooklyn wasn't easy for Jane DaCosta. Her single mother, an immigrant from Guyana, worked two jobs, so DaCosta spent a lot of time with her grandma. She's the first to admit that few would imagine, if looking at a young DaCosta back then, that she would become who she is today: a horseback rider, trainer, and entrepreneur and leader of a horse-related nonprofit.
DaCosta's introduction to horses came when she was 12. Her mother had saved enough money to take her to a dude ranch in the Adirondack Mountains—and that's when she fell in love with the animals. Even though her family couldn't afford lessons, DaCosta told her mother she wanted to ride. Her mother said, "Good luck!" and told her daughter to ride her bike up Ocean Parkway and find herself a horse.
"She was kidding," DaCosta says, "but I took it to another extreme, and I did. I rode my bike up Ocean Parkway in Brooklyn, and I did find a horse."
While admiring horses in the stable, DaCosta also found a mentor. The woman, a New York City police officer and single mother, asked if DaCosta wanted to learn how to ride. When DaCosta said she did, the woman told her that if DaCosta took care of the horses, she would take care of DaCosta. Her mentor eventually took DaCosta to horse shows and bought her clothes. She was the most important catalyst of change in DaCosta's life.
"From that day on, I had unlimited horses," DaCosta says. "If it wasn't for that New York City police officer taking me off the streets and giving me horses, who would have thought it would become my life, my future, my everything?"
The positive impact of horses
Horses kept her out of trouble and helped her focus on her goals during her school years, DaCosta says. She attended university, where she competed on the equestrian team, then joined the U.S. Navy, before earning her bachelor's degree in 2006. Things were looking pretty rosy. But then the financial crisis of 2008 hit, and DaCosta was laid off from her job.
With the last $300 in her bank account, DaCosta took a chance on a long-held dream. She founded an organization that enabled her to give back to her community and help young people through horses, just as she had experienced. Undeterred by people who told her there was no such thing as a nonprofit in horses, DaCosta approached an old friend at Brooklyn's Jamaica Bay Riding Academy and secured financial backing—and a support system.
On April 1, 2010, DaCosta, a newly single mom to a one-year-old daughter, founded Metropolitan Equestrian Team (MET), a nonprofit organization whose mission is to help young people in grades 3 through 12 develop innate talents and leadership skills through horsemanship, education, and equestrian competitions. Students engage in online and in-person classes that promote financial literacy, career development, creative thinking, and STEAM learning. Programs are tuition-based, but they're open to every child, regardless of socioeconomic status. Over the years, DaCosta has developed a strong donation network that enables the organization to provide financial assistance to those who need it.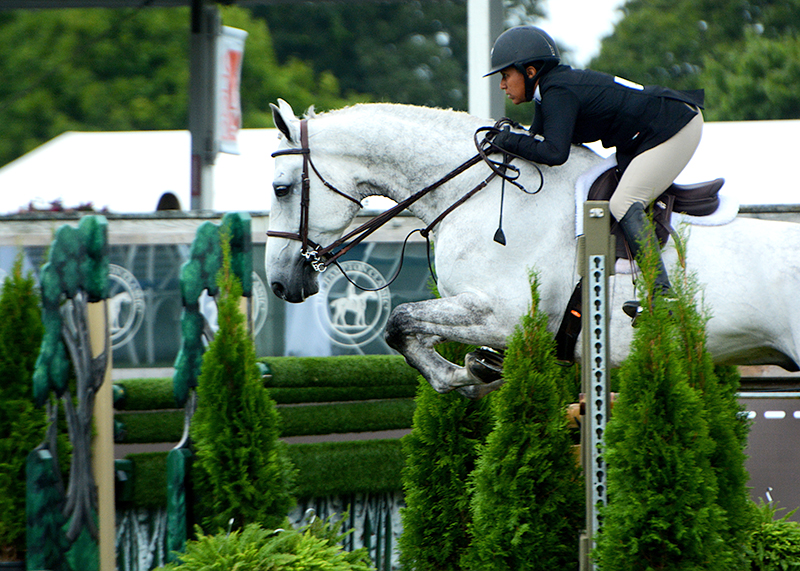 The goal of MET is to turn young people's dreams of a college education into reality by supporting students' academic performance, horsemanship, and competing skills. Students are introduced to representatives from colleges and universities with equestrian teams. Over the past 10 years, MET has helped its students obtain $1.4 million in college scholarships through equestrian sports.
But working with horses offers more benefits to her students than anyone can measure in academic grades or tuition dollars. "It's really important for me to use the channel of horseback riding, and horses, to help kids today," DaCosta says. Research shows that horseback riding promotes resilience, reduces anxiety, improves self-esteem and self-confidence, and helps children respond appropriately to various situations.
"There's something to be said about the benefits of animal husbandry and team sports and how that can help a child change their future," DaCosta says.
'This is really happening'
Early in 2020, DaCosta celebrated two big moments in her life. First, she enrolled in NYU Stern School of Business as a graduate student in the executive MBA program. At the same time, she opened MET's first corporate office in Brooklyn, 10 years after starting the organization.
When looking for an office space, DaCosta knew she didn't just want any space. "I wanted to be in a working environment where I can connect with other companies," she says.
She toured several New York City WeWork locations, but it was WeWork Dumbo Heights that spoke to her. The building was already home to education programs and financial companies that MET was able to connect with and benefit from. She takes students up to the roof of the building—which overlooks the Brooklyn and Manhattan bridges and into lower Manhattan—to give them a small history lesson on the city's architecture.
"The WeWork model for all the WeWorks around the globe is a perfect fit for our organization. We're able to connect with many different types of organizations. We're able to show our students what entrepreneurship really is," she says.
In mid-2020, DaCosta's staff encouraged her to apply for the WeWork Black-Owned Business Grant, saying it was important for students to see that dreams could potentially come true. She did, and she won. It was MET's first grant ever, and it made it possible to add even more children to its program.
"The WeWork grant really gives entrepreneurs [the ability to] to say—as it says throughout the building—'This is really happening.' You can make your own mission come true," she says.
Since moving to WeWork, MET has expanded from a two-person to a four-person office. DaCosta says that easy access to WeWork locations around the globe has helped her expand the organization to six additional states, including Texas, Georgia, and Mississippi.
"It's such a small percentage of women who are able to say that they are a Black-owned business. We're the change we wish to see in the world as women—as Black women—and as we want our children to see us," says DaCosta. "We have so many avenues to cross that we've never been able to cross before."
Kristen Bailey is a veteran writer and editor based in beautiful Lincoln, Nebraska. She has a penchant for helping large and small brands create stories that tell the why.
Rethinking your workspace?