The ways we work have fundamentally changed. People no longer seek just work-life balance. They want the power to choose when, where, and how they work. They want the freedom to create their own schedules, to do work they find meaningful, and to be in a space that suits their unique needs. Gone are the days of a one-size-fits-all nine to five. In All the Ways You Work, WeWork members share how they're reimagining their professional lives and thriving in this new world of work.
When Matt Woodson landed his dream job as a strategic partnerships manager for fintech company Branch this past January, he signed up for a coworking membership that would allow him to be fully remote. That same month he started testing out WeWork All Access and discovered an entirely new way of working, one that allowed both freedom and a sense of routine.
Starting in February, he began taking small trips from his home base in Denver—to just dip his toes in the nomadic lifestyle. He'd pack a bag, get on a plane, and fly somewhere new, like Orange County, CA. He'd try out a few WeWork locations, work for a week or so, and then fly back to Denver. Because COVID-19 infection rates were still high in February, Woodson took all the necessary precautions before traveling. He appreciated the fact that the WeWork locations made sure to take strict health precautions in order to protect their members and employees, including enforcing social distancing rules and sanitizing all common spaces.
The nomadic itch kept growing, and soon Woodson was packing up his car and heading to new cities for even longer stints.
Woodson says that travel has helped keep him sane and grounded, even when he is up in the air. "COVID-19 brought me down. I felt locked up [and] experienced new anxieties and lows," he says.
Now that COVID-19 infections are dropping and vaccination rates are rising, Woodson has taken full advantage of his WeWork All Access membership. In the past six months, he's visited 20 WeWork locations in multiple states, including California, Tennessee, and Texas.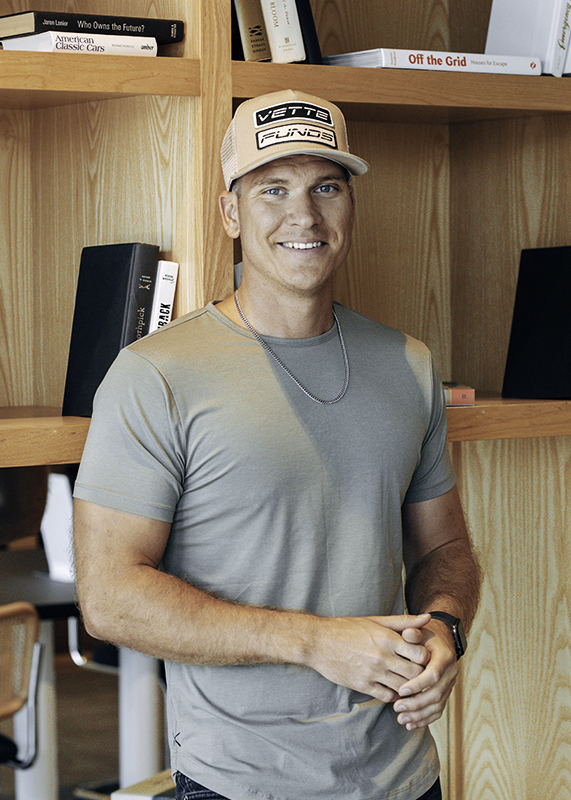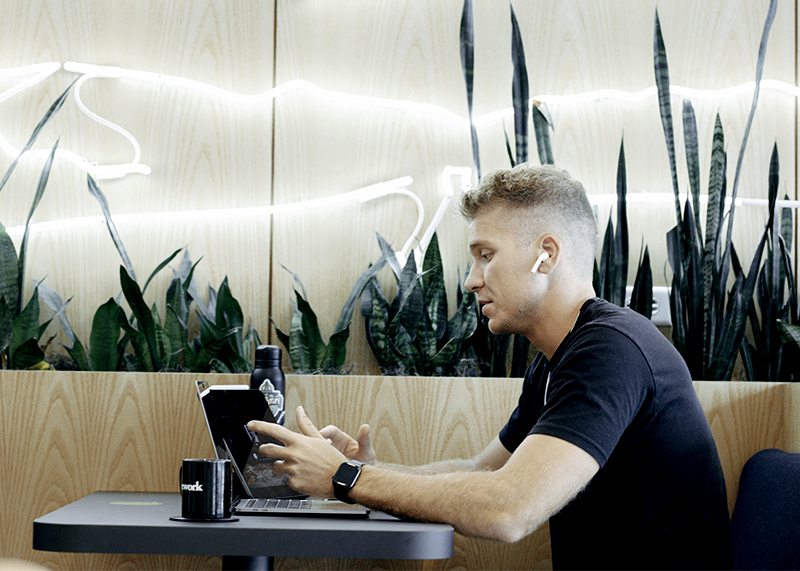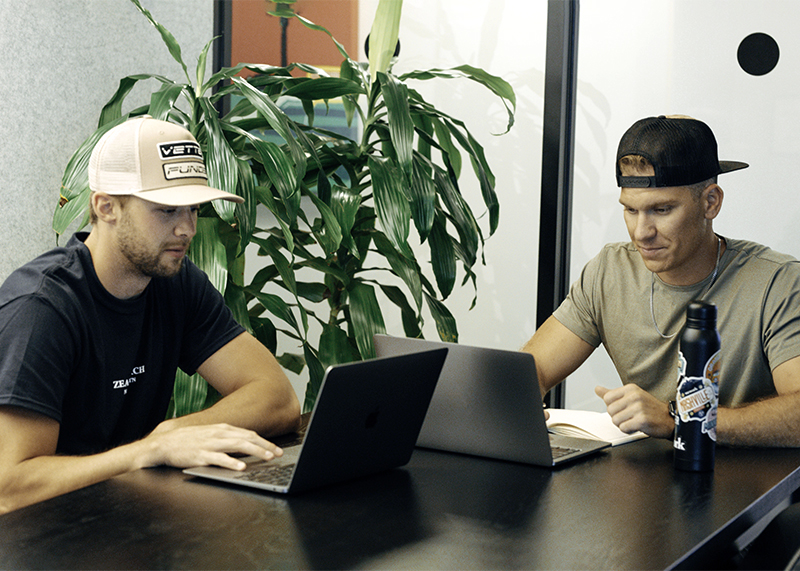 WeWork All Access makes it convenient for him to travel to a different city, show up at a location, scan his key card, and get hot coffee, reliable Wi-Fi, and see a friendly community team, Woodson says from his latest WeWork location in East Nashville. He often chooses where to travel based on whether the location has an accessible WeWork for him to use, affordable lodging, and easy-to-access public transportation options.
Woodson always makes sure to get into the WeWork building before his workday starts. He hangs out in the community space and reads or catches up on news. Once his meetings start around 9, he tries to find a conference room or a booth for private conversations.
His favorite space so far has been WeWork University Park in Austin.
"The people there are so welcoming, and the sense of community is amazing," Woodson says.
He also loved that the University Park locations provided fully staged workspaces—private offices decorated with rugs, artwork, and more furniture—for WeWork All Access members. This way, WeWork All Access members can feel as if they're walking into their own personal office instead of a more open communal space. These spaces feel like cozy offices with beautiful decor and plants, with all the touches and comforts of a home office, Woodson says.
Woodson has become so passionate about WeWork All Access that he has become quite the WeWork evangelist. One time, while working in a WeWork building in Denver, he noticed that the community team was speaking to a potential new member. He offered to give them his own tour around the space. His excitement was so palpable that the person bought a membership when they found out that Woodson didn't actually work for the company but loved it so much and wanted to share his enthusiasm.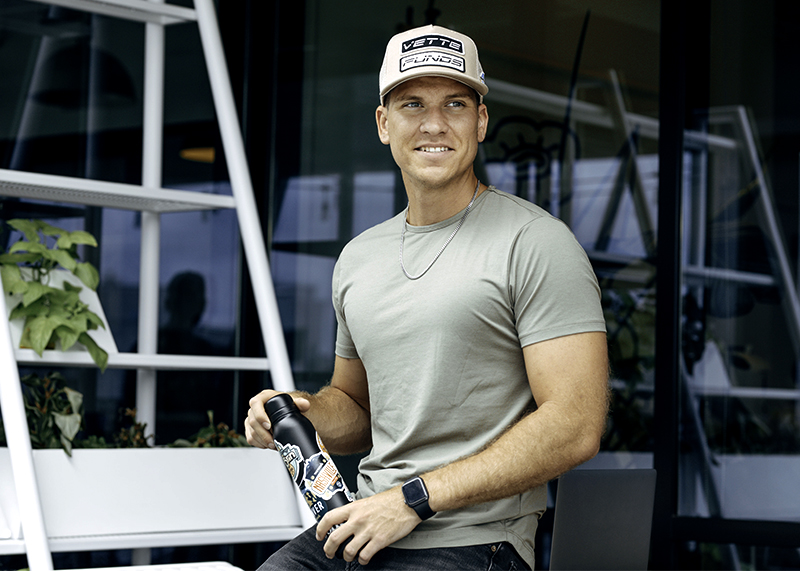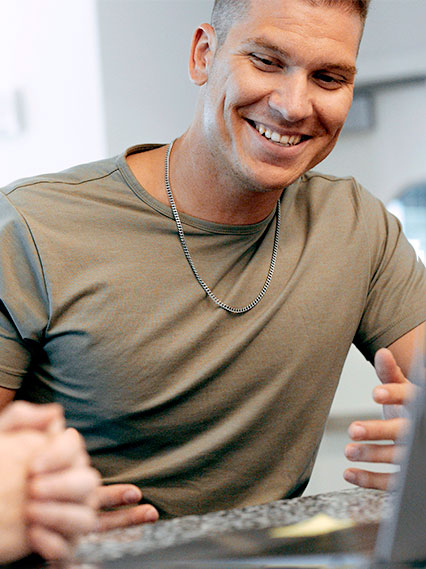 Woodson also credits WeWork with the many professional and personal connections he's made during his travels. "Because we are a startup, every conversation is crucial to our brand awareness [at Branch]. The first thing you ask someone you meet at a WeWork is: 'What do you do?' I not only have the opportunity to talk about how Branch helps businesses pay their workers faster but to also learn about so many new companies. The responses have been fun to hear—everything from a ghost kitchen startup to investment firms to influencer marketing platforms!"
Having an actual workspace, rather than just living the nomadic work life out of coffee shops, has given Woodson something else that is crucial to maintaining good mental health: a routine. Even as Woodson bounces between offices, many things remain the same across WeWork locations—airy spaces designed for productivity, creative office seating, bookshelves lined with a vast array of books, and walls covered with artwork from all over the world.
Woodson's friends and family are envious of the fact that he has created work-life balance while being on the road all the time. So are some of the strangers that Woodson has met along the way. He's constantly asked when he'll stop traveling and settle in one place to put down roots again.
"I plan on doing this for at least the rest of the year and maybe settle in a single city in 2022," Woodson says. "But there's still so much I want to do. I want to get to New York, and I haven't been to an international location yet. WeWork just posted on Instagram one of its locations in London with a beautiful patio space, and I saved that one."
Asked whether he would plan a trip based on a beautiful office space with a luxurious patio, Woodson answered without hesitation: "Absolutely."
Jo Piazza is an award-winning journalist, bestselling author, digital strategist, and podcast host.