How do you set the mood for love? For one Detroit couple, it's all about ideas, creativity, and entrepreneurship. Fance Logan and Keith Shadwick met last year at the Creator Awards, WeWork's global competition for innovators. They connected over a love for sharing ideas and starting up new collaborations.
Usually, the Creator Awards's impact is measured in the $15 million awarded, the 167 winners, or the 170 jobs created. But now they can count one relationship—and one baby on the way.
As Logan, 32, and Shadwick, 27, get ready to welcome a baby boy in March, they continue to follow their passions. For Logan, that's real estate and fashion events, including the annual runway show, Fashion Massacre, now in its ninth year. Shadwick is developing a new fashion line, Prewave and Co. We caught up with the couple between their startups and side hustles to learn more about how they met and what baby names they're considering.
Congratulations on the baby! How exactly did you meet at the Detroit Creator Awards?
Logan: At the time, I was just laid off from one of my jobs doing property management. I was downtown, it was a rainy day, and you guys had this glass pitch booth thing [where anyone could come up and pitch an idea for a chance to win money], which was so fascinating to me. The whole setup was something unique. I went in out of curiosity.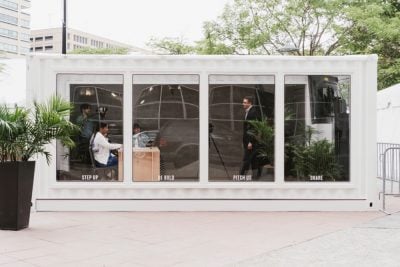 Shadwick: We met at the pitch booth. I saw her walking around while I was pitching my idea. We started asking each other about business and entrepreneurship.
Logan: That's how me and him started talking to each other, off our ideas. Some of the ideas he had were so amazing. Then we said, "OK, maybe I'll see you later." I saw him later that night at the awards ceremony, and we just hit it off. You don't usually meet people talking about the entrepreneurial spirit. We both had that in common. He was just open for ideas and open for creativity.
Shadwick: We ended up hanging out until Wyclef Jean performed, and that sparked something.
Were you hoping to meet anyone?
Logan: It was fascinating how I met Keith. I wasn't expecting to meet anyone. Keith wasn't planning to meet anyone, either. He just had a natural curiosity to be part of something. To meet in that element is amazing. It's out of curiosity, and here I am, eight months pregnant, and we're soon to be married. It's a beautiful story.
How did you connect about entrepreneurship?
Shadwick: We started talking about fashion and different things. I was starting my brand, Prewave and Co. I have no design school background. It's just in my spirit. Fance started talking to me about how to go about branding. She was telling me a certain way to go about it, being really professional about every aspect like consistent artwork, content, and stories behind the fashion.
Logan: We are [also] working on a real estate company focused on promoting homeownership, called Optimistic Realities. Homeownership sometimes seems intimidating to people. We've been leasing and are in the process of purchasing a home soon. We'll buy homes and fix them up and offer programs for people so they could purchase their own home.
How does Detroit influence what you're doing?
Shadwick: I'm from the west side in Detroit, where there's violence, but it's been reported that violence has gone down. This is the time to start doing things. It was a dark time in Detroit, but now there are lots of entrepreneurs, and networking is golden right now. My next collection is called Flourish Detroit.
Do you know what you'll name the baby?
Logan: Sensei, which means master teacher. We're putting that into the atmosphere.

How will you teach the entrepreneurial spirit to the next generation?
Logan: Lead by example. That's the only way to teach someone. When I said me and Keith are going to buy a home soon, we're doing it to lead by example.
So… would you recommend the Creator Awards as a place to find love?
Shadwick: For sure. It attracts people with a positive light and a mind to create. We all are creators, no matter what we do. Our words create our destiny. To actually create a human from that event is amazing in itself. It's meant to be.