Brian Grazer knows how to get a yes. The Oscar-winning producer, alongside his partner Ron Howard, has shepherded many projects to fruition despite overwhelming odds. Some of the most iconic films and TV shows of all time, including Apollo 13, A Beautiful Mind, and Arrested Development, would have failed to come to life without Grazer's persistence. Early in his 40-year career, Grazer identified the importance of making genuine connections with colleagues, and in his new book Face to Face: The Art of Human Connection, he explains how that skill has been foundational to his success.
"If you have to get a yes from a lot of different people on a project, you have to create trust and belief," Grazer said during a lunchtime appearance at WeWork Pacific Design Center in West Hollywood, CA, where his and Howard's Imagine Impact program is based. As an example from his own career, Grazer referenced American Gangster, the Ridley Scott–directed biopic from 2007 in which Denzel Washington starred as legendary criminal Frank Lucas. "I believed in that so much that it was infectious," Grazer recalled. "My level of enthusiasm, my level of knowledge of that era and of the story itself, was so vivid that it was seductive to people." As Grazer details in his book, the movie's development process was troubled; it was at one point canceled by Universal Pictures before being resurrected a year later. But through it all, "Denzel stayed loyal to me and loyal to it, and the dream stayed alive," Grazer said. "People naturally want to be loyal—you just have to give them the proper reason to do it."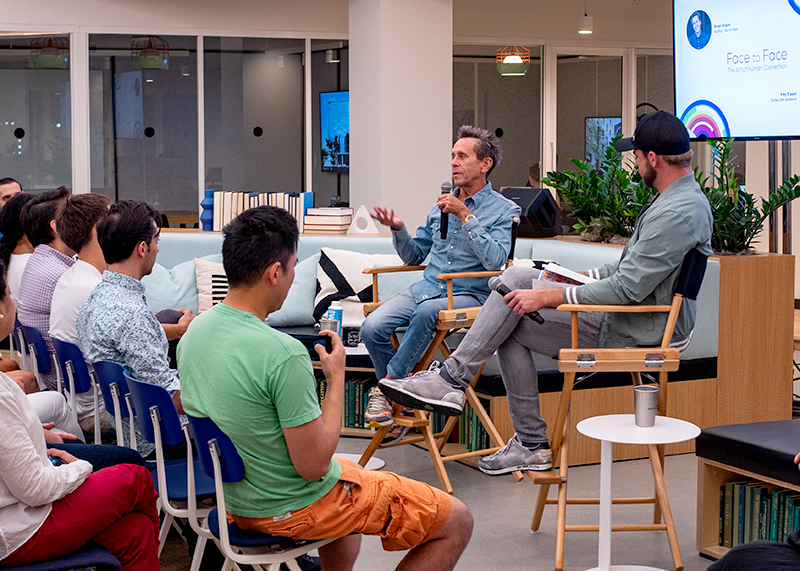 In his own estimation, prioritizing face-to-face conversations has been Grazer's "pathway to 40 years of success." Growing up with acute dyslexia made Grazer conscious from an early age that he needed to be a good communicator in person, since he wasn't able to read or transfer information through words. "So early on, it was about really looking at people, reading their body language, their physiognomy, all these things that we do all the time if you're actually looking at somebody," he told an audience of WeWork members.
Grazer also discussed his practice of holding "curiosity conversations" with people he finds interesting, which he's been doing since the start of his career. (Read more about how to have a curiosity conversation in this excerpt from his book.) He offered a few suggestions for beginning a curiosity conversation in everyday life: "Keep your phone in your pocket. Really look at them. Smile. Maybe nothing will happen, maybe something will happen, but the worst thing that can happen is you're being polite and you're making somebody feel good by acknowledging them." He likened the practice to developing an exercise routine. "It's like a muscle. If you're never done a push-up before, you start by doing one push-up."
Grazer also emphasized the importance of knowing what you have to offer, a sense that can be applied to just about every industry, creative or otherwise. "Always have something of value," he said. "Don't just use your energy and equity to meet people unless you have something they can say yes or no to. It doesn't have to be perfect, but you have to be able to communicate it." He shared an example about the first movie script he ever wrote, which ultimately became 1984's Splash, directed by Howard. "The first thing I ever wrote was about a man falling in love with a mermaid. It was written horribly, but I could tell it really well," he joked. "If you can infect someone else with your idea or your vision—get them excited—that's how you build your story. That's how you build anything—through collaboration."
Emma Dibdin is a writer based in Los Angeles. She covers culture and entertainment for outlets including the Hollywood Reporter, Elle, The New York Times, Town & Country, Esquire, and more.