When Manal Kahi moved to New York City from a small town in Lebanon four years ago, she wasn't happy with the options at her local grocery store.
"I was a bit disappointed with the hummus," she admits. So she started making her own special recipe, which sparked an idea from her brother, Wissam, a graduate of Columbia Business School.
Having left Lebanon, where they witnessed people fleeing from the civil war in Syria, the siblings had a thought: Why not sell hummus and other authentic food made by refugees?
"I came here as a student, but it was in the midst of the refugee crisis in Lebanon," explains the WeWork 175 Varick St member and New York City Creator Awards finalist. "I wanted to do something about the situation, bring great food to New Yorkers, and bring good job opportunities to refugees."
In 2015, Kahi founded Eat Offbeat, which delivers homestyle meals made and delivered by refugees living in New York. The chefs are referred by the International Refugee Committee, a nonprofit that helps displaced people resettle and rebuild their lives.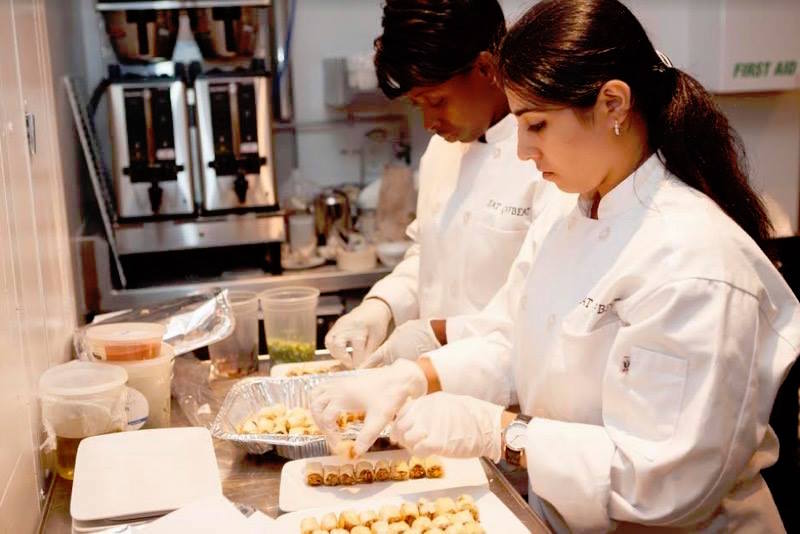 "The chefs suggest the dishes, which Chef Juan Suarez de Lezo helps them develop," Kahi says. "It's what they cook at home."
Together they work out of a commercial kitchen in Long Island City, Queens. Eat Offbeat then delivers the meals to Manhattan, Brooklyn, and Queens.
What started with chefs from three countries—Eritrea, Iraq, and Nepal—has blossomed into a food delivery service with full-time chefs from 11 countries, including Syria, Guinea, and the Ivory Coast. All but one are women.
Dishes include potato kibbeh, an Iraqi dish made from potato croquettes with beef and onion stuffing; veggie momos, savory dumplings from Nepal; and chicken shawarma, a Syrian-style chicken in a rich, tangy sauce.
Now Eat Offbeat is raising money to create a cookbook as a way to reach people outside New York.
"We want people to see them as chefs first, refugees second, and see it doesn't matter what type of visa you have," says Kahi.
Eat Offbeat launched a Kickstarter campaign to fund the writing of the cookbook. The campaign easily surpassed its goal of $50,000, nearly doubling it at more than $97,000.
"Our motto is 'where adventurous eaters find refuge,'" Kahi says. "The way we see it, refugees are helping us New Yorkers discover something new, not the other way around."