It might have been the tail-end of Black History Month, but last Thursday evening, African American entrepreneurs at WeWork Metropolitan Square in Washington, D.C. (just around the corner from the White House), were just getting started.
The event was "African American Entrepreneurship: Then and Now," a panel and pop-up marketplace organized by We of Color, WeWork's employee-led group for people of color. The theme of the evening was empowerment—and how entrepreneurs can get the ball rolling for everyone. "It starts with us," said panelist Gary Odum, a veteran-in-residence at WeWork's 1701 Rhode Island Ave NW location.
Odum, an Air Force veteran, runs BG LionStar, a company that repositions urban blight to attract funding. "Creating opportunity and economic empowerment starts, a lot of the time, with empowering black businesses," he says.
Some 120 attendees sipped Arnold Palmers, ate lactose-free personal pizzas, and sampled Baileys chocolate cheesecake—all served up by black-owned companies. Aside from delicious food and drink and a panel discussion with the entrepreneurs who provided them, attendees were also treated to a pop-up market. It featured black-owned vendors selling jewelry from Sierra Leone and shea butter soap crafted by women in Ghana, as well as a selfie station where attendees snapped photos in front of signs saying "Black Girl Magic" and "#BlackHistory."
Each of the panelists made it clear that African American innovators are facing major challenges—and events like this are one important way to solve them.
"Generational wealth is something that's missing from the black community, and entrepreneurship is a gateway to build generational wealth," said panelist Simbi Ntahobari, the corporate development manager at the National Association for the Advancement of Colored People (NAACP).
The numbers bear it out: Black people are less economically mobile and often unable to pass wealth to future generations. With median black wealth at $13,460 compared to $142,180 for white wealth, African Americans own just one-tenth of what white Americans do. They're also less likely to be homeowners and business owners, or have a retirement account.
"Financing is a huge issue for people of color, especially black women, and the revenue gap for black-owned businesses compared with that of their white counterparts is huge," Ntahobari said.
Panelist Kimberly Smith, the cofounder of Brown Beauty Co-op, agreed. "As a black-owned business, there are so many hurdles that we have to overcome before we can even get a sale," she said, referring to negative stereotypes and a lack of representation.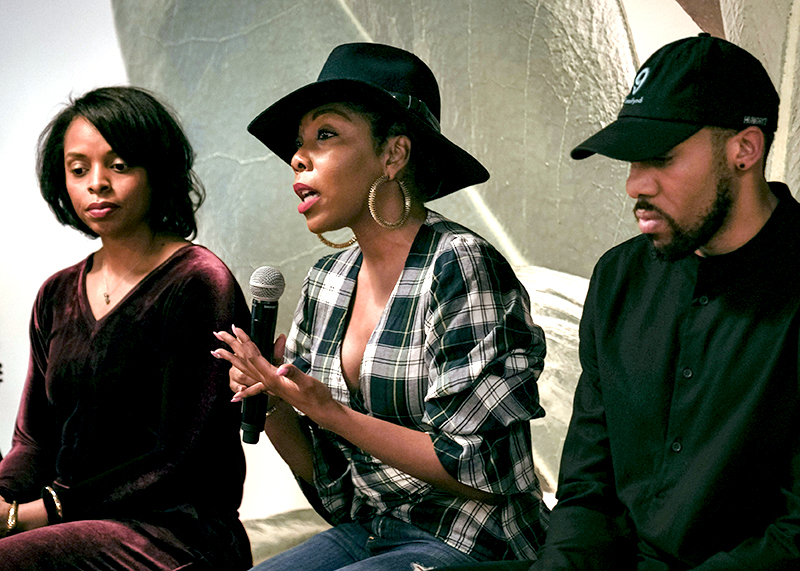 But she also pointed out that black people are problem-solvers. For example, black female-owned businesses grew by 164 percent between 2007 and 2018—the highest growth of any group in the country.
"We don't just want a seat at the table," Smith said. "We want to create our own table, our own chairs, our own house," she said.
Getting black entrepreneurs into rooms where they can connect with funders and share ideas about the best ways to scale, market, and finance their ventures is critical, said the panelists. They noted that events like this are a rare opportunity for aspiring business owners to get advice from people who have been there before. On Thursday evening, attendees learned about everything from the dangers of giving away equity to how to cut back on personal expenses to the importance of safeguarding your health.
Two of the pop-up market participants—Happied, which connects D.C. residents with the city's best Happy Hour specials, and Fewer Cards, which makes digital business cards—are getting help from WeWork Labs to tackle some of the gaps identified by the panel. WeWork Labs provides tailored programming for early-stage startups with a social-impact component, like mentorship and access to capital.
"As a person of color and as a labs manager, diversity is super important to me," said Hadeel Al-Tashi, the Labs manager in Washington, D.C., who attended the event. "At WeWork Labs, we think about how we can encourage innovation in different communities and reduce the barriers that these companies are challenged with."
Attendees said one of the barriers is that seeing people who look like them succeed is a rare occurrence, and agreed that events like this are a good first step in helping overcome this barrier.
"That could be me, and it's not unattainable because of where I grew up," said Valerie Joseph, who works for a healthcare nonprofit at 1701 Rhode Island Ave NW, of seeing panelists onstage who look like her.
She said the event is exactly what the next generation of black entrepreneurs needs: to feel empowered and believe that they, too, can create their own businesses. "They're creating a pathway just by telling their story. You never know how impactful that is," Joseph said.
A.M. Higgins is a writer and content creator in Washington, D.C.