As the world has been forced to shut down to slow the spread of the coronavirus, small businesses—particularly those in the food industry—have been hit hard. Restaurants have felt the sting of being closed for months. Wholesalers have lost a big chunk of their business.
Before the pandemic, New York City–based FoodtoEat, a catering platform that connects restaurants with corporate offices, helped local establishments by encouraging big business to invest in it. The organization and member at WeWork 300 Park Avenue was founded by first-generation Indian-American Deepti Sharma. FoodtoEat partners with immigrant-, women-, and minority-owned restaurants as part of its mission to diversify the food industry. Then came the lockdown.
"When COVID-19 hit, we knew we would be affected, but we didn't realize the depth of what would happen," says founder Sharma. "On March 13, we literally went to zero revenue."
Shifting a business; doubling down on a commitment
With 30 partner restaurants still open, Sharma knew she needed to come up with a plan to help them (and her own business) survive this period.
"I thought, we can collect dollars to purchase meals from restaurants and deliver them to frontline workers and people in need," says Sharma. So she launched a GoFundMe campaign.
At first, some partner restaurants didn't even want to take money—they just wanted to help, says Sharma. "I explained that we were providing them with this ability to pay their people and keep them on staff."
FoodtoEat shifted its business model but never its commitment to marginalized communities. Sharma and her team then identified hospitals and nonprofit organizations that support underserved groups, including Womankind, which helps victims of gender-based violence.
Soon after launching, FoodtoEat began collaborating with World Central Kitchen to deliver 6,000 meals per week to food-insecure communities. Monetary donations directly benefit three groups: vulnerable individuals, restaurant partners in New York City, and FoodtoEat.
"It's been a hustle," says Sharma, who's been working seven days a week since mid-March. She's used various social networking platforms, contacted her corporate connections to ask for donations, and even turned to the entertainment industry for its support.
"We started getting videos from celebrities like Busy Philipps and Zoe Lister-Jones, to thank the frontline workers and as a morale booster," says Sharma, who notes that the promotion has aided the fundraising campaign considerably.
Since getting started, the initiative has raised over $50,000. "The best part of this idea taking off is that it helps not just the restaurants but the surrounding communities as well," says Sharma.
A community coming together
Sharma is thrilled—but not surprised—by how quickly this project has grown. "As New Yorkers, we're of a nature that when stuff goes down, we gather together and organize," she says. "We saw it during 9/11 and during [Superstorm] Sandy. We do what we need to do. And as immigrants, we're in survival mode all the time, and we want to see this country flourish."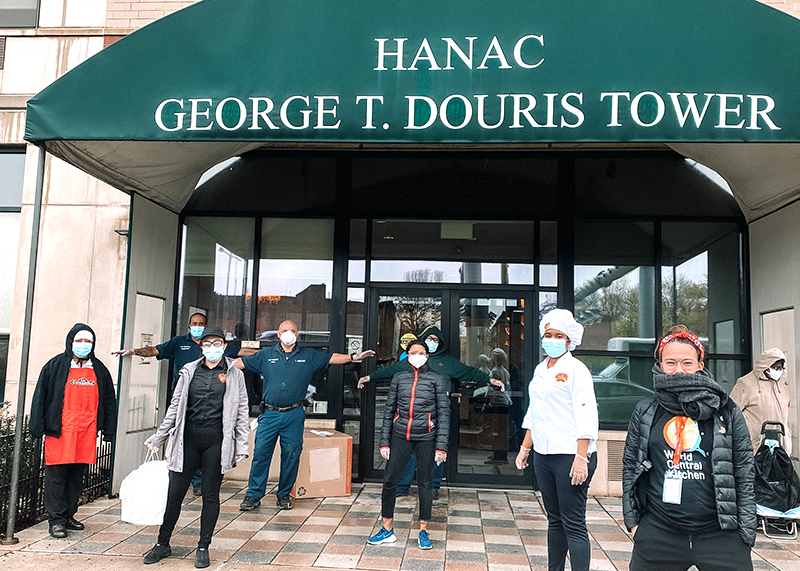 "I've been trying to go on some deliveries with the restaurants," she continues. "Both to show support and to document the stories of these people who are working so hard to feed the people in need, people on the frontlines."
After one delivery to a nursing home, Sharma recalls, her team heard chanting and clapping. "A bunch of seniors had come to their windows and were cheering," she says. "That was one of the most amazing experiences, and it makes me feel like we have to keep going."
Sharma hopes to continue feeding others as long as the donations keep coming. "There is the aftermath [of the pandemic] that's going to have to be dealt with—unemployment is still going to be an issue," she says. "So we're going to try to continue doing this for as long as we can."
Her advice for other entrepreneurs and businesses that want to find a way to help: Start by looking around. "Look to your communities where you live and work, and think about what you can contribute," says Sharma. "We're all in this together, we're all suffering in different ways. But we can't forget the people who don't have food on their table every single day."
Dawn Papandrea is a freelance writer who covers work, personal finance, and higher education. Her writing has appeared in numerous outlets, including Family Circle and monster.com. Follow her on Twitter.