Superpower on the Side features WeWork team members and how they spend their time when they're not at work.
I'm more of a Converse guy now," Matthew Golia says. But before the 30-year-old joined WeWork as an enterprise account manager working out of the company's New York City HQ, his insurance industry job required him to wear a suit and dress shoes to work every day.
Back then, Golia's shoes were always shined. That's because his father, Steve, who also worked in insurance, sat him down after he graduated from college and taught him something he felt would be crucial to Golia's professional success: how to shine his shoes.
"We'd sit and watch TV and shine our shoes together before the beginning of each week," Golia recalls.
The ritual stuck. One Christmas, his parents surprised him with his own shoe-shine box, which they purchased online. Unfortunately, the product didn't live up to the pictures; Golia tore open the package only to discover the quality of his gift was lacking.
"I started looking around to see what else was out there," he says. "And there weren't any better options; they were all these inexpensive cedar boxes. That's where the idea started. I figured if we made a nice one, people would buy it."
Golia says he and his dad are "kind of handy." But they didn't have any significant woodworking experience, so the process of designing and building their first prototype required a lot of trial and error. For the early part of 2015, every night after dinner, they'd head down to his parents' basement to experiment in the makeshift workshop they'd built.
"We went through a lot of wood," Golia says. "There's one corner in my dad's basement that we call the archives, filled with these half-broken, horrible-looking boxes that are falling apart. But my dad and I like building stuff and solving problems. So it didn't feel like work, even though it took a lot of time. It was just a cool thing we were trying to figure out how to build."
Eventually, they landed on a design they were both happy with. Golia took some photos and built a website, and they launched their business, American Shine Co., there and on Etsy. Two days later, the first order came in.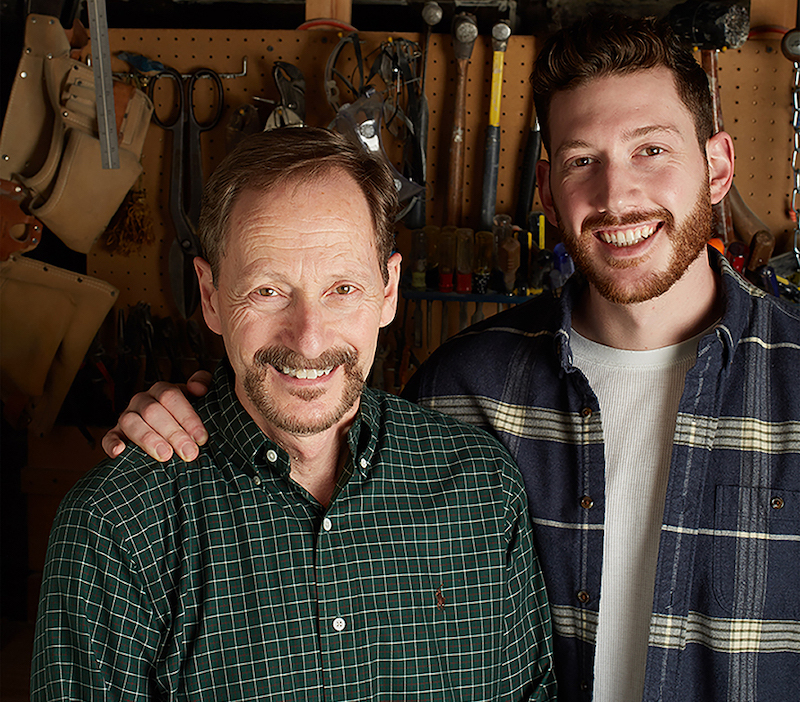 "It happened pretty quickly, and the boxes started selling on their own without any real marketing," says Golia.
It didn't take long before an editor at Popular Mechanics reached out through their website and asked to interview them for a story. At first, Golia assumed the email was a joke. But a few weeks later a team of photographers showed up at his parents' house in Haddonfield, NJ.
"They brought this huge team of people," he says. "All these people are going into, like, my parents' crooked steps into this dark basement with all this professional photography equipment. It was pretty wild."
As their business was getting off the ground, Golia accepted a new job at a computer software staffing company (coincidently based in a WeWork office) and moved from New Jersey to New York City. He figured he could easily manage both careers. But once the Popular Mechanics article was published, it led to more press from outlets like Martha Stewart American Made, Men's Gear, and The Gentleman's Journal. Orders poured in.
For most of 2016 Golia tried to do it all—working and living in the city during the week and returning to New Jersey on weekends where he worked furiously to catch up on orders. He built the boxes; his dad stained and lacquered them, added the hardware, and took care of the packaging and shipping. They each spent up to an hour and a half per box, and at that point they were getting up to 100 orders per month. Golia decided something had to give; he quit his job and moved back home to focus on the shoe-shine boxes full time.
Being closer to their workshop made all the difference. Golia and his dad were able to streamline their production process and also expand their product line to include different sizes and finishes. And as buzz from all the press quieted down, their workload became more manageable. Golia decided to go back to work full time, making the boxes his side gig once again.
After trying his hand at selling surety bonds with his dad, Golia applied for a position at WeWork. In January 2019, he was hired as an enterprise account manager.
"The job opportunity at WeWork was just way better than anything else I had seen," says Golia. "As part of the growth team, I have a unique perspective on how our company is evolving to fit the needs of businesses of all sizes globally. Though we're growing at an unprecedented rate, there are still so many opportunities to contribute in meaningful ways. Everyone comes to work in pursuit of a common goal, which is a really exciting environment to work in."
Now, Golia devotes the bulk of his time and energy to his life and career in New York, returning to his parents' house once a month to work on the shoe-shine boxes. In a single weekend, he'll build a month's supply—and his dad, now retired from insurance, happily takes care of the rest.
"I know a couple people in our office who have different side hustles going," says Golia. "So it's definitely something people talk about and is encouraged. I mentioned it in my interview initially, and my now-boss loved that about me.
"WeWork is kind of a unique place. We come from all different industries. So hearing what everyone has done in a former life is interesting. It opens your eyes to different opportunities."