Superpower on the Side features WeWork team members and how they spend their time when they're not at work.
In January 2018, if you'd asked Benjamin Carter where he saw himself over the next year-and-a-half, he could never have predicted where his music would take him. Back then he was living in Washington, D.C., and hadn't performed in nearly two years. Today, he's living in Los Angeles, has three singles and a cover song out, and is about to release four new songs and his first EP, titled Self-Portrait: Volume 1.
"It's just incredible," says Carter, 24, a community manager at the forthcoming WeWork 5161 Lankershim Blvd in North Hollywood. "I didn't see any of this happening, especially in less than a year."
Growing up in D.C., Carter's musical hero was his dad, an Assemblies of God pastor and choir director who is "one of those phenoms who can play any instrument you can think of," he says. Carter wrote his first song when he was in third grade, though his chosen genre was slightly different than the gospel and alt-rock music his dad loved. "I wrote a rap about Spider-Man and drew a picture beside it," he says.
As he got older, Carter wrote and played music at church, and eventually enrolled at Southeastern University in Lakeland, Florida, as a music major. He performed in coffee shops around the small college town. But after failing two classes, Carter began to question his own talent. By the time he graduated in 2016, he'd switched his major to organizational leadership. "I got caught up in thinking, 'How many people are going to listen? Am I going to be famous?'" Carter says.
After college, Carter returned home to D.C. and took a break from performing. He landed a job managing the espresso bar at WeWork Metropolitan Square, and got married. On the outside, it seemed as if his adult life was falling into place. But inside, he felt something was missing.
"I kept saying to my wife, 'What if [music] is what I'm meant to do?'" he recalls. "'[To] just put my music out there and share it with people?' I felt like if this is what God asks, then I'm going to do it and see what happens."
Within a month-and-a-half, Carter recorded a cover of Leon Bridges's hit "River" in a friend's basement and put it online. He felt great. "To be able to do that and do my job here at WeWork is really, really cool," he says.
On a whim, he sent his cover to SoFar Sounds, a music event company that organizes secret, intimate performances featuring artists like Bridges, Ed Sheeran, and Billie Eilish, in addition to up-and-comers. Based on that one song, he was asked to play a show a few months later in June. And from that performance, he got an offer to perform at D.C.'s legendary 9:30 Club the next month.
"It was the venue I had dreamed of since childhood," Carter says of the place Rolling Stone named one of the 10 best live music venues last year.
From there, things kept happening. Carter released his first single, "Hills," in August. Then he applied for and won a recording session with Level, a music-distribution platform for independent artists owned by Warner Music. A producer there worked for free with Carter to release his second single, "Cosmic." His third single, "Push," was released through the Grammy Award-winning production company House Studios with producer Jake Vicious.
In December, Carter transferred within WeWork to his current position in Los Angeles to further his music career. Now, he's preparing to release four additional songs by the end of this year.
"Everything kind of lined up," Carter says. "There were all these moments where it was like 'All right, I'm doing what I'm supposed to do.' I'm just getting put in the right places around the right people and all of this is happening."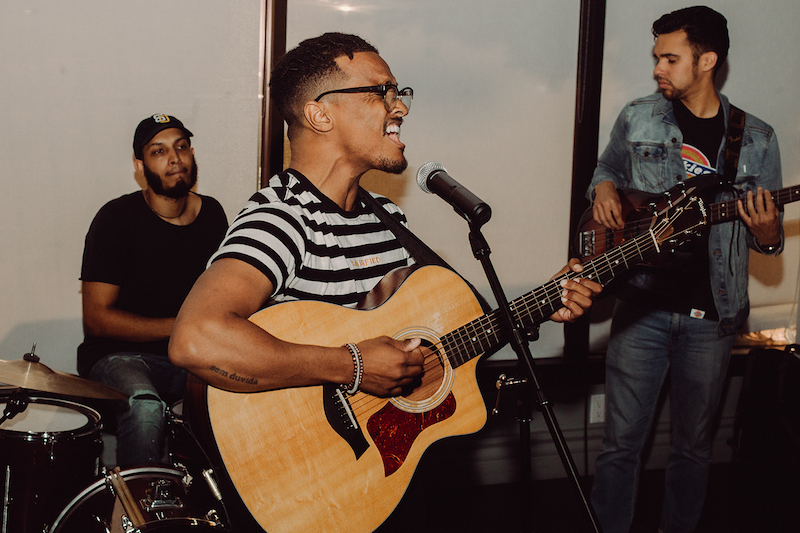 Some of those "right" people include Carter's WeWork colleagues in Los Angeles. Josh Boyed, a sales lead and childhood friend of Carter's, helped him write the lyrics on "Hills" and the music on "Cosmic." Chris Cashman, a technology lead who runs a management company for creatives called Granite Collective on the side, is Carter's manager. And Rachel McGowan, a community lead generalist who co-founded the Unfamous LA Podcast alongside Cashman, interviewed Carter for the series' second episode.
As he gears up to release his next track, "Seventeen," on July 23, followed by his EP in August, Carter is feeling optimistic.
"Right now I'm just looking to put out as much music as possible, get as much streaming, and as many people to listen to it as possible," Carter says. "Anyone with a Spotify playlist has the power to make an artist successful. It's the person who makes the great playlist that people love that gets me to 1 million streams."
Listen to Benjamin Carter's music on any of the major platforms including Spotify, Apple Music, SoundCloud, YouTube, Google Music, and Amazon Music.
Interested in a career at WeWork? Visit our jobs page.