WeWork's community team members are the soul of the We community. Heart of We highlights how their hard work and passion improves the daily lives of WeWork members across the globe.
Bernadette Connelly met her boyfriend at WeWork. She has lived with four roommates, all of whom are employed by WeWork. Nearly all of her friends work at WeWork, says Connelly, a community lead at London's WeWork 21 Soho Square, who joined the company after being referred by the daughter of her mom's best friend's. "Almost everyone in my life is a WeWork person!" says Connelly, laughing. "And those who aren't, I'm trying to get them hired."
There are many things Connelly, 23, loves about WeWork, one of which is the values she and her colleagues share. Another is that she deeply appreciates the diversity of those colleagues; her WeWork community includes many different heritages, including Vietnamese, Chinese, South African, Pakistani, Italian, and French.
"Growing up where I did in Essex, everyone was the same race as me and had the same accent as me," says Connelly. "At WeWork, differences are celebrated," she says, adding that this has led to a lot of good food, too.
This combination of difference and unity is what makes WeWork so special to Connelly. She pointed to how WeWork's core values of community and authenticity are key. "Roles and responsibilities can be learned," she says, "but values are deeper parts of each of us."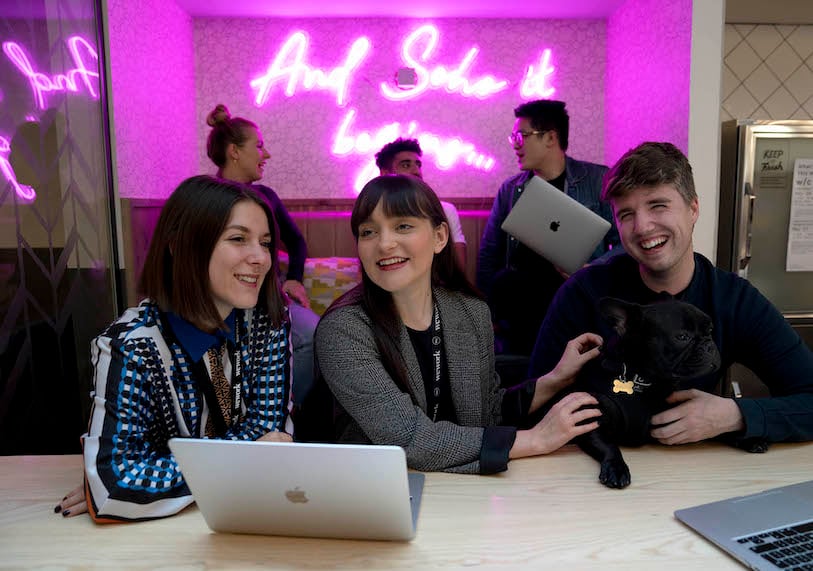 Part of what attracted Connelly to her boyfriend, Yet Lau, were those shared values. Lau is a technology services lead whom Connelly met during an office Wi-Fi outage when Lau was deployed to help. "We all came together, running around like crazy to help Yet solve the problem," says Connelly. She couldn't help but notice how diligent and responsible Lau was when it came to his job, noting his tenacity and how much he cared about getting things right. "Those qualities really attracted me to him as a person."
At home with her roommates, too, shared values have gone a long way. "I always found it hard to find my tribe, my chosen family," she says. "WeWork brought anyone that I ever needed in my life to me and put them in my pocket."
WeWork spoke to Connelly about what she does in her downtime, her ideal dinner guest, and the one WeWork member who has had the most impact on her.
Downtime pursuits: "I'm vegan and celiac, so eating for me is pretty tricky," says Connelly, who loves cooking as well as discovering restaurants that serve food she can actually eat. The best thing she cooks? "I make a cheesy carbonara made of cauliflower and nuts."
Member who has had the most impact on her: Didi Kan, a therapist and former member at WeWork Aviation House, showed Connelly how to find balance. Whenever Kan noticed Connelly working late, he'd remind her how important it is to find time for herself. "Though he could have used his time to take paying clients, he would offer to sit down and have a session with me," says Connelly. "His stance was, the more you're looking after yourself, the better you'll be at what you do."
Who she'd most like to have dinner with: Jen Berrent, co-president and chief legal officer of WeWork. "She gave such an inspiring speech at our Global Summit in 2018," says Connelly, remembering that Berrent spoke about inclusivity and how WeWork welcomes everyone. That messaging resonated with Connelly, who was raised in an accepting environment and knows the value of inclusion.
"I grew up in a family that was open and accepting of anything I was, or wanted to be," Connelly recalls. She adds that before WeWork, she had never worked in a place that fostered this same kind of openness, and it makes her proud to be a part of the company.
Her favorite place in the world: London. Connelly is grateful that she's had the opportunity to visit a number of countries, but there's no place like home—especially because London is home to everyone she loves. "Also, vegan food is easy to come by in London—less so elsewhere!" she says.
Core values: Togetherness. "I'm passionate about people!" she says. Although she'd worked at companies where the people were pleasant, she hadn't experienced the kind of team effort she's found at WeWork. "Everyone is supportive and on board," she says. "Gratitude is my second favorite value because I'm so grateful to be here."