WeWork's community team members are the soul of the We community. Heart of We highlights how their hard work and passion improves the daily lives of WeWork members across the globe.
At the beginning of this year, community leads Melisa Calero and Teresa Mastrogiacomo sat down to plan a calendar of events. They noticed that May was Mental Health Awareness Month, and it loomed large. It felt personal. It also felt fraught.
Calero, 23, and Mastrogiacomo, 39, felt it was important to draw attention to mental health concerns, even if they were unsure how to do it; they were worried about triggering anyone in the workplace by being too intense, but also did not want to make light of such an important issue. "In the world we live in, it's not easy for people to reach out for help from others," says Calero, who works alongside Mastrogiacomo at WeWork 3 Place Ville Marie in Montreal.
"In some ways we are more connected than ever," Mastrogiacomo says, "and online profiles are a place for sharing thoughts and feelings." But there are obvious barriers to sharing personal thoughts or concerns online, "especially since we're in a time where the line between your professional life and personal life is blurred."
So Calero and Mastrogiacomo set out to help people feel comfortable opening up to each other in their building.
A compulsive journal-writer, Calero considered pouring out thoughts in an analog way. "I've always found the act of writing my feelings down can be a relief," she says, noting that simple pen and paper are a refreshing change from our overly digital world. Calero and Mastrogiacomo decided to leave pens and Post-Its in the bathrooms. They got the ball rolling by writing a few messages and sticking them to the mirrors.
"Teresa started with kind words like 'You're beautiful' and 'You're capable,'" Calero says. As the days went on, building members joined in, anonymously posting messages like "We got this" and "Never give up."
"You couldn't miss them, because the second you looked in the mirror, they were there," says Mastrogiacomo. She said that over the next few days, the messages started spreading over the walls, the paper-towel dispenser, and the door.
The notes also became more personal, and people began to reply to each other.
"Things deepened as time went on," says Calero. "When someone shared they were having a hard time or facing a difficult issue, other notes would pop up in reply."
For Mastrogiacomo and Calero, the project's success was encouraging. Mental-health issues are personal for both of them: A number of people in Mastrogiacomo's family suffer from depression. "I grew up in a place that was emotionally charged a lot of the time," she says. "I know from this experience what it is like for people who experience mental health struggles."
And Calero says she has experienced her own challenges with mental health. "Growing up, my parents weren't comfortable with my emotions," she says. She often felt like she didn't have anyone to talk to or an outlet for her feelings, which resulted in negative thoughts and feelings of isolation. But as she's grown, she's found that "meeting and making connections with others shows you there are people out there willing to help you, to listen."
The bathroom Post-It sharing started anonymously, but after a while, people began to share their contact information with others who had posted that they were having a hard time. Members and employees began talking about what they were going through outside the bathroom. The Post-Its made people aware of kindred spirits in the building.
"There's a stigma around mental health, but I sense that it's been lifting in recent years," says Mastrogiacomo. "We're people, and this is life, and sometimes it gets tough."
"Sometimes, even a Post-It note can make a difference," Calero adds.
We spoke to Mastrogiacomo and Calero about what their friendship has taught them and how companies big and small in their building inspire them:
What Mastrogiacomo and Calero have learned from each other: "Because of the age difference between us, I learn a lot from Teresa about how to handle things and how to control my emotions," says Calero. She says that Mastrogiacomo has taught her how to take a step back, which gives her different, useful perspectives in her personal and professional life.
Mastrogiacomo says that Calero is a unique woman because "she is so young, and her Filipino family is more traditional and from another culture, which makes her very well-rounded." She admires the way Calero can have empathy across generational lines and notices things that other people don't.
How WeWork inspires each of them: "WeWork has inspired me to start my own business, eventually," says Calero. "Sometimes I get too many ideas, working here," she says, laughing. "I'm so inspired."
Mastrogiacomo says that "being surrounded by so many people doing so many things and being exposed to things you've never been exposed to before opens your mind to potential you may have never even considered." She feels that "as long as I'm tuned into where I want to grow and how I want to grow, I will find ways to apply my skills, whatever may come."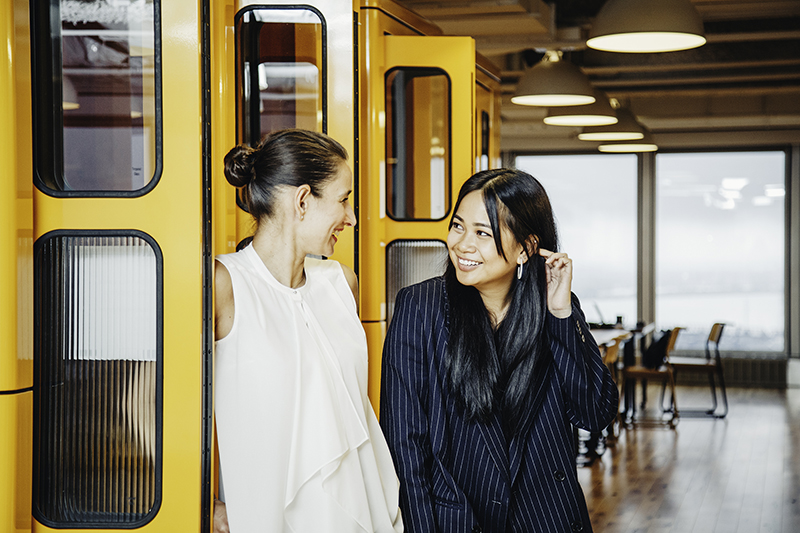 The WeWork member who has affected Calero the most: Calero fondly remembers Goalcast, a content company whose aim is to motivate people to reach their potential. "When I first started at WeWork, whenever I would say something that was a complaint or a frustration, Kevin Visser, a Goalcasat an employee, would say, 'Take a step back and, if you need to, take a breath.'" Calero says she realized that she never took time for herself. "He was working at this company that was helping people be the better version of themselves, and here he was, living it. And it changed me. It made me put the human first. It impacted how I work on a daily basis."
Interested in joining the WeWork community? Visit our community jobs page.
Amber Scorah is the author of the memoir Leaving the Witness, published by Viking. Her writing has appeared in the New York Times, The Believer, and USA Today.