WeWork's community team members are the soul of the We community. Heart of We highlights how their hard work and passion improves the daily lives of WeWork members around the globe.
Jose Carrillo's brother had wanted him to join him in the United States for years. Carrillo did not speak English, and had never strayed far from his hometown of 3,000 people in the Yucatán Peninsula of Mexico. He was nervous about moving to a place with a different culture and language, but ultimately "his heart wanted to go," he says.
Carrillo joined his brother in San Francisco in 2008, arriving on Indigenous Peoples' Day. "I felt a lot of emotions," says Carrillo, who is Mayan. He says he thought he'd be coming to a foreign culture, but he realized that as an indigenous person, he actually had a lot in common with people in the U.S. "I thought that I didn't belong here, but I realized I do," Carrillo says.
After going to school to improve his English and holding down cashier and kitchen jobs, Carrillo applied for the position of community service associate at WeWork. Although he didn't have experience in this kind of role, in his interview he expressed a desire to learn, and WeWork gave him a shot.
Carrillo was pleased when he was offered the job, and that happiness turned into a deep sense of fulfillment as the months went on. He appreciated the way everyone was treated with respect at WeWork. "Visitors, members, and cleaners were all treated as equals, as human beings," he says.
Over the next three and a half years, Carrillo dropped roots in the United States and earned a promotion to community associate at 535 Mission Street.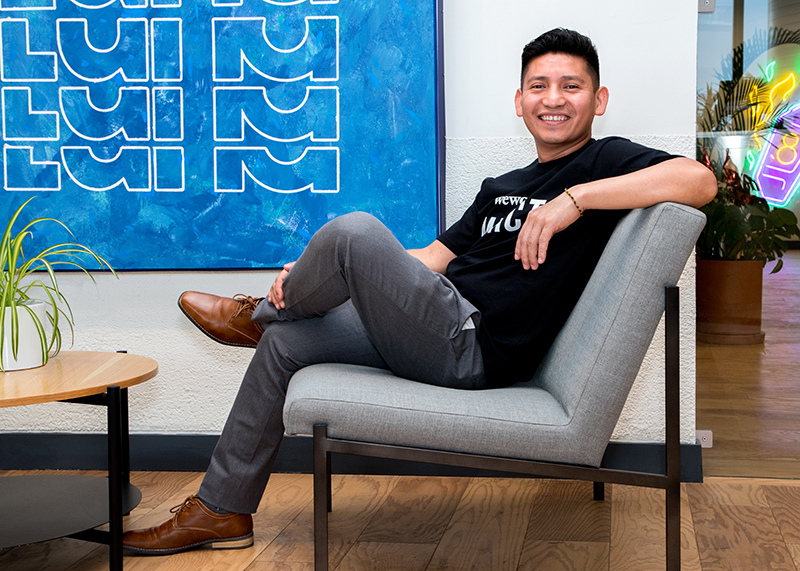 Still, something pulled at him: It had been 11 years since he had left Mexico, and he had not seen his family or returned home since. "I woke up one day and realized I didn't want to be so far away from my family anymore," says Carrillo. Still, he wasn't sure about giving up everything he had built in California.
He confided in Daniel Galindo, a civil rights attorney who was a member at his building, about his dilemma. Galindo, having made big moves himself, planted a seed in Carrillo's mind—that if Carrillo was going to undertake a big move, he should try to keep at least one part of his life constant—the WeWork part.
Carrillo broached the subject with his manager, and she suggested they talk to the director of the WeWork in Guadalajara about any available positions. "She was so happy to hear that I loved my family so much, but that I also still wanted to be with WeWork," he recounts.
After a few days, Carrillo got a reply, and one week later he had an interview for the same job he held in San Francisco.
Carrillo made the move, and now works as community associate at WeWork The Landmark in Guadalajara, where he is a short flight away from his family. On his first visit home, he went a day early and surprised his mom as she was doing her chores. "The feeling of hugging my mom after so many years—it was indescribable," says Carrillo. One by one, the rest of his family members arrived. "It was an explosion of feelings," Carrillo says. He was especially touched to see his father cry.
He is grateful to have had the chance to continue his career with WeWork, across borders. He will miss the United States, but as he puts it: "I have two families now."
We spoke to Carrillo about what it's like to do the same job in a new country, what he enjoys about Guadalajara, and the WeWork values that have impacted him most.
How WeWork Mexico is different from San Francisco: "The WeWork concept is new here," says Carrillo, noting that his building has been open for under a year. "Members have been enjoying exploring how different it can be from a traditional office," he says. Carrillo said one challenge has been that members come out of their offices less than they do in San Francisco, because the WeWork culture is so new to them, but that people are learning to move around and enjoy the social aspect.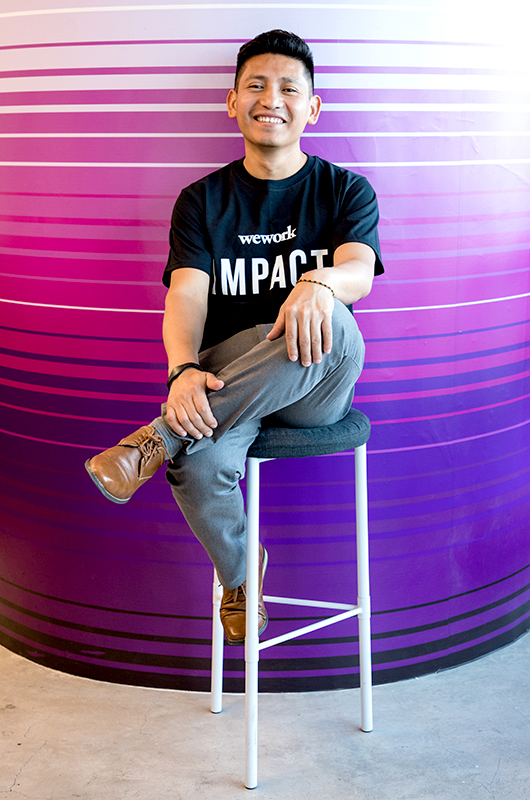 How Carrillo is shaping culture in his new building: To help draw out the members of both larger and smaller companies to interact outside their own walls, Carrillo applies what he learned in San Francisco. "I learned a motto from my past managers: Kill them with kindness," he says. "Hear them, help them, and make a difference." Carrillo believes that being proactively kind helps buffer any difficulties that come up later. "It is essential to cultivate empathy," he adds.
Favorite hobbies in his new city: "Guadalajara is a big city," says Carrillo, which gives him many opportunities to explore. "I like to go to the parks; I like to look at handmade crafts and foods at the markets," he says. He also enjoys hanging out with his friends from his building, having dinner or lunch on the weekends.
What he misses about the U.S.: Carrillo misses his family in California, his boyfriend, whom he is dating long-distance, and also the members in his old building. "I'm now torn, of course, between my two homes."
The WeWork values that speak to him: Gratitude. Carrillo appreciates all the opportunities he's had, both at WeWork and in life. "My parents worked so hard to give me a chance to go to high school, back when I was a kid," he says. He also appreciates his U.S. WeWork family, noting, "The people at WeWork didn't see me as a former dishwasher, and this gave me the chance to change my life."
Interested in joining the WeWork community? Visit our community jobs page.
Amber Scorah is the author of the memoir Leaving the Witness, published by Viking. Her writing has appeared in The New York Times, The Believer, and USA Today.