For Sahara Borja, a vacation is more than just a chance to relax. She believes that traveling should help you connect with the people in your destination.
That's why Borja founded Scarlet Macaw, a trip-planning service that helps connect travelers with the local culture. This not only helps ensure that tourism directly benefits those living in popular vacation areas—particularly in Latin America—but also creates a unique and impactful experience for everyone involved.
We spoke to Borja, based out of Berkeley, CA's WeWork 2120 University Ave, to find out more about her experience and the inspiration for this unique travel experience.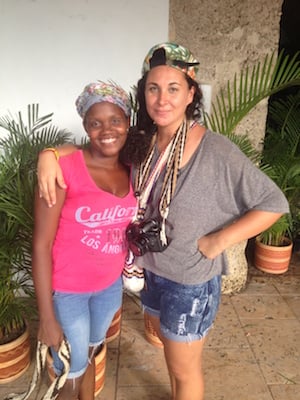 What inspired you to start Scarlet Macaw?
My father is from Cali, Colombia. When I was on the Caribbean coast of Colombia a couple of years ago, I noticed that Cartagena was a buzzing city and had become a popular travel destination. But that there was a disconnect between the huge hotels going up and the work opportunities for local people.
I realized that I, as a traveler, had as much to learn as I did to give. This was the "aha" moment. The idea is not high-end travel, but rather, connection, collaboration, and the chance for growth. I'm interested in setting up the scene so that human connection happens for all parties on this adventure.
You're also affiliated with Catchlight.io, a photography organization that celebrates visual storytelling. What are some of the most impactful moments you've experienced thanks to photography?
For me, photography has always been the reason and entryway into making connections with other people. I showed up in Cartagena ready to do interviews with an idea in my mind of the work I'd be making, but the impact was actually having the camera serve as an entry point into the conversations that needed to happen. Photography opened those doors.
That's a big part of Scarlet Macaw trips. In a lot of ways, photography requires you to have the courage to have conversations with both global neighbors and local neighbors that you should have been talking to anyway.
Your Cartagena trip includes everything from mud volcanoes to dance lessons. How do you decide what to include?
Well, I knew it had to be the right balance of fun and impactful. We want you to remember the sights and smells as much as the conversations and stories you hear along the way. I want the trip to be beautiful; enriching; feed-the-soul.
One of our day trips is to the first free town of the Americas, founded by escaped and former slaves. There's a dialect there that's like the Creole of South America. It's very preserved with a proud legacy despite its hard beginnings. There you'll experience a walking tour, a dance tour, drumming, and the stories behind all of these things—the complexity of tourism with what happened in the region.
Your love of travel influences all you do. What are some of your travel goals in the future?
To grow these experiences to other regions of Colombia and other locations where women are working day-to-day to put food on the table for their families and have had to start their lives over because of displacement or other socio-political problems.
There is enough food, wealth, and resources in this world for everyone to flourish. We want to reallocate some of these resources and believe this is a model that supports that vision.
I really want to go to Greece, and to other parts of South America. Because of my personal ties, I've only been to Colombia. I'd love to go to Brazil and Mexico City as well. I love knowing that there are WeWork locations in both those countries. I am so impressed with the WeWork network.