The birthplace of some of the tech industry's greatest success stories, Seattle and neighboring Bellevue have a long history of fostering companies that have gone on to conquer the world. Starbucks, Amazon, and Boeing all got their start here, to name just a few, cementing this historic city's long-standing reputation as a place where new businesses can thrive.
The rising popularity of coworking space in Seattle is a testament to something else about this city's unique character. A burgeoning foodie scene, a vibrant coffee culture, and a deep connection with music history makes Seattle an ideal destination for startups, digital nomads, and freelancers looking for an inspiring place to work and call home.
Finding the best coworking space for your startup can be a challenge. Click here for the full Seattle city guide. And check out 14 of our favorite shared workspaces in Seattle's most sought-after neighborhoods.
Downtown Seattle
Westlake Tower
Hot desks starting at: $380/mo
Nearby Transit: Link light rail at 4th Ave & Pine St, South Lake Union Trolley at Westlake Ave N & Stewart St
Cross Streets: 4th Ave & Pine St
Just a short walk from the historic Pike Place Market, this vibrant coworking space is situated over four stories of Westlake Tower, right in the heart of buzzing downtown Seattle. Nearby Westlake Park is the perfect scenic spot for a lunchtime stroll and hosts the city's finest food trucks.
The shared office space is beautifully designed, offering spectacular 360-degree views of Seattle. Amenities include electric vehicle charging points and secure bicycle storage, as well as a fully equipped fitness center and gym—ideal for those who are at their most productive after a workout.
500 Yale Ave N
Hot desks starting at: $320/mo
Nearby Transit: South Lake Union Trolley, Capitol Hill Station
Cross Streets: Yale Ave N & Republican St
The picturesque South Lake Union district is home to Seattle's thriving tech scene, hosting well-established companies alongside fledgling startups. This dynamic coworking space is ideally situated to take advantage of all this neighborhood has to offer; nearby Capitol Hill boasts some of the city's best restaurants, while the lake itself offers museums, fresh air, and peaceful, tree-lined shorelines.
Inside, the dog-friendly space features an open terrace and an events venue for conferencing, meetups, and networking events, while various open, collaborative environments encourage productivity.
1525 11th Ave
Hot desks starting at: $410/mo
Nearby Transit: Capitol Hill Station, First Hill Streetcar
Cross Streets: E Pine St & 11th Ave
This diverse coworking space in Capitol Hill is surrounded by a dizzying selection of trendy bars, craft breweries, and restaurants, offering energetic and social teams a home in a popular pocket of downtown Seattle. The scenic Cal Anderson Park is right on the doorstep, while nearby Broadway offers the chance to explore Seattle's growing culinary scene.
WeWork encompasses all five stories of this building. Available spaces include a Labs desk for the mentorship and education of early-stage startups, as well as a Made by We retail space showcasing products created by members of the WeWork community.
1201 3rd Ave
Hot desks starting at: $370/mo
Nearby Transit: Direct access to Link light rail from building
Cross Streets: 3rd Ave & Seneca St
This downtown Seattle office space is a dream for commuting. Not only are the city's major bus routes all within walking distance, but there's access to the Link light rail directly from inside the building. Located in Seattle's innovative Central Business District, the coworking space is perfect for focused teams looking to grow in their sector of choice.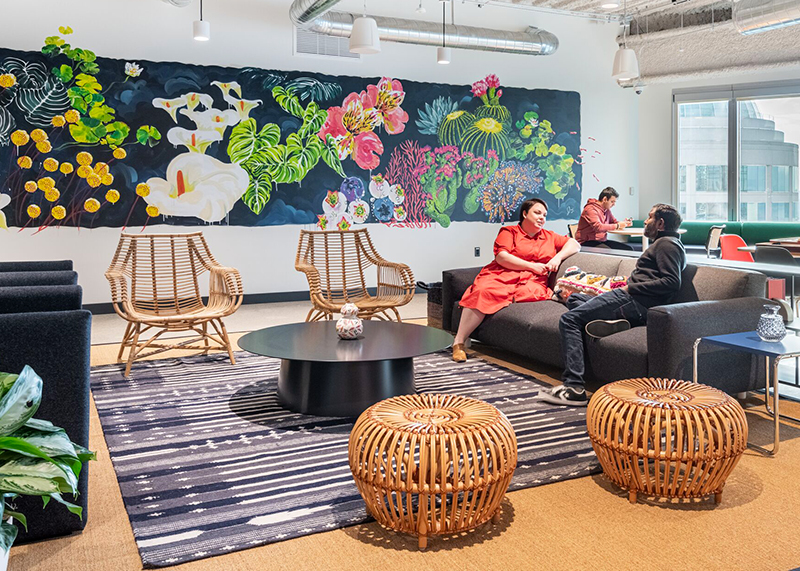 Inside, you'll find artfully composed meeting booths and a buzzing, social kitchen featuring an espresso bar, as well as dedicated desks, outdoor spaces, and common areas flooded with natural light.
Hawk Tower
Hot desks starting at: $380/mo
Nearby Transit: King Street Station, First Hill Streetcar at S. Jackson St & Occidental Ave Walk
Cross Streets: South King St & 2nd Ave S
Seahawks fans can enjoy spectacular views over CenturyLink Field from this high-flying coworking space near Pioneer Square, where teams can end their days by watching the game right from their offices.
The newly constructed Hawk Tower on South King Street has some of the city's top companies as neighbors, and is well-connected with convenient transport links at King Street Station. Stylish, adaptable conference rooms and art-filled private offices create an energizing environment.
925 4th Ave
Hot desks starting at: $350/mo
Nearby Transit: University Street Station, Link light rail at Pioneer Square Station
Cross Streets: 4th Ave & Madison St
Set in the center of the financial district and just minutes from Pike Place Market and the city's iconic waterfront, this innovative coworking space in downtown Seattle is ideal for startups operating in the banking and finance sector.
The office occupies several floors of a modern tower building and offers an impressive and impactful venue for client meetings, with modern, airy collaboration spaces and wellness rooms alongside hot desks and sleek private offices.
1411 4th Ave
Hot desks starting at: $330/mo
Nearby Transit: Link light rail from University St Station
Cross Streets: 4th Ave & Union St
There are few more impressive coworking spaces in Seattle than those in this spectacular Fourth Avenue building, situated over 11 floors of prime office space in the very heart of downtown. Right on your doorstep are such world-renowned cultural highlights as Benaroya Hall, home to the Seattle Symphony, as well as the 5th Avenue Theatre and the historic Triple Door music venue.
The office features convenient amenities like bike storage and on-site showers for those who prefer to cycle to work, as well as a range of hot-desk options, smart private offices with city views, and a Labs desk geared toward new startups.
Holyoke Building
Hot desks starting at: $300/mo
Nearby Transit: Link light rail from University Street Station
Cross Streets: 1st Ave & Spring St
Combining historic architectural features with modern design touches, this affordable downtown Seattle coworking space is set within the 19th-century Holyoke Building, the first completed building following the Great Seattle Fire and just one of a handful of such structures still standing.
Inside you'll find dedicated desks and private offices framed by the high ceilings and exposed brick walls typical of the era, which lend themselves to naturally lit common areas and an expansive lower-level event space.
1730 Minor Ave
Hot desks starting at: $320/mo
Nearby Transit: First Hill streetcar from Broadway & E Howell St
Cross Streets: Howell St & Minor Ave
Set among the lively cafeterias and popular restaurants of Capitol Hill, this spectacular coworking space boasts iconic views of both Mount Baker and the Space Needle, ideal for making a lasting impression on clients who may be first-time visitors to Seattle.
Occupying seven floors of the 20-story building, the shared creative space offers smart private offices as well as versatile hot-desk memberships for freelancers.
Old Ballard
1448 NW Market St
Hot desks starting at: $360/mo
Nearby Transit: 1819 NW Market St Parking
Cross Streets: 15th & Market St
Minutes from the commotion of downtown Seattle, this modern shared office space in the charming and historic neighborhood of Old Ballard offers the opportunity to unwind at a local farmers market or take a stroll along the scenic waterfront.
A collaborative and dog-friendly coworking space packed with amenities, 1448 NW Market St features well-designed open lounges, dedicated desks, and outdoor spaces.
Bellevue
Bellevue Place
Hot desks starting at: $370/mo
Nearby Transit: Bellevue Transit Station, Diamond Parking Service
Cross Streets: Bellevue Way NE & NE 8th St
The Eastside is a fast-growing business hub, fueled by tech startups as well as giants such as Facebook, Amazon, Netflix, and Google expanding into the area. WeWork's coworking space in Downtown Bellevue is perfectly situated in this vibrant neighborhood, which offers a mix of bars, entertainment, retail, and outdoor spaces.
Teams can choose from a collection of sharply designed private offices and hot desks, or make use of the open and airy conference rooms for brainstorming meetings and networking events.
Lincoln Square
Hot desks starting at: $430/mo
Nearby Transit: Bellevue Transit Station
Cross Streets: Bellevue Way NE & NE 4th St
This popular shared office space in Bellevue's well-established Lincoln Square is just minutes from the nearby arts museum and connected by a sky bridge to the restaurants and retail of bustling Bellevue Square. Gaming fans will be excited to learn that hit games developer Valve is in the building, while tech giants Amazon and Microsoft are right next door.
Floor-to-ceiling windows throughout this coworking space make it feel bright and energized, while the large outdoor terrace takes full advantage of the area's striking mountain and lake views.
Sunset North
Pre-opening rates available now
Nearby Transit: Bellevue College Parking Garage
Surrounded by the independent coffee shops, cute local restaurants, and boutique stores of Woodridge, you could be forgiven for thinking this coworking space near Bellevue College was far from the city. In fact, this modern shared office is just a 12-minute drive from downtown along the I-90, placing your team in the heart of a dynamic and ambitious community of professionals.
Electric vehicle charging stations, well-equipped event spaces, and an on-site food hall make this the ideal workspace for startups of all sizes.
University District
Roosevelt Commons East
Hot desks starting at: $310/mo
Nearby Transit: NE 45th & Roosevelt Way
Cross Streets: 11th Ave & 43rd St
The University District is not only a natural hotbed of entrepreneurship and new talent, but it's also a vibrant cultural hub home to renowned museums and venues such as the Henry Art Gallery and Neptune Theatre.
Ideally located to take advantage of this invigorating neighborhood, Roosevelt Commons East features open and light-filled conference rooms, private offices, and flexible hot-desk memberships for digital nomads and freelancers alike.
Whether you're a freelancer looking for a desk, or a startup looking for a flexible workspace for your team, there's a WeWork location in Seattle to fit your needs. WeWork's coworking spaces offer a collaborative environment for businesses of any size, in the most sought-after, connected locations.
Steve Hogarty is a writer and journalist based in London. He is the travel editor of City AM newspaper and the deputy editor of City AM Magazine, where his work focuses on technology, travel, and entertainment.