It can be tough adjusting to a whole new set of rules after years, even decades, of doing things in a certain way. But here we are in a COVID-19 world, trying to maintain social distance and learn new habits in the workplace. As such, employees may need some subtle, gentle reminders in the form of signage, so that they don't accidentally forget to, say, put their mask on before entering the building, or sanitise their hands before and after using the communal copy machine.
To get people to effectively follow social distancing prompts, easy-to-understand language with positive messaging and minimal text is most effective, according to a study by the Behavioral Insights Team for the Portland Bureau of Emergency Management.
At WeWork, social distancing and enhanced cleaning measures that follow government protocols are in place to prioritise everyone's safety. ~In common areas, conference rooms, phone booths, printing stations, pantries, etc., WeWork has de-densified its spaces to be able to create the six-feet-apart rules,~ says Alecia Craft, Director of Operations, US & Canada at WeWork, in a recent webinar.
Messages advising people to stay socially distant can now be found on surfaces, walls, lifts and even pillows in WeWork locations. These signs, along with hand sanitiser stations and wipe dispensers, were designed to fit in aesthetically with the spaces in order to foster a sense of normalcy, WeWork's global head of design Ebbie Wisecarver told Quartz.
Whether it's a team member, a client or a visitor, anyone entering a WeWork office can easily see that these policies are in effect.
Other measures have been implemented in WeWork spaces, including a requirement that people wear masks in common spaces, says Craft. Also, gloves are available in office pantries for the community team to handle post and packages. 
Companies are devising best practices for slowing the transmission of COVID-19 in the workplace. Proper signage is one way to reinforce these policies. Here are some examples of how WeWork uses signage in a creative way to encourage smart, healthy behaviors.
Cosy but cautious
Even in common areas, it's possible to congregate responsibly. Here, WeWork's social distancing catchphrase, 'Keeping our spaces healthy, together,' strikes a friendly, communal tone. Creating a 'we're in this together' vibe is an important behavioural element for getting people to rally around a common goal.
Consistency matters
The right messaging is only effective when it's also strategically placed. In a space that was originally designed for collaboration and coffee breaks, employees may need an extra reminder (or two) to maintain space and stay six feet apart.
Pillow talk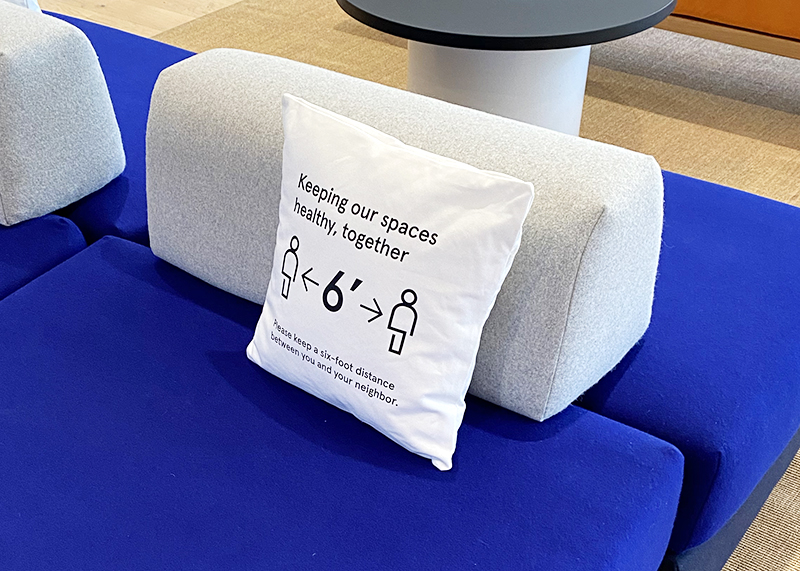 Who says your social distancing signs have to only take the form of card stock and stickers? This clever 'sign' is unique and playful, and because it's on an item associated with comfort, it can feel less intimidating. 'We choose not to remove lounge furniture, but rather add pillows that reinforce our distancing guidelines,' Wisecarver told Quartz.
Let your brand personality shine
When it comes to wayfinding signs that keep traffic flowing safely, providing clear instructions is essential. But notice the uplifting phrasing on the accompanying sign: 'You can only go up from here!' It's lighthearted and effective.
Using simple illustrations
More than ever, everyone is being asked to pitch in when it comes to keeping shared spaces clean. These signs remind workers using phone booths to take a moment to sanitise the area when they've finished.
Floor decals remove any confusion
These footstep decals on lift floors make socially distanced lift rides a no-brainer. Workplaces can also use similar stickers to maintain distance in lobbies, whether for forming queues to enter the building or visiting the reception area.
New rules, no uncertainty
At WeWork, nooks were intended as a place to have face-to-face conversations with a colleague. That practice is on hold for the time being, and signs like these let employees know to keep their quiet time solo.
Signs, signs, everywhere
You can't be too careful when it comes to social distancing precautions, which is why Craft says WeWork has provided a 'ton of behavioural signage'. 'Sometimes it seems a little bit like overkill, but I think if you get the message over and over and over again, you're going to adhere to it,' she says.
Maintaining safety in the workplace has always been important, but COVID-19 has ramped up that necessity. This is part implementing safety protocols, part education. Smart signage falls under the education component. It helps ensure that everyone is on the same page when it comes to doing their part to foster an environment that prioritises health and safety. 
Dawn Papandrea is a freelance writer who covers work, personal finance and higher education. Her writing has appeared in numerous outlets, including Family Circle and monster.com. Follow her on Twitter.