Every WeWork space is intentionally designed to promote inspiration and collaboration. Designed to Inspire delves into the architectural and artistic elements of these spectacular buildings.
When the design team at WeWork set about breathing new life into 106 Boulevard Haussmann, a masterpiece of 19th-century architecture in the heart of Paris, they knew it would not be an easy task. Everything from the structure's striking facade to its address on the Boulevard Haussmann, a tree-lined thoroughfare named for the modern city's master planner, exudes Old World elegance.
The challenge was clear: to preserve the innate character of 106 Boulevard Haussmann while creating a stylish, contemporary workspace. "When you have a heritage building, there are certain elements that you can't touch," says Dan Usiskin, senior design pod manager at WeWork.
Rather than view these aspects as a liability, the team saw them as an opportunity to craft a truly unique space. "We love a building with original features. It's got character and history, and we try to celebrate that as much as possible," he says.
The history of Paris' iconic architecture
While Louis-Napoléon Bonaparte III may be most remembered for his imperial tendencies across the European continent, some of his most lasting decisions can still be seen on the streets of Paris. When Bonaparte became the President of France in 1848, the French capital's decrepit infrastructure was woefully inadequate for the city's growing population.
Bonaparte ordered Baron Georges Eugène Haussmann to transform the City of Light into a capital worthy of his grand ambitions. Haussmann eliminated dingy alleyways that dated back to the Middle Ages, creating the sweeping boulevards and airy public plazas for which the city is now famous. In principle, the boulevards were meant to be wide enough to allow military troops to march through; in practice, they filled the streets with sunlight and greenery. So successful was Haussmann in reimagining Paris that his work has been emulated by urban planners from Beijing to Buenos Aires.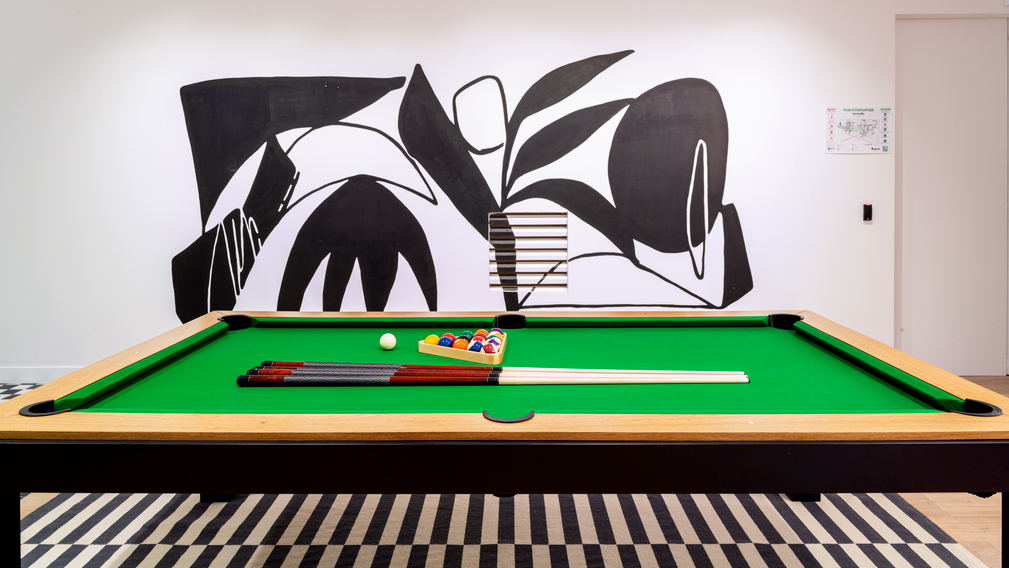 Lining these leafy boulevards were sophisticated apartment buildings with striking limestone facades embellished with wrought iron accents. By the turn of the 20th century, Haussmann buildings were some of the most sought-after accommodations in the city. Their distinct aesthetic was synonymous with Paris during the city's bohemian renaissance in the Roaring Twenties.
During a frenzied push for modernization in the 1970s, Haussmann's signature architecture almost vanished entirely. The French government tore down the famed food market halls of Les Halles, and developers razed many of the historic apartments to make way for high-rises. Thankfully, the outcry from Parisians and design aficionados was enough to halt the demolition. Today, approximately 40,000 of these heritage buildings remain, including 106 Boulevard Haussmann.
Preserving the past while looking to the future
Today, 106 Boulevard Haussmann retains much of its original air of grandeur. The team at WeWork went to great lengths to keep the historic facade fully intact, along with the towering ceilings with intricate mouldings, ornate fireplaces, immense windows, and antique mirrored surfaces. At the same time, they carefully updated the interior so that it felt like a modern office space, not a museum or mausoleum. Striking this delicate balance can be extraordinarily difficult, but WeWork embraced the chance to realize the building's full potential.
We love a building with original features. It's got character and history, and we try to celebrate that as much as possible.

Dan Usiskin, senior design pod manager at WeWork
"We were fortunate that the building was in such good condition," says Sara Goiria, pre-sales delivery project manager at WeWork. "We tried to keep as much as possible from the historic design. We wanted all of the new additions to be clean and neutral so as not to detract."
In order to help those new additions match their period counterparts, WeWork interior designers relied heavily on richly textured materials like marble, dark wood, and black-and-white tiles. Near the entrance sits a community bar handsomely kitted out in walnut and red marble, where an expertly trained barista keeps the caffeine flowing. Several of the eight stories have balconies overlooking the boulevard, while a sun-drenched inner courtyard provides a lush sanctuary.
After entering the space, workers and guests are greeted by the sight of a grand double-height atrium with a mural painting by a local artist and a cactus garden. A glass skylight allows abundant natural light to filter into the quiet, basement-level hot desking area, while a staircase near the main entrance adds an understated touch of modernity. Additional works of art scattered throughout the inviting, light-filled offices draw inspiration from classic French cinema and Art Deco architecture.
All these nods to the French capital's cultural wealth feel especially apt in one of the city's most dynamic neighborhoods. Running between the 8th and 9th Arrondissements, Boulevard Haussmann is a stone's throw from the ritzy shops of the Champs-Élysées and the Palais Garnier, another one of Haussmann's most prized architectural feats. The area surrounding 106 Boulevard Haussmann feels quintessentially Parisian, with an eclectic mix of sidewalk cafés, bistros, and swish apartments.
"There's a lot of energy in the neighborhood, because we're right near a major metro station," Goiria says. "You have this mix of old and new here, which happens very often in Paris."
WeWork's refurbishment of 106 Boulevard Haussmann perfectly embodies this blend of the old and the new that makes the French capital such a beguiling city. It's a fitting tribute to one of the most influential architects and urban planners of his era. The design team managed to capture the spirit of Haussmann's original design without losing the sense of innovation that drove him. The resulting building merges seamlessly with its historic surroundings yet encapsulates the forward-thinking, cosmopolitan vibes of 21st-century Paris.
Diana Hubbell has spent more than a decade covering design, art, travel, and culture for publications including The Washington Post, The Guardian, Eater, Condé Nast Traveler, The Independent, VICE, Travel + Leisure, Architectural Digest, Atlas Obscura, WIRED, among others.
Rethinking your workspace?