Welcome to Community Corner, a series highlighting the work, passions and impact of our community teams around the world.
Growing up in the suburbs of Boston, Izzy Jacques and her family were the only African Americans in her all-white neighbourhood. She was also the only person of colour in her primary school. Later, at Bentley University in Waltham, Massachusetts, there were only 54 black men and a handful of black women, Jacques recalls – out of 4,000 students in her year.
"It wasn't a negative experience" says Jacques, 28, who works as a business programme manager at Boston's WeWork 33 Arch St. "However, my experience at college illuminated for me that, when it came to diversity and inclusion, more could be done here in the city of Boston".
Jacques passion is diversity and inclusion, so she decided to see what she could do to work on the issue. 'Third Thursdays' was her answer: a monthly WeWork event featuring black and Latinx business owners and influencers.
At the events, people of colour from the community find not only business support but also moral support. "We get tons of questions for the speakers from the audience" she says. "And the speakers get guidance from experts in the audience to help further their causes, too". One recent speaker, Shannon Clarke, founder of Queen and Baby, came to share her path to starting a business – and ended up gaining new contacts and increased exposure for her brand. "Shannon also got a lot of feedback from the audience about how to take her brand to the next level" Jacques says.
For her part, Jacques says she feels excited to see real results and deep connection coming out of these events. "At other companies I worked at, my ideas weren't always 'entertained'" she says. At WeWork, she says, you can "have your day job and execute your passion". And her passion is fuelling more inclusive events at her day job. "We've seen more diverse organisations hosting workshops and booking events at our location, including LGBTQIA groups, women-led companies and the National Association for Black Engineers, to name a few".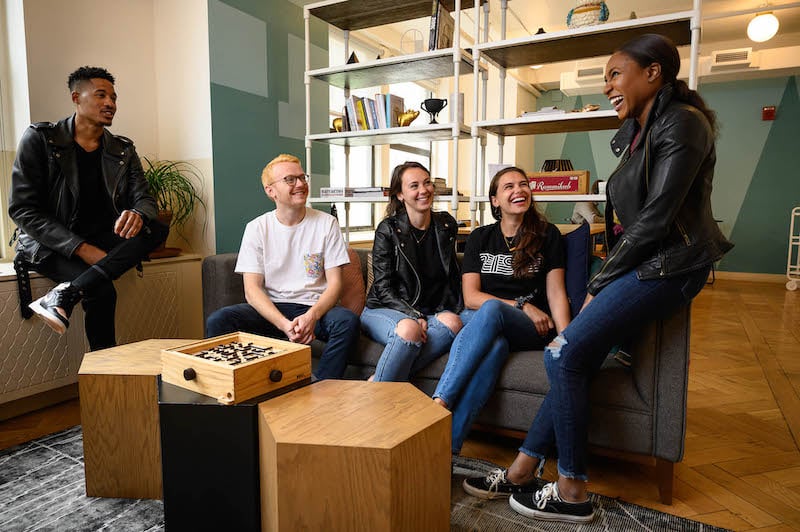 Jacques is happy to be able to tap into her past experiences and help elevate people of colour in Boston. "It's wonderful to think that WeWork and I can play some part in moving the city forwards".
We spoke to Jacques about how she came to WeWork in the first place, why she never left her hometown and who she admires most.
Dream dinner-party guest: Jacques would love to host Michelle Obama, noting that she is "so smart, poised and inspiring". "She's very in tune with her roots, where she came from and her journey, and she's vocal about how that has impacted her" says Jacques. "Plus, Michelle has impeccable style – I want some tips!"
Favourite place on earth: The docks at the Esplanade in Boston. "It's a place of peace" says Jacques. "I go there to sit and think, looking over at the water and the boats". Jacques, who says it's far enough out that you can't hear traffic, recommends going in the middle of the week so you have the place to yourself.
Why she's never left Boston: "I've thought about moving away, but for now I'm committed" Jacques says. "I know this place inside out, and I think there's work to be done in the diversity and inclusion space before I move on".
Spare time activity: "I like hiking up a mountain that's near my house!" she says, noting that while many may not consider the Blue Hills to be mountains, Bostonians do.  
How she ended up at WeWork: Jacques had been working at a company for four years when a WeWork space opened in her building. "I was on my way up to my office and the lift doors opened on the WeWork floor" she recalls. "All I saw were people who were super happy, baristas, music playing – everyone looked so thrilled!" When the lift proceeded up to her own floor and the door opened, she looked around and noticed the bland cubicles. "I told all of my colleagues they had to press 6 when they got in the lift – that they needed to see what I saw" she says. "Within a year, I was working at WeWork".