WeWork is well known for providing its members with a platform to build community through collaborative workspaces. Lesser known is the burgeoning team of designers supporting the company's rapid growth as WeWork expands globally.
Once WeWork signs on the dotted line and commits to opening a new location, our reality capture team comes in. We ensure that designers are provided with every bit of building information they need in order to begin the design process. We also support the ongoing conditions documentation of every WeWork property.
As one of the first teams on the ground, it's our job to provide accurate documentation of the building's existing condition by combining several technologies that include laser scanning and 360-degree photography.
For older buildings, capturing existing conditions are traditionally done through a combination of owner computer-aided design (CAD) drawings, mobile phone photographs, and even hand measurements. Incomplete information from a site walk or a CAD file that hasn't been updated over the years means the data collected from these methods isn't always accurate enough to inform design decisions. More often than not, this could present a significant risk to the timeline and overall cost of renovation work.
NeNewer buildings should have accurate as-built conditions, but they often lack the required precision—usually a result of the information not reflecting updated design changes during construction. To sum it up, the effort required to establish an accurate existing condition can be a major pain point for designers, contractors, and even owners.
Scanning every detail
WeWork sees value in providing the best possible existing condition documentation to the designers and consultants involved with our projects. With an in-house design team that works directly with contractors, it makes sense to build a reality capture team and to invest heavily in laser scanning technology so that our teams can measure anything and everything visible within the space accurately. It takes approximately an hour per floor, but window mullions, door sizes, slab flatness and thickness, square footage, ductwork, and piping are all among the things we can capture and measure in advance.
The detail and accuracy of laser scans allows us to confidently understand the architecture of the space. For instance, there are actually three exterior windows, not two as originally noted on the landlord CAD. Knowing information like this before building out a location gives the design teams the ability to test designs against the real dimensions of a space, highlighting construction clashes in advance or any other hangups that would have otherwise gone unnoticed until construction.
The costs of implementing technologies like laser scanning have proven beneficial for us. The information and data derived from laser scans versus traditional measurement have become so valuable and integral to the WeWork design process that we often prefer working with firms and consultants who actively utilize point clouds in their current work.
Because new, and possibly improved, technology is unleashed every few months, we pay special attention to new technologies that can add to the spatial informational awareness. Even better is technology that produces actionable information regarding the internal systems and structure of a building, such as 360-degree spherical photography.
Most people are familiar with professional-level spherical photography as it's well documented in Google's Street View feature. More recently, small, cheap, and easy-to-use spherical cameras have come on the market, giving anyone the ability to take Street View-like images.
The benefit of visually documenting buildings for our teams is obvious. Coupled with 360-degree photography, design and construction decisions are no longer limited by images taken from a mobile phone. Everything is captured within a single photo and information is readily available.
Now that the raw tools of Google's Street View have been democratized, the real work has begun. Instead of adopting technology for the sake of adopting technology, we want to be deliberate in our approach, and our team constantly evaluates the ways we collect, store, and distribute these resources. How can we incorporate spherical photography in the same way we have for laser scans? When and how often should we collect spherical photography? Who collects the images, and how are the images hosted or distributed? We are thinking through these issues now.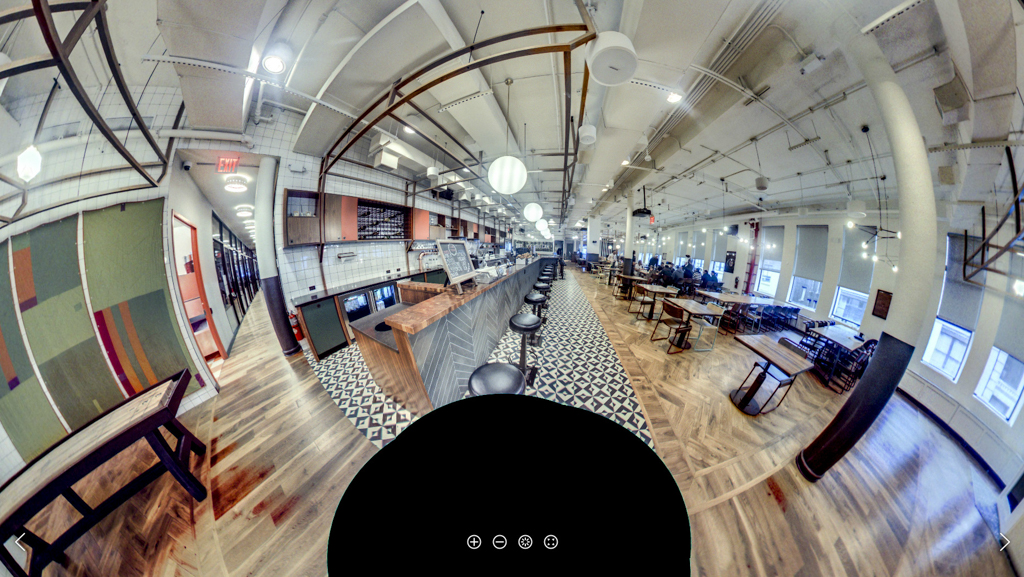 The biggest advantage we have during this learning process is our unique access to the internal design, engineering, construction, and real estate teams to help us develop a platform for spherical photography that targets and meets our needs. It's a big learning process for all of us, and we can't wait to see how technology continues to develop and shape our reality capture process in the coming months.