Toiling away in a cubicle all day and eating lunch by yourself at your desk is so 1990s. Today's top employers know that encouraging teams to take breaks—at least a real lunch break—and be social with their coworkers can increase productivity and improve corporate culture.
Just how important is eating lunch away from your laptop? In a survey by Tork, employees who took a lunch break every day were more likely to say they were effective and efficient, satisfied with their job, and valued as an employee than those who didn't.
Stepping away from the desk for lunch is even more important among the millennial workforce, with 62 percent of them saying they would opt for a longer or more regular lunch break if possible. And 16 percent of them said they would even take a 10 percent pay cut if it meant they could take a proper lunch break every day.
As such, many organizations are recognizing the importance of lunchtime and breaks by adding sleek office kitchens to their workspaces. These functional common areas provide employees with an onsite space to relax, refresh, and gather with others for a meal or snack. (Even better is when free snacks and beverages are offered!)
But they're not just for lunch. Welcoming kitchen areas can also make for a fun, informal space to hold brainstorming sessions over coffee, quick team meetings when the conference room is booked, and other face-to-face interactions with coworkers.
Thinking of making a cool office kitchen a priority in your organization? Get inspired by these amazing office kitchens that companies in WeWork offices get to enjoy each and every day.
Bright white break time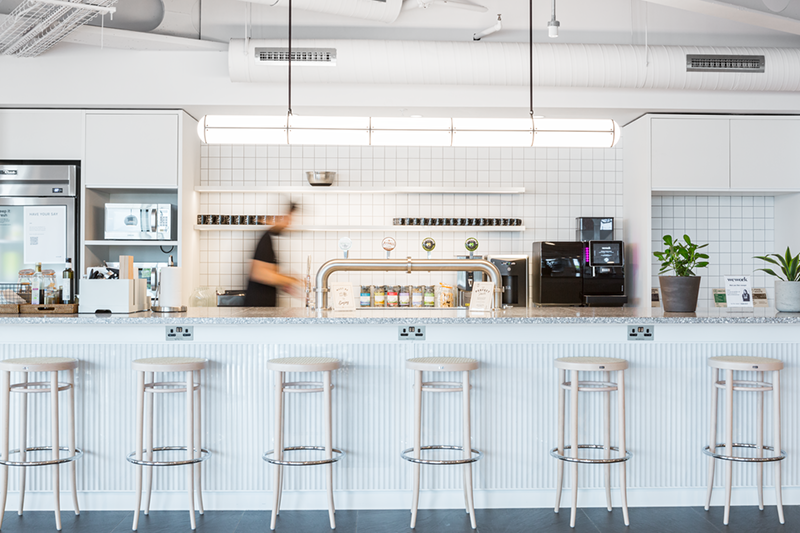 There's nothing dull or drab about the clean, white, stainless steel look of the kitchen at WeWork 5 Merchant Square in London. The simple, modern design with industrial lighting and smooth countertops offers a perfect pick-me-up spot, as well as a great place to chat with a client during an office visit.
Neon lights beckon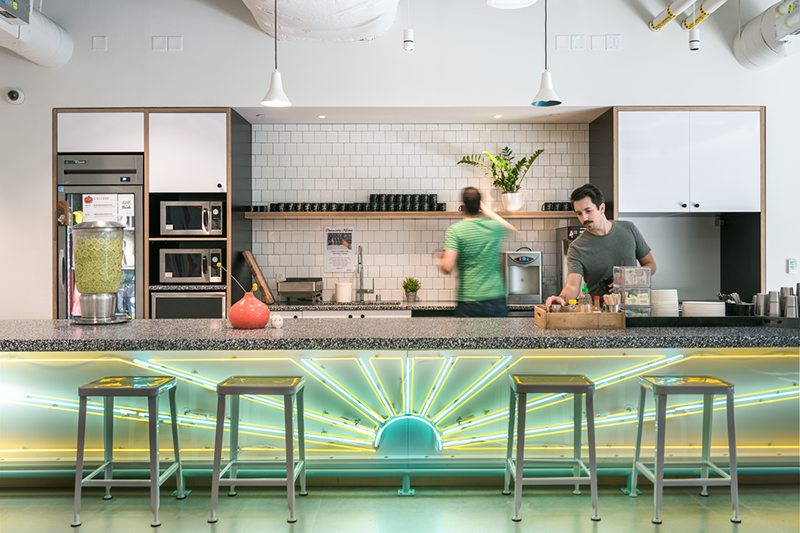 In case staffers need a reminder to take a few minutes away from whatever project they're working on, the neon under-counter lights that resemble the sun at WeWork Millennium Drive in Los Angeles serve as a siren call. With such an inviting look, your snack breaks are just as laid-back and fun as living in sunny L.A.
The comforts of home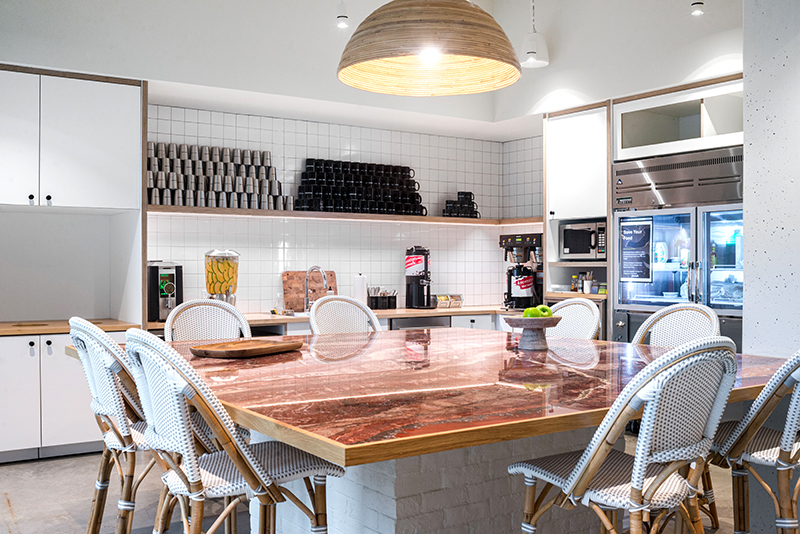 It might be a cliché to talk about work as one's home away from home, but the kitchen at WeWork Preston Center in Dallas takes that concept seriously. This marble kitchen-island-style table surrounded by padded wicker chairs has a warm, homey feel, which can make team lunch meetings feel relaxed.
Lunchtime zen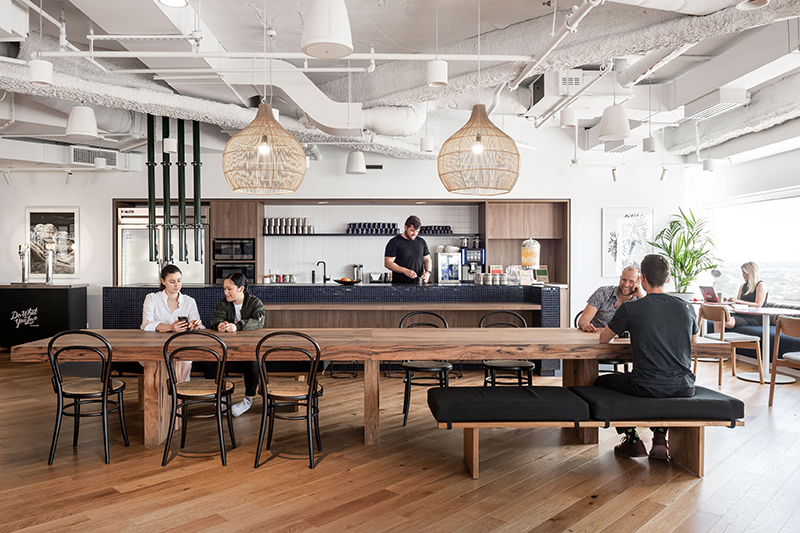 You can feel a sense of relaxation when you check out this kitchen at WeWork 152 St Georges Terrace in Perth, Australia. The natural wood elements throughout and large bamboo lighting fixtures above give off an almost yoga-like vibe.
Techie lunch counter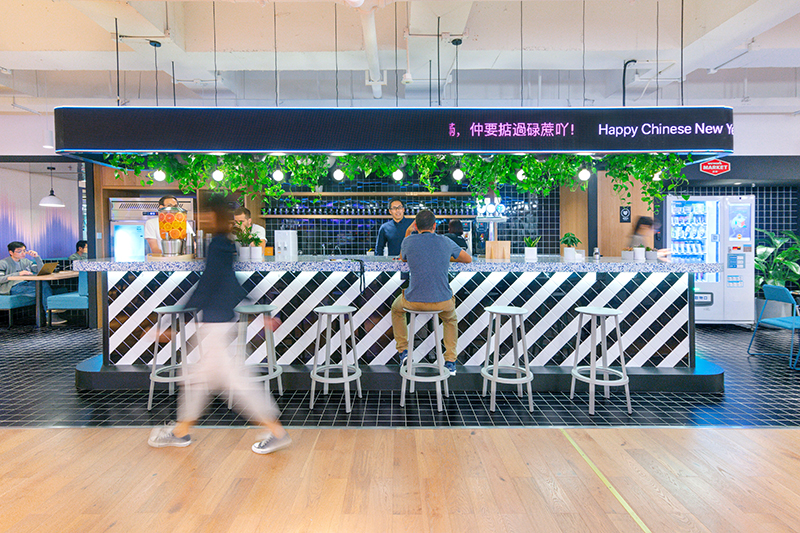 When you step into the kitchen at WeWork TCL in Shenzhen, China, it's as if you're at a trendy techie cafe or lounge. The overhead digital ticker provides for fun and easy communication, while the hanging greenery and dark color scheme soften the space.
Billiards and bites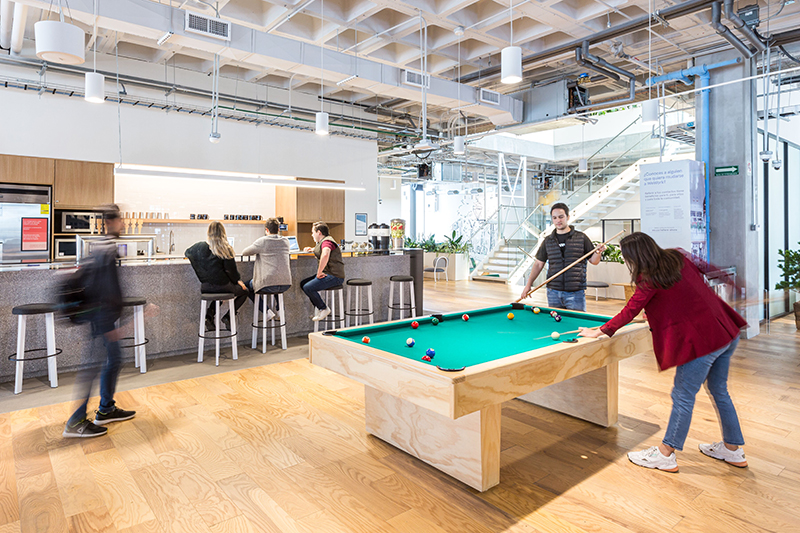 Taking brain breaks can help when you hit a creative roadblock, which is why the office at WeWork Garza Sada in Monterrey, Mexico, pairs playtime with lunchtime. Employees can squeeze in a game of pool during their lunch hour for some friendly competition to get their energy flowing.
Green eating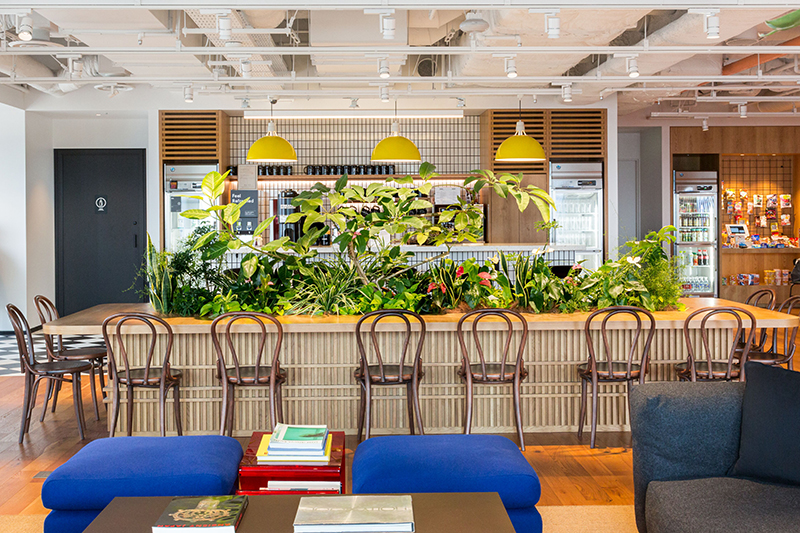 If you can't enjoy lunch in an outdoor garden, the kitchen at WeWork Shiroyama Trust Tower in Tokyo offers the next best thing. Workers can hop up to counter seating surrounded by lush plants. Or, if they would prefer an even more cozy break, they can lounge on the nearby plush seating.
This article was originally published on December 16, 2019, and has been updated throughout by the editors.
Dawn Papandrea is a freelance writer who covers work, personal finance, and higher education. Her writing has appeared in numerous outlets, including Family Circle and monster.com. Follow her on Twitter.